On Primary Candidacies
Thinking about what is predictive as well as the usefulness of historical case studies.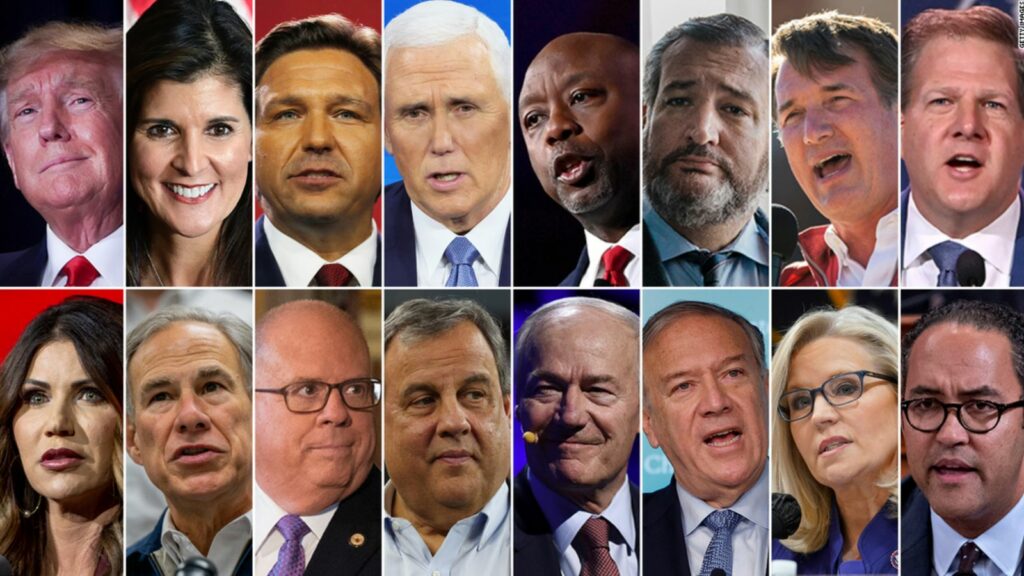 So, my post yesterday both created a lot of conversation, but also made me want to further examine the empirical question of the predictive power of polls at this stage of the process. Specifically, I am interested not so much in how well polls predict winners (although the answer is "pretty well") but rather in the question of how well they predict losers–especially candidates who poll in very low numbers (basically sub 5%). I think it is a useful question both for those who simply want to understand the probabilities, but also as a reasonable question for candidates and their campaigns to ask themselves
I typically proceed from the notion that it is not that hard to predict who is likely to fail in these nomination processes. I am fairly certain that if a candidate is polling in the single digits, especially sub-5%, the odds are incredibly high that that candidate will not win the nomination.
Yes, candidates for the nomination are often egotistical enough (or flat delusional enough) to assume that they can beat the odds. But, I also have to think that they know full well what their chances are and often have to have other motivations apart from a rock-solid assumption that they will win. After all, give me a group of golfers at a given major tournament and I expect most of them will say that they can win, and maybe, just maybe, they can. But anyone with any level of knowledge can tell you which ones really don't have a chance outside of a true miracle.
This is another way of saying that, sure, "anything can happen" but it is also pointing out that there are clear patterns and the probabilities are what they are.
Likewise, when making comparisons as evidence to back a position, it is necessary to keep in mind the context of a given race. Some in the comment thread asserted "no one thought Barack Obama could win in 2008." Well, I am not so sure about that. From a purely anecdotal level, I personally remember watching Obama's 2004 Democratic National Convention speech and thinking that he was clearly auditioning for national office and that I expected to see him in the mix (although perhaps not in 2008!). Keep in mind I was voting Republican at the time.
But my recollections aren't data. So, let's look at some polling from roughly this time of the year in 2007 (RT Strategies National Omnibus Poll done in partnership with the Cook Political Report).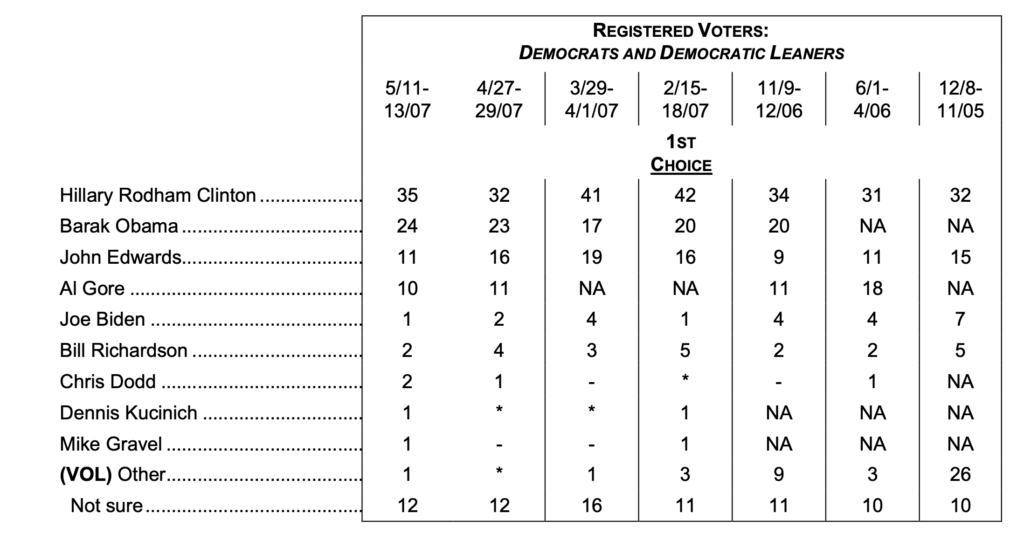 There is more at the link (including the fact that Giuliani was leading McCain at the time).
So, the Pence/Christie/etc. the analogy to 2008 is not Obama, the analogy is to Richardson, Kucinich, and Gravel. Indeed, the crude Obama analogy for this cycle is DeSantis (but that is an imperfect fit given Trump's lead in the polls and his status as ex-president–as well as his various legal challenges).
Another case that was raised was Bill Clinton, who is a far better example of a candidate who rose from the basement. I will say this: 1992 does make the case that unusual circumstances can upset the nomination applecart, but that also means it isn't a good case for making predictive comparisons. To wit: in 1991 the sitting President, George H. W. Bush was still riding high in the approval polls and looked to be a shoo-in for re-election. This definitely affected which Democrats decided to run for the nomination.
Via Gallup. Note that if you were a Democrat trying to decide whether to run for the 1992 nomination, you were doing so at a time in which Bush had record (at the time) approval ratings. I always think of this SNL sketch as a great example of the political zeitgeist.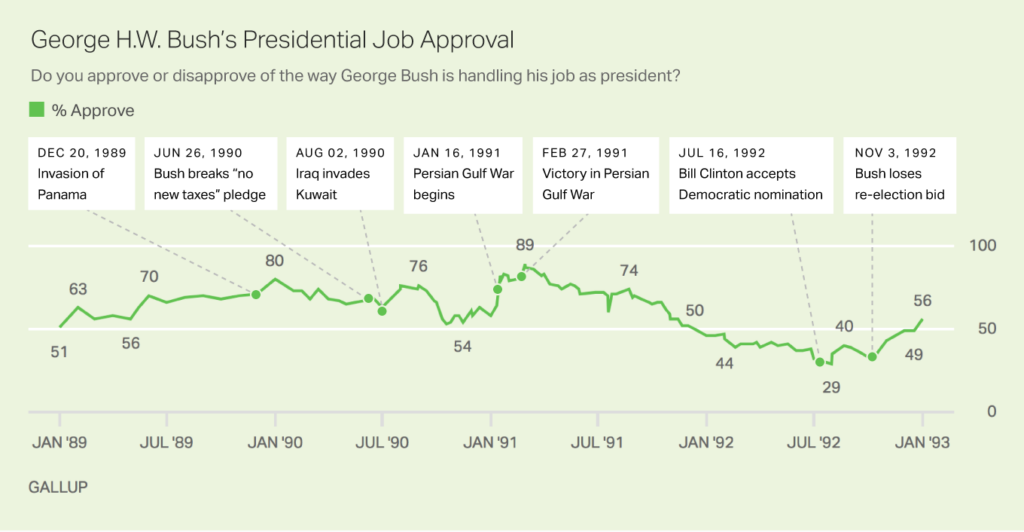 Now, I do understand that 2024 could end up being an anomalous year for the GOP given Trump's ongoing legal woes. Still, the notion that Pence or Christie (or any number of the other contenders) will be the ones to capitalize on that chaos is still far-fetched.
A note on Trump in 2016: my mistake there was not taking his numbers seriously once he entered, not that he entered the primaries with very low numbers (Trump announced on June 16, 2015–note his poll numbers a month later).
Regardless of specific examples, let's turn to a 2019 FiveThirtyEight piece: We Analyzed 40 Years Of Primary Polls. Even Early On, They're Fairly Predictive.
…what we've seen is that national surveys conducted in the year before a presidential primary are relatively good indicators of which candidates will advance to the general election, especially when polling averages are adjusted to reflect how well known each candidate was. 
Another piece did provide this caveat:
Early national polls conducted in the year before the first nominating contests do have predictive value, but remember there isn't one national primary. Instead, parties choose presidential nominees via state-by-state elections over the course of a few months. And that sequential nature of the primary makes it hard for national polls to capture all the dynamics of the race — a candidate falling short of expectations in Iowa or unexpectedly winning both Iowa and New Hampshire can swiftly alter the playing field for the remaining primaries.
I think that is certainly worth remembering. However, my question here is not predicting the winner, but looking at how well polls predict losers.
I would also point to the year-by-year breakdowns in these two FiveThirtyEight posts:
To my general point about incredibly low (sub 5%) polling meaning the kiss of death even at this stage. I will note that the analyses cited break the years down into the first half and second half. We are technically still in the first half of this year, but only barely. So, yes, there are examples of first-half single digits becoming robust numbers in the second half (this would likely be linked to announcements as well). So there is some hedging that is relevant depending on whether June is truly a "first half" situation. (Also the difference between potential candidates and actually announced candidates).
Still, I would note that Democratic candidates who truly went from the basement to the nominee were McGovern (1972), Carter (1976), and Clinton (1992). Republicans have mostly stuck with the leader and there is not a great example of a nobody winning their nomination.
I would note that using the primaries to determine the nomination was a new thing in 1972, and polling was not what it is now, so I am not that surprised by 1972 and 1976 being where we would find anomalies. I discussed Clinton above, but will share this and note that a large number of people in these polls never ran (notably Cuomo, Wilder, Jackson, Gephardt, Gore, and Bentsen).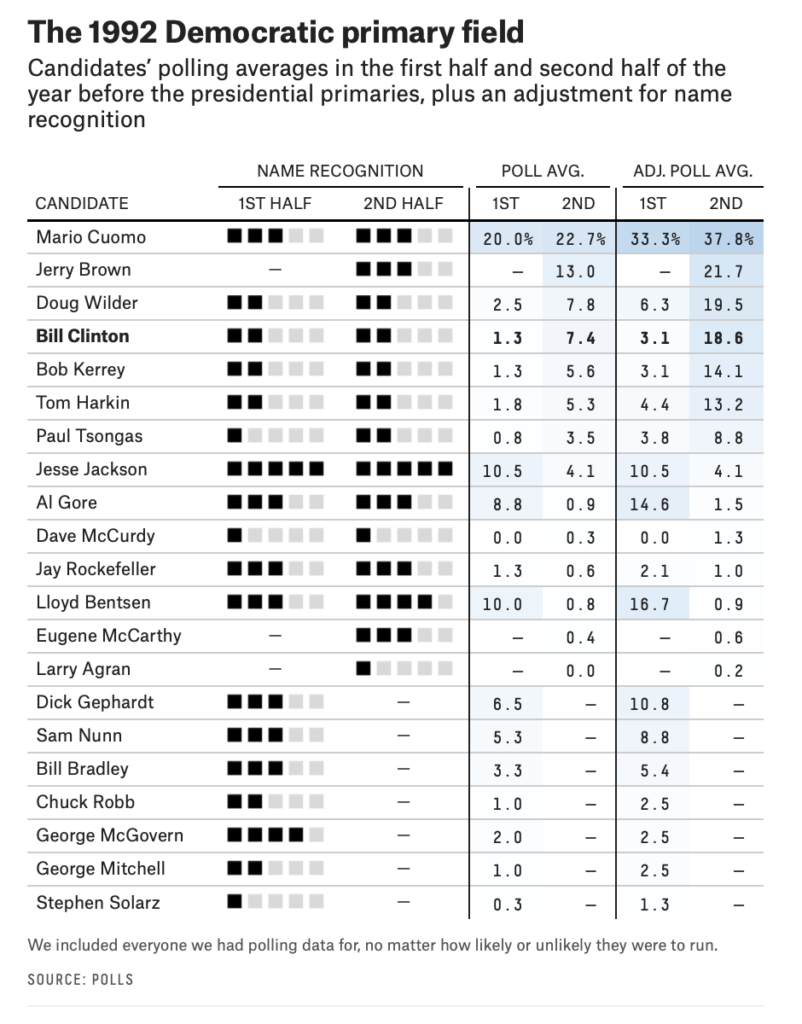 At any rate, history does show that there are odd outcomes, but the overall data show that if you are in the single digits at this stage, especially as an announced candidate, you are probably toast.