Is Ames Straw Poll Meaningless? Or is it Iowa?
The Ames Straw Poll is like the first scrimmage of NFL training camp.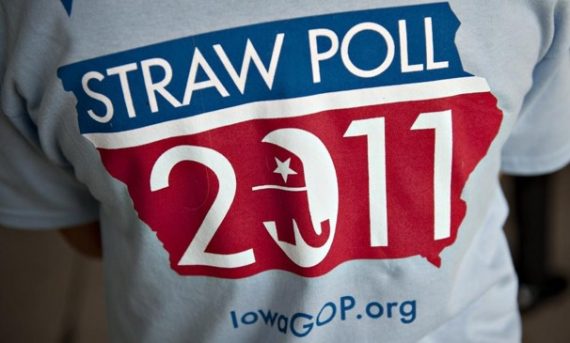 Every four years, a flurry of Ames Straw Poll Meaningless articles hit in a vain attempt to counteract the silly coverage of the silly event. CBS dutifully provides one this year; there will be others. But stathead Nate Silver is pushing back, explaining "Why Ames Actually Matters."
It is easy to make fun of the Ames Straw Poll. It can't exactly be described as democratic when you — or the candidate hoping to secure your vote — have to pay your way into the polls.

But Ames has a pretty good predictive track record. Since the event began in 1979, the candidate winning the Iowa caucus has placed first or second in the straw poll every time. Two successes in particular stand out. In 1979, George H.W. Bush won Ames despite polling at just 1 percent in a Des Moines Register survey — he went on to win the Iowa caucus. And in 2007 Mike Huckabee, in the low single digits in both state and national polls, finished second in the straw poll, the first tangible indicator of his upside in Iowa.
He issues a whole lot of caveats but concludes that, in its short history, "Since 1979, its results have the predictive power to explain 58 percent of voting in the Iowa caucuses."
That's actually a reasonable point. Four years ago, in a post titled "Ames Straw Poll More Meaningless than Ever," I chortled, "It's not inconceivable that Mitt Romney will win the nomination, certainly. But I guarantee that Rudy Giuliani, John McCain, and Fred Thompson will finish with more delegates than Mike Huckabee, Tom Tancredo, and even Ron Paul." That turned out to be wrong: Giuliani and Thompson flamed out in spectacular fashion and Huckabee actually finished with the second most delegates in the race, although only by virtue of staying in as a spoiler months after McCain's nomination was inevitable. Romney was in second place when he dropped out in February, but saw the writing on the wall and figured there was no sense in spending his money in a hopeless cause.
Silver is right: Ames often identifies people who were barely showing up in the polls and who went on to win the Iowa Caucuses and, in some cases, to do quite well.
So, why does the Ames is meaningless meme persist? Because of two other points that I made in that post: "Winning the straw poll has little correlation with getting the nomination and minor candidates often do extraordinarily well."
Yesterday, Michelle Bachmann easily won the straw poll and Ron Paul finished second. Judging from history, then, one of them is likely to win the Iowa Caucuses. But we've known for awhile that Bachmann would be formidable there, both because she's from next-door Minnesota and because she has strong appeal to the sort of people who vote in caucuses. Paul remains a novelty candidate–if one whose novelty is wearing thin.
In 2007, Mitt Romney won in Ames. This go-round, he didn't bother to invest his energy there and came in a distant seventh. Then again, the distance between him and Bachman was a measly 4256 votes. It's just a joke of a process, decided almost entirely on who provides the most enticing food and entertainment.
Then again, as Steven Taylor wrote four years ago, the same is true of the Iowa Caucuses themselves, in which "because of the timing and intense media scrutiny given to this contest, a relative handful of the population of a small state can directly influence which candidates are perceived as electable and which candidates are perceived as damaged goods." But even that perception is a media creation, at least on the GOP side. In contested elections (i.e., one where the party doesn't have a sitting president eligible for re-election) the winner of the Iowa Republican Caucus almost never wins the nomination.  George H.W. Bush won in 1980; Ronald Reagan won the nomination. Bob Dole won in 1988; Bush won the nomination. John McCain won in 2000; George W. Bush won the nomination. Mike Huckabee won in 2008; McCain won the nomination. The only opposed winner who went on to be nominated was Bob Dole in 1996; he of course lost the general election.
For whatever reason, Iowa has been a much better predictor for Democrats, correctly picking the winner in 1976 (although "uncommitted" actually finished ahead of Jimmy Carter), 1984, 2000, 2004, and 2008. But even there it's been spectacularly wrong. Michael Dukakis came in third (behind Dick Gephardt and Paul Simon) in 1988 and Bill Clinton finished an embarrassed fourth, with only 3% of the vote (behind Tom Harkin, Uncommitted, and Paul Tsongas) in 1992.
The Ames Straw poll is reasonably predictive of the Iowa Caucuses, which is not particularly predictive of the nomination. But, because they both come early in the process when the media is starving for something to cover, they get inordinate, undeserved attention. To use a sports analogy, Ames is like the first big scrimmage of training camp and the Caucuses are the first preseason game of the NFL season. A lot of ink is spilled on those, too, because fans are desperate for information about their teams. But teams frequently go undefeated in the preseason and miss the playoffs entirely, while it's not unusual for Super Bowl winners to have had lousy preseasons. In both football and Iowa, then, what really matters is avoiding catastrophic injuries in order to survive to the games that count.