Donald Trump Still Surging In The Polls
His remarks about John McCain's military service don't seem to be hurting Donald Trump with Republican true believers.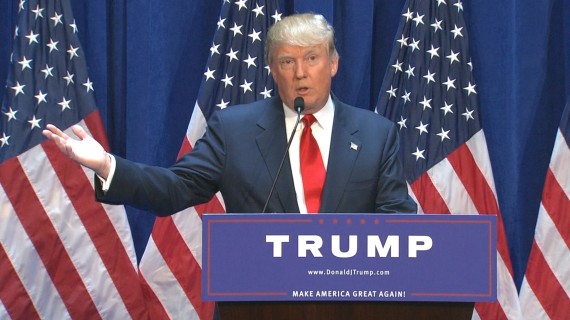 Three new polls show that, while Donald Trump is not exactly leaving his fellow candidates in the dust, he is nonetheless continuing to cement a strong presence in the race that will likely guarantee that he won't be going away any time soon.
First up, there's a new CNN/ORC poll that shows Trump in the lead although within the margin of error:
In the first national telephone poll since Donald Trump earned rebukes from Republican leaders over his comments about Senator John McCain's military service, the real estate mogul has increased his support among GOP voters and now stands atop the race for the party's nomination.
The new CNN/ORC Poll finds Trump at 18% support among Republicans, with former Florida governor Jeb Bush just behind at 15%, within the poll's margin of error.

They are joined at the top of the pack by Wisconsin Governor Scott Walker, with 10% support among Republicans and Republican-leaning independents who are registered to vote. Trump's backing has climbed 6 points since a late-June poll, while support for Bush and Walker has not changed significantly

None of the other 14 candidates tested in the new CNN/ORC survey earned double-digit support.

Though Trump currently tops the race for the nomination, his advantage is by no means firm. A majority of Republican voters, 51%, say they see the field as wide open, and that it's too soon to say which candidate they will ultimately get behind. Among that group that see the contest as wide open, Bush has 14% support, while Trump has the backing of 13% and Walker stands at 9%.

Trump does much better among those Republicans who say they've narrowed it down to one or two candidates, 24% of that group backs him, 16% Bush and 12% Walker.

Trump's popularity among Republican voters does not translate to the broader pool of registered voters. When tested in hypothetical general election matchups against top Democrats, he trails both frontrunner Hillary Clinton and upstart Senator Bernie Sanders by wide margins. Bush and Walker run just behind Clinton and about even with Sanders.

Trump's unfavorability rating is sky high. Overall, 59% of all registered voters have an unfavorable opinion of Trump, though that dips to 42% among GOP voters.

None of the other Republicans landing near the top of the field have such a negative image nationwide, though many remain little known.
A separate part of the poll shows that a majority want Trump to stay in the race notwithstanding the fact that many have a negative of him:
Most Republican voters want Donald Trump to remain in the race for president, and he's the candidate GOP voters are most likely to say they want to see on the debate stage, according to a new CNN/ORC Poll.
Trump, whose campaign for the presidency has come to dominate much of the news coverage of the Republican presidential field since he formally announced his candidacy in mid-June, remains a person Republican voters want to see more of, and a sizable 22% say they think he'll eventually win the party's nomination for president — second only to Jeb Bush

Among Republicans and Republican-leaning independents who are registered to vote, 52% say they want Trump to stay in the race for the party's nomination, while 33% hope that he drops out. Another 15% say they'd like to see him make an independent run for the presidency.

The CNN/ORC Poll is the first publicly-released national telephone poll to be conducted entirely after Trump talked about Senator John McCain's military record during an Iowa campaign event last weekend, drawing rebukes from Republicans for saying he didn't think McCain is a war hero.

The majority of those Republicans surveyed that wants Trump to remain in the race includes numbers of those seen as the core of the GOP primary electorate: 58% of white evangelicals, 58% of conservatives, and 57% of tea party supporters.

RELATED: Trump Iowa supporters shrug off McCain controversy

And when Republican voters are asked to set aside whichever candidate they currently support and pick someone else from the field whom they would most like to see on the debate stage in the next few months, 18% choose Trump, 14% say they want to see Bush there, and everyone else in the field is named by less than 10% of Republican voters.

Among a smaller swath of conservative GOP voters, another contender rises to double-digits: Florida Senator Marco Rubio. Twelve percent of conservative Republican voters say he's the candidate they'd most like to see on the debate stage, about even with Bush at 14% and Trump at 16%.

Still, more say they expect someone other than Trump will ultimately win the nomination than think that the developer is the most likely winner.
If nothing else the poll, along with others that have come out in the last week, seems to demonstrate quite clearly that Trump's remarks about John McCain last weekend, which were almost universally condemned by his opponents in the Republican field and even the Republican National Committee, have not had much of an impact on his campaign. It's possible that they have blunted his rise in the polls to some extent, and that he'd actually be doing better right now had he not said what did is possible but nearly impossible to measure accurately. The best that one can say is that the Trump phenomenon, whatever it might be, would appear to have some staying power and seems unlikely to fade any time before the upcoming debate in Cleveland scheduled for August 6th. This poll follows a YouGov/Economist poll that was released yesterday that actually showed Trump leading the pack with the support of 28% of respondents while his nearest opponent, Jeb Bush, was all the way back at 14% and Scott Walker was the only other candidate in double digits at 13%. YouGov's polling methodology is somewhat suspect because it uses online panels, however the phenomenon it captures in Trump's rise is something that we have seen in a number of polls over the past month.
National polls are important right now, of course, because they will be the primary criteria for determining who gets invited to the first round of debates. Right now, the RealClearPolitics average shows Trump in the lead at 18.2%, followed by Bush at 13.7% and then Scott Walker at 11.7%. No other candidate currently has a polling average in the double digits. Using these numbers, which may not necessarily be the same ones that Fox News will use in the coming week when it sends out its invitations or CNN will use for its debate in September, we can get a basic picture of who is likely to be at the debates. At the moment, that would be Trump, Bush, Walker, Marco Rubio, Mike Huckabee, Ben Carson, Ted Cruz, Rand Paul, Chris Christie, and somewhat surprisingly Ohio Governor John Kaisch who has jumped up in the polls and now is a head of Rick Perry in the polling average. Perry, Rick Santorum, Bobby Jindal, Carly Fiorina, Lindsey Graham, George Pataki, and Jim Gilmore would all be shut out of the debate.
In addition to the national poll released today, NBC and Marist College released polls out of Iowa and New Hampshire that also show Trump doing well, along with a couple ther surprises:
Donald Trump has surged to the lead in the New Hampshire GOP presidential primary and virtually erased Wisconsin Gov. Scott Walker's advantage in the Iowa caucuses, according to new NBC News/Marist polls released Sunday.

In Iowa, Walker still tops the field with 19 percent, the poll shows — only two points ahead of Trump, who garners 17 percent. Interviews for the poll began on July 14 — the day after the Walker campaign's launch event in Wisconsin. The only other candidate in double digits is former Florida Gov. Jeb Bush, at 12 percent.

Those lagging behind include a number of candidates banking on strong finishes in Iowa. Neurosurgeon Ben Carson is in fourth place, at 8 percent, followed by former Arkansas Gov. Mike Huckabee at 7 percent, Kentucky Sen. Rand Paul at 5 percent, Texas Sen. Ted Cruz at 4 percent and Florida Sen. Marco Rubio at 4 percent.

Former Texas Gov. Rick Perry, for whom a super PAC has spent more than $600,000 on ads on Iowa television supporting him over the past six weeks, is at just 3 percent. Bobby Jindal's super PAC has spent almost $400,000 on Iowa TV ads, but the Louisiana governor only garners 1 percent in the poll.

Meanwhile, in the first-in-the-nation primary state of New Hampshire, Trump is in the lead at 21 percent. Bush, the second-place candidate, is at 14 percent.

Walker is third, at 12 percent, followed by a surprise fourth-place finisher: Ohio Gov. John Kasich, who announced his campaign on the last day the poll was in the field, is at 7 percent. The rest of the candidates earning significant support are tightly bunched: Carson and New Jersey Gov. Chris Christie are at 6 percent, Rubio and Cruz are at 5 percent, Paul is at 4 percent and Huckabee is at 3 percent.

Kasich's strong performance in New Hampshire came mostly before he was an official candidate, but he had some help: A pro-Kasich super PAC, New Day for America, has spent more than $1.8 million on television ads in the Granite State in the past three weeks.

As for the Trump surge, it comes even as many Republican voters remain resistant to him. In Iowa, Trump's favorability rating is only at parity among Republican voters: 45 percent favorable to 44 percent unfavorable. And in New Hampshire, where he leads, a 53-percent majority of Republicans has an unfavorable opinion; just 39 percent view him favorably.
The Iowa results continue to show Wisconsin Governor Scott Walker leading, although his lead has slipped significantly from what it was just a few months ago before other candidate started entering the race. In the poll average, Walker is ahead at 19.3%, Trump is at 11.8% and no other candidate is in double digits. To large degree, this state is a must-win state for Walker and if somehow manages to lose in February, or comes away with a "win" that is far less than what many were expecting than it could do serious damage to his campaign heading into New Hampshire's primary the following week. As for Trump, it would seem that his recent visits to the state have paid off in that they are pushing his numbers upward even though he continues to trail Walker. During his appearance yesterday, Trump actually began attacking Walker for the first time in this race. So far, Walker hasn't responded but it will interesting to watch the Iowa polls to see if this latest Trump imbroglio has any impact. As for the candidates, Bush continues to do decently in the Hawkeye State notwithstanding the fact that he is somewhat out of step with the voters there. If and when Trump leaves the race, it's possible that Iowa could become a battle between Bush and Walker, just like New Hampshire could be. If anyone should be disappointed with this poll, though, it's Rick Perry who continues to languish in the low single digits despite spending a sizable amount of money and spending a lot of time there. Unless Perry can turn his campaign around in the debates, this could be over very quickly for the former Texas Governor.  Another candidate who is likely disappointed in the Iowa poll is Rick Santorum, who narrowly won the caucuses last year. This time around, he literally registered 0% support in the NBC poll and is at 0.3% in the poll average. Like Perry, Santorum may not be long for this race unless he can turn things around soon.
The New Hampshire poll is consistent with others that have shown Trump in the lead, so that one fact is not really much of a surprise. Trump has a narrow lead over Jeb Bush in the polling average for the state, for example, and so far he seems to be moving upward in the state. If there is a surprise here, it is the fact that John Kasich, who just entered the race last Tuesday and had been languishing in the polls before then. To no small degree, this jump is likely due to the fact that Kasich was spending money in the state on television ads and visiting the state since well before he formally enter the race. If he's able to maintain this momentum and does in the upcoming debates, Kasich could become a real contender alongside candidates like Bush, Walker, and Rubio. Much of that, of course, will depend on where he ends up in the national polls over the course of the next week. If he can stay ahead of Rick Perry, then he'll be in and he'll have his shot.
If there's any lesson to be drawn from all these polls, it's the the Trump phenomenon continues to grow and that there is no sign of it ending any time soon. Perhaps Trump's performance in the debate, if it's anything like his stump speeches or his appearance on cable news, will do him in and bring and an end to this circus. It seems more likely, though, that the force that Trump is tapping into will continue to build regardless of what he says. If insulting Mexicans and POWs isn't going to get him out of the race, I'm honestly not sure what will. As I've said before, Trump seems likely to not be in this for the long haul but he's in on his own terms and it's not going to be easy to get him to quit.