One Child, One Vote
J.D. Vance's cynical suggestion.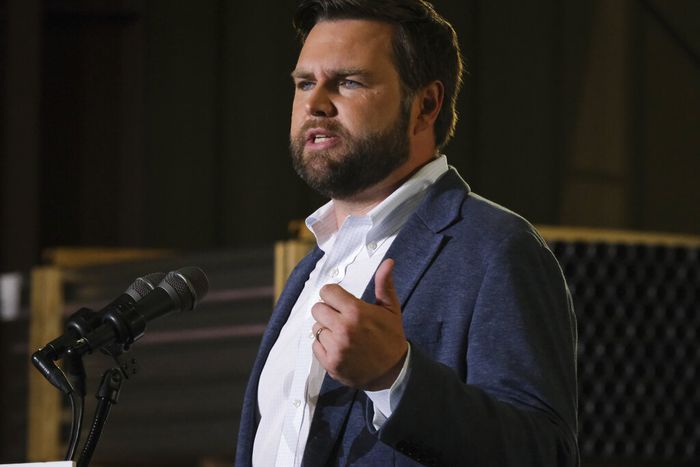 The Yale lawyer and bestselling author J. D. Vance floated a bizarre idea over the weekend in his bid for a U.S. Senate seat from his native Ohio. And it's catching on in all the wrong places.
NY Post ("GOP Senate candidate J.D. Vance blames 'childless left' for culture wars"):
Ohio Republican US Senate candidate J.D. Vance is taking aim at New York Rep. Alexandria Ocasio-Cortez and other leaders of the "childless left" for their lack of "physical commitment to the future of this country" — suggesting a radical change in voting rights to combat them.

"Why is this just a normal fact of … life, for the leaders of our country to be people who don't have a personal and direct stake in it via their own offspring?" Vance asked Friday at an Alexandria, Va. conference hosted by the Intercollegiate Studies Institute, The Federalist reported.

Vance, a venture capitalist and author of the bestselling memoir "Hillbilly Elegy," entered the race to replace retiring Ohio Sen. Rob Portman this month.

"The left isn't just criticizing our country … it's trying to take our very sense of national pride and national purpose away from us," he said, blaming figures such as Vice President Kamala Harris, Sen. Cory Booker of New Jersey, and Transportation Secretary Pete Buttigieg, along with AOC, for stoking "cultural wars."

Harris has called herself the "momala" of her two grown stepchildren, Cole and Ella Emhoff. Booker, Buttigieg, and Ocasio-Cortez have no children.

Vance offered a startling solution to what he called the "civilizational crisis": extra voting power for parents.

"The Democrats are talking about giving the vote to 16-year-olds," Vance said.

Instead, he said, "Let's give votes to all children in this country, but let's give control over those votes to the parents of the children."

"Doesn't this mean that parents get a bigger say in how democracy functions? … Yes," he concluded.
So, even if we're charitable and ignore the fact that his examples are all people of color or gay, this is just a silly argument. And it's not like parents Elizabeth Warren and Bernie Sanders are espousing different policies. Or Joe Biden or Nancy Pelosi, both of whom had/have multiple children and grandchildren, for that matter.
But that didn't stop the idiots on Fox & Friends from hopping on board.
"I think it's an interesting idea," host Will Cain said. "I'm into interesting ideas. Let's think about it. Let's talk about it. He's saying childless leaders are making decisions that are short-term in mind, not focused on the long-term future health of this country because they don't have a stake in the game. Parents have a stake in the game, they have children so give parents a bigger say."

Co-host Pete Hegseth pointed out that fellow co-host Rachel Campos-Duffy would get nine votes because she has nine children.

"I don't know about that solution, that seems not feasible," Campos-Duffy said. "But I will say that I agree with the premise of it, that it is absolutely true that people like [Rep. Alexandria Ocasio-Cortez], Pete Buttigieg — you can name the left-wing politicians, people who think that we should legalize marijuana because they don't have kids and they don't really have a stake in what that looks like."

"I agree with him 100% that they don't have a stake in the game," she continued.

"That is looking at it through the lens of the actual solution, which is the family unit," co-host Pete Hegseth agreed. "So many ills that we have in our society stem from that breakdown. I agree with you. [It's] not a feasible policy but what it is in principle is a reflection of the fact that — what Ronald Reagan said, freedom is never more than one generation away from extinction."

"And if you're Alexandria Ocasio-Cortez — our favorite comrade — and you've said the world is going to end in 12 years, what do you care?" he added. "It's this idea of absolute pessimism that the world's going to end and as a result, we're the problem and don't have kids."
Again, this is just idiotic. And, indeed, the argument would seem to go the other way, no? Global warming is likely to have relatively modest effect on AOC and Buttigieg personally. It's only if we're worried about future generations that it's worth massive investments now.
Politically, though, this is a tone likely to resonate with conservatives and non-urban voters. A Yahoo Finance piece from 2019 titled "Republicans Have More Kids Than Democrats. A Lot More Kids." notes,
Liberals are not having enough babies to keep up with conservatives. Arthur Brooks, a social scientist at Syracuse University, was the first to point this out all the way back in 2006 when he went on ABC News and blew blue staters minds. "The political Right is having a lot more kids than the political Left," he explained. "The gap is actually 41 percent." Data on the U.S. birth rate from the General Social Survey confirms this trend—a random sample of 100 conservative adults will raise 208 children, while 100 liberal adults will raise a mere 147 kids. That's a massive gap.

When we collected the number of children per capita in each state and then compared the data to statewide voting records, we found that the trend is so strong, that it can even be observed at the state level. Red States came out with significantly more kids per capita than Blue States.
Here's the graphic: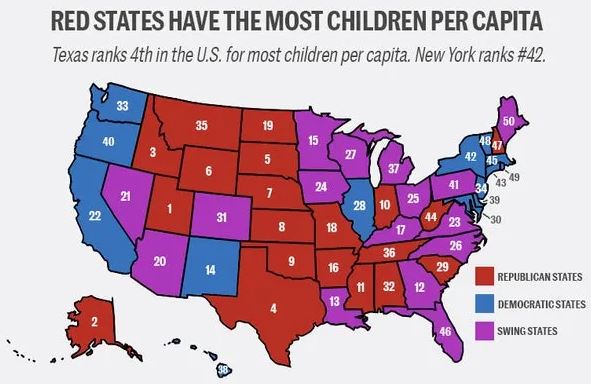 An Institute for Family Studies report from right after last November's election ("The Conservative Fertility Advantage") adds:
In an election post-mortem interview, progressive election analyst David Shor claimed that increasingly delayed marriage and childbearing have given Democrats an electoral advantage and that these changes in family formation are "reason for hope" for Democrats. Indeed, the recent presidential election revealed sharp divides in American society: between urban and rural, men and women, Black and white, conservative and liberal. Less recognized is the way in which different approaches to family life also shaped the 2020 presidential election. Whereas Americans on both sides of the aisle once shared a basic model of family, today our political divisions show up quite literally at birth, with conservatives having (and desiring to have) considerably more children than liberals. We are not only divided by our political visions, but also by our values and behaviors around childbearing and childrearing; that is, by our visions of family life.

One way this shows up is fertility. In this election, the association between fertility rates and voting patterns was crystal clear.
This seems to be Schor's hobby horse! Regardless, here's what we saw in 2016 and 2020: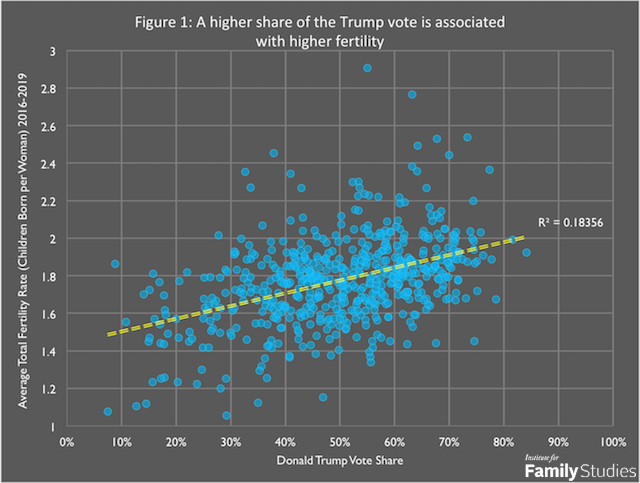 Data about fertility rates is only available for around 600 of the largest counties, thus many small, rural counties are excluded. But the relationship shown here is clear: President Trump did better in counties with higher birth rates, and the difference is fairly large, with the most pro-Biden counties having total fertility rates almost 25% lower than the most pro-Trump counties. If anything, this effect is understated, since the most pro-Trump counties were small, rural counties that usually have even higher birth rates and are excluded from this analysis. Indeed, Yi Fuxian at the University of Wisconsin showed that the relationship between voting and fertility is even more pronounced when we look at fertility rates and state voting trends.

Nor is the relationship between fertility and presidential voting a spurious result related to urbanization, race, or state practices in drawing county lines. The figure below extends the analysis to more presidential elections, and includes controls for the state a county is in, the county's non-Hispanic white population share, and the county's population density.
There's whole lot more, much of it wonky, in that report.
An, only tangentially related but included because it struck me as counterintuitive, a 2013 Pew report titled "Having daughters makes parents more likely to be Republican."
Two sociologists have found that parents who have daughters are more inclined to support the GOP and turn a cold shoulder to Democrats.

In newly published findings that challenge earlier research, Dalton Conley of New York University and Emily Rauscher of the University of Kansas found that having more daughters than sons and having a daughter first "significantly reduces the likelihood of Democratic identification and significantly increases the strength of Republican Party identification."

Not only is the daughter effect statistically significant, it's substantively large. They found that overall, "compared to those with no daughters, parents with all daughters are 14% less likely to identify as a Democrat….[and] 11% more likely to identify as a Republican than parents with no daughters," they write in the journal Sociological Forum.

The daughters effect is considerably stronger among better educated and wealthier parents, they find. But among those farther down the socioeconomic ladder, it weakens to statistical insignificance.

Their startling conclusions are based on data collected two decades ago from 661 respondents with biological children interviewed for the 1994 General Social Survey conducted by the University of Chicago's National Opinion Research Center. Even though this national trend study has been administered regularly since 1972, the 1994 survey is the only one that included questions about the sex and birth order of a respondent's biological children. (Surveys typically measure only whether a respondent has any children, including step-children and adopted children.)

The researchers note that their results fly in the face of the few other studies that test the effect of daughters on political attitudes. Among them is a 2008 voting analysis of members of Congress. It found U.S. Senators and Representatives with more daughters voted more liberally than other members. A 2010 study in Great Britain found having daughters increased the likelihood of voting for the Labor or Liberal Democrat parties as opposed to the Conservative Party, though the data are limited to "children who live at home, do not include information on those who have left home, and include step-children," Rauscher and Conley write.

However, their findings are consistent with a recent study that found boys who grew up with sisters in the house were more likely to identify as adults with the Republican Party.

But why would having a daughter cause parents to become more Republican? The authors speculate that men and women might want more socially conservative policies when they have daughters and thus be more attracted to the GOP.
Regardless, Vance is being cynical but perhaps shrewd here. Not only is he playing to parents, which would seem to be the right play for a would-be Republican Senator, he's simultaneously playing to the trope that Democrats are less fully American because they're not doing their part in keeping up the population.