Orrin Hatch Wins By A Landslide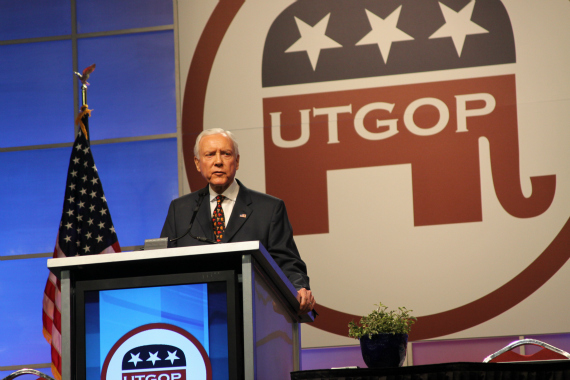 Entirely unsurprisingly, Utah Senator Orrin Hatch beat back a Tea Party challenge last night, winning the GOP Senate Primary by a landslide:
Sen. Orrin Hatch won the Utah GOP Senate primary in a landslide over an ambitious but underfunded challenger Tuesday night, all but ensuring he'll win a seventh term this fall.

With 72 percent of precincts reporting, the 78-year-old Hatch was crushing former state Sen. Dan Liljenquist 67 percent to 33 percent.

(…)

Hatch, who outspent Liljenquist 10-to-1, ran a bare-knuckles, no-holds-barred campaign that commenced more than two years ago — right after his former colleague, Sen. Bob Bennett, was unceremoniously upended by a similar challenge at the 2010 state party convention.

Hatch and his team resolved to avoid the same fate.

The incumbent tapped his vast financial advantage to turn out supporters to become convention delegates this spring. While the effort secured him 59 percent of the vote at the April 21 convention in Sandy, it was still a single percentage point short of the threshold necessary to avoid a full-fledged primary fight.

Afterwards, Hatch appeared disappointed but undaunted, calling himself "a tough old bird" who would ultimately survive.

The veteran Republican relentlessly stressed his endorsement from the state's adopted favorite son, Mitt Romney — who will share the top of the ballot with the incumbent tonight — and the seniority that would allow him the opportunity to serve as chairman of the powerful Senate Finance Committee if Republicans win the majority. Romney cut ads for Hatch and appeared with him on the tarmac of the Salt Lake City airport earlier this month.

The question for Liljenquist was always whether he could marshal the resources against the entrenched incumbent.

But the cavalry never came.
Indeed, it did not, but the truth is that this outcome owes far less to Liljenquist's resources than Hatch's resourcefulness. Virtually from the moment that his colleague Bob Bennett was defeated in a convention in 2010, Hatch began working his contacts in Utah, reaching out to constituents, and meeting with grassroots activists. By the time 2012 came around, he had virtually completely disarmed large segments of the opposition that had once vowed to come after him next once Bennett was defeated. That was smart politics.
Hatch will win re-election, of course, this is Utah after all, and if the GOP wins the Senate he will be the President Pro Tempore due to the fact that he will be the longest serving Republican Senator.