Osama bin Laden Raid Controversial in Germany
The free world rallied around the United States after the 9/11 attacks--but not all back the killing of the man who ordered it.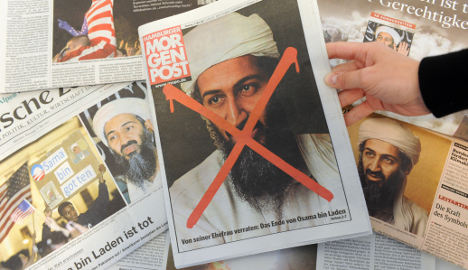 The free world rallied around the United States after the 9/11 attacks–but not all back the killing of the man who ordered it.
While some American pundits have questioned the propriety of celebrating the killing of Osama bin Laden as if it were a victory in a sporting event, the notion that going after the world's most wanted terrorist is a crime is reserved for the political fringe.  Not so in Germany. While Chancellor Angela Merkel has said she's "glad" we got him, most of her countrymen are aghast and, as WaPo's Charles Lane observes, "[M]any of Obama's erstwhile Euro-fans are feeling a twinge of buyer's remorse."
And nowhere is the chorus more moralistic than in Germany, where former Chancellor Helmut Schmidt, a Social Democrat, has pronounced the action "clearly a violation of international law." The quality press is full of carping and quibbling. Handelsblatt called the raid "an act that violates both the international prohibition of force and humanitarian law." Der Spiegel, under the headline "Justice, American Style," reports an expert's view that it's "questionable whether the USA can still claim to be engaged in an armed conflict with al-Qaida." Elsewhere in the same journal, a reporter calls NewYork celebrations of bin Laden's death "reminiscent of Muslims celebrating in the Gaza Strip after the 9/11 attacks."

To be sure, the criticism is not universal. The newspaper Bild opined that "it is not only good that bin Laden is dead. It is also good that the U.S., after ten agonizing years, has finally freed itself from his terrible stranglehold." Chancellor Angela Merkel pronounced herself "glad" that the terrorist chieftain was dead.

But German clerics and politicians immediately chided Merkel for her lack of tact, claiming that she might inflame the Muslim world. And Bild is a right-wing tabloid, the less-than-respectable news source of strap-hangers construction foremen.

The fashionable critique of Obama and the U.S. achieved its purest form on ARD Television, Germany's equivalent of the BBC, where commentator Jörg Schoenenborn pompously observed that nothing good could come from Obama's Bush-like breach of international law. "Al Qaeda will seek revenge," he asserts, "so, is the world any safer? No." Yet Americans dance in the streets, which Scheonenborn attributed to something essential, and essentially primitive, in the American character. The USA is, after all, "quite a foreign land to me. What kind of country celebrates an execution in such a way?"
And a Hamburg judge has filed a criminal complaint against Merkel for her remarks:
A Hamburg judge has filed a criminal complaint against Chancellor Angela Merkel for "endorsing a crime" after she stated she was "glad" that Osama bin Laden was killed by US forces. Meanwhile a new poll reveals that a majority of Germans do not see the terrorist's death as a reason to celebrate.

Schadenfreude, the enjoyment of others' suffering, may be a famously German concept, but it is apparently not a feeling that many Germans aspire to. Thepolitical and public fallout following Chancellor Angela Merkel's statement on Monday that she was "glad" Osama bin Laden had been killed was among the most hotly debated topics in the German media this week.

Politicians, including those within her own center-right coalition, said that no death was cause for celebration, and reproved the remark as un-Christian and vengeful.

But Hamburg judge Heinz Uthmann went even further. He alleges that the chancellor's statement was nothing short of illegal, and filed a criminal complaint against Merkel midweek, the daily Hamburger Morgenpost reported Friday.

"I am a law-abiding citizen and as a judge, sworn to justice and law," the 54-year-old told the paper, adding that Merkel's words were "tacky and undignified."

In his two-page document, Uthmann, a judge for 21 years, cites section 140 of the German Criminal Code, which forbids the "rewarding and approving" of crimes. In this case, Merkel endorsed a "homicide," Uthmann claimed. The violation is punishable by up to three years' imprisonment or a fine.

"For the daughter of a Christian pastor, the comment is astonishing and at odds with the values of human dignity, charity and the rule of law," Uthmann told the newspaper.
Truly, truly bizarre. Bin Laden wasn't an innocent–or even an ordinary accused murderer. He was certainly a legitimate military target. And the notion that being happy that a monster is gone is inconsistent with human dignity is, frankly, absurd.