OTB Caption Contest Winners
The "SERENITY COW" Edition OTB Caption ContestTM is now over.
The "SERENITY COW" Edition OTB Caption ContestTM is now over.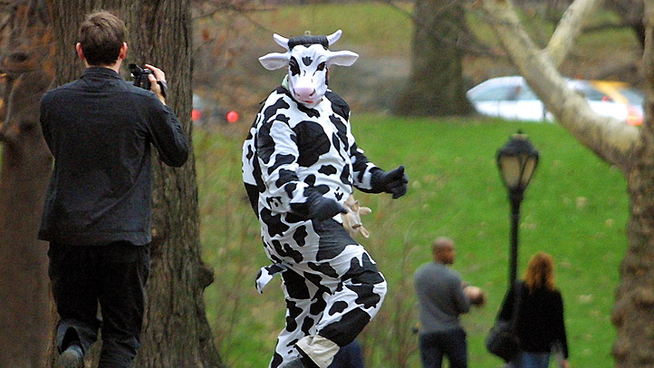 ✰ THE WINNERS ✰
First: Charles austin – Uh, cows only have four teats.

Second: Robert W. Armijo – Despite government assurances, clearly fall out side effects from the Fukushima Dai-Ichi nuclear power plant accident has begun to show up in our milk supply.(Cowzilla? – rodney)

Third: Peterh – Sorry…..I don't do frontals… (Cow-ard – rodney)
HONORABLE MENTION
The Fury – I feel udderly ridiculous.

John Burgess – Your milk or your life!

John425 – "Can you hear me now?" (Shouldn't that be 'Can you hear me cow?' – rodney)

Michael Hamm – latest case of human Mad Cow Disease.

Robert – Cow arrested by FDA for giving raw milk.
ℛODNEY'S BOTTOM OF THE BARREL
Outstanding in Her Field.

As the cow reeled around, Edmund realized he had said "Parkay" just one time too many.

DRUDGEBREAKING: New photographic evidence shows how Osama Bin Laden was able to appear publicly in Pakistan without being detected. developing….

You butter not post those pictures on facebook.

When she blushed the answer to the age old question was answered once again.

Bossy? Who you callin' bossy?
The Thursday Contest is already in another stick situation… room….