OTB Caption Contest Winners
The Tea Party Mascot Edition OTB Caption ContestTM is now over.
The Tea Party Mascot Edition OTB Caption ContestTM is now over.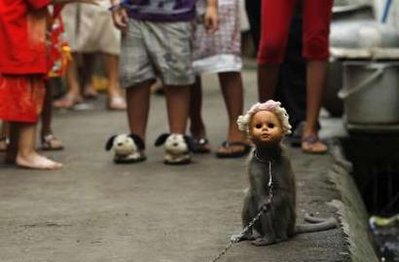 ✰ THE WINNERS ✰
First: Peterh – The new star of the latest re-make of 'Inherit The Wind'…

Second: Charles austin – Dieter's attempts to get guests to touch his monkey became ever more desperate.

Third: Maggie Mama – Another example that blonds have more fun!
HONORABLE MENTION
Robert W. Armijo – With the assistance of his pet monkey, a street performer reenacts last month's Royal Wedding for the crowd. And once again, Princess Beatrice steals the scene with her hat: the fascinator.

OldSouth – If you think I'm scary, you oughta look at the guy at the end of this chain I'm holding…

Andy – The first sign the "Chucky" franchise started to go downhill.

Mr. Prosser – You think I look stupid? I look a helluva lot better than my late pals the Fluffy Bunny twins.

MstrB – Floridians find a loop hole in the new bestiality laws.

Chance the Gardener – "This is just like television, only you can see much further." (Just because I like 'Being There' – rodney)
ℛODNEY'S BOTTOM OF THE BARREL
Biden: "That counts as another job created."

ACORN recruits another voter for Obama.

The adoption of ObamaCare generated some nasty side effects.

New SuperHeroes, DogFeet and DollFace, quickly replaced Two and a Half Men.

Looks Charlie Sheen has been on another bender.

Lady Gaga has a pet?
The Thursday Contest already has a whiff of the President's next move.