OTB Caption Contest Winners
The Whack-A-Pol Edition OTB Caption ContestTM is now over.
The Whack-A-Pol Edition OTB Caption ContestTM is now over.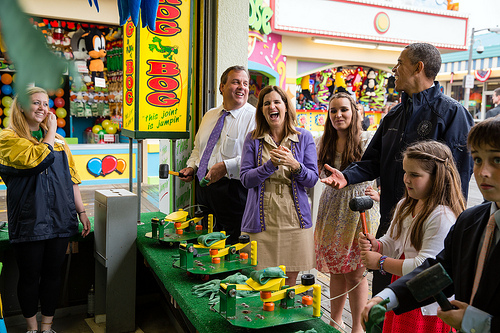 (Official White House Photo by Pete Souza)

✰ THE WINNERS ✰
First: al-Ameda – "See, I told you Chris, the morons in the House can't shut THIS down."

Second: He who must not be named – Cry havoc! And let slip the frogs of war.

Third: Robert W. Armijo – "Hey kids. Did you know, before the great government shutdown of 2013, children played Frog Bog on iPads?"
HONORABLE MENTION
OzarkHillbilly – "Heyyyy, I like this game. All the moles look like Boehner."

Moosebreath – So, Governor, which of the frogs do you think resembles Cory Booker the most?

CSK – The bystanders cheered when the young girl on the right demonstrated an efficient way to deal with Anthony Weiner's, uh, problem.

john425 – Obama asks for instructions on how to play Bop the Frog

JWH – President Obama and Governor Christie prepare to drop the hammer on recalcitrant House amphibians.

Paul Hooson – "Surprised to not see you over at the ultra-bacon burger booth."
ℛODNEY'S BOTTOM OF THE BARREL
Chris Christie: "You keep saying 'Essential Employee', I don't think it means what you think it means."

OBAMA: "Hey, where'd my turkey drumstick go?"

"Ya know… We're getting paid to do this."

Obama: "I don't need no stinkin' hammer, I got Harry Reid to whack stuff for me."

Obama: "Hey where'd my hammer go?"
Christie: "You lost it on your back swing. Don't worry in only hit Biden on the head."
The Thursday Contest already has its head in the sandmud.