OTB Caption Contest Winners
The Yin Yang Edition OTB Caption ContestTM is now over.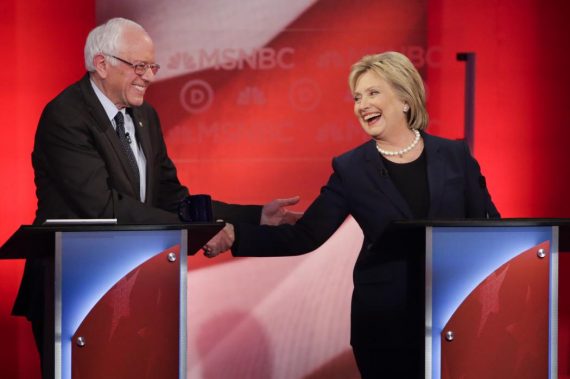 (AP Photo/David Goldman)

✰ THE WINNERS ✰
First: Mu – "Your fly is open" "There's a sealed indictment"

Second: Moosebreath – "Bernie, how did you get your hair to lie flat like that?" "It normally looks like this at the start of the day, it only flies all over the place after a few revolutions."

Third: al-Ameda – B: "We'll always have Benghazi, right Hill?" H: "Eat s*** and die, Bern."
HONORABLE MENTION
edmondo – It wasn't until after the debate that Bernie realized he couldn't find his wallet, or his watch and three fingers from his right hand were missing.

Franklin – B: "Have you visited TrumpDonald.org yet?" H: "Visited? I funded it with money from Wall Street!"

Hal_10000 – For tonight's debate, we're secretly replacing Bernie Sanders with Larry David. Let's see if anyone notices.

OzarkHillbilly – Bernie was afraid to let go of Hillary's hand after Bill told him what a ball buster she was.

DrDaveT – "Amazing, Hillary — feels just like human flesh!"

RockThisTown – Smokin' pot meets Ma Kettle.

Tony W – If looks could kill…

Jeron – Sandy and Danny. Grease musical for the ages!
ℛODNEY'S BOTTOM OF THE BARREL
Bernie: "Palomino… PALOMINO!!!"

Bengay meets Benghazi

Rock, Paper, Scissors, Geezer, Schlock

The winners of last night's Republican debate.