OTB Caption Contest Winners
The Elks Club Edition OTB Caption ContestTM is now over.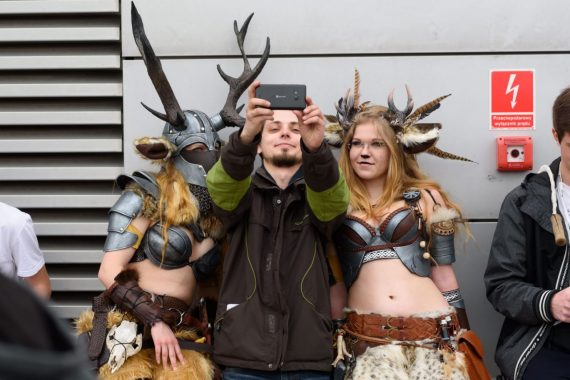 (EPA/JAKUB KACZMARCZYK)

✰ THE WINNERS ✰
First: Jc – If you are trying to determine which one is the horniest, stop counting, it's the one in the middle.

Second: Franklin – Oops, I think my selfie stick is in my pants.

Third: CSK – Some observers found the new costumes for the Minnesota Vikings cheerleaders to be a tad…extreme.
HONORABLE MENTION
OzarkHillbilly – We are now the Knights who say "Ekky-ekky-ekky-ekky-z'Bang, zoom-Boing, z'nourrrwringmm".

Guarneri – Dear Mom. School is great. Found a safe space. Send money…

john430 – I should be so lucky as to be single and surrounded by horny women.

Paul Hooson – The adult version of ROCKY & BULLWINKLE?

DrDaveT – If Jules in the middle understood what those antlers symbolize, he'd be getting as far from Sylvie as possible…

Mu – Looking at New Orleans' 2016 delegates the Louisiana Republican party moved their primary date away from Mardi Gras.

Donald Sensing – "I use antlers in all of my deeeeecorating!" "Oh what a guy, Gaston!"

Jeron – Hillary supporters who aren't making their husbands too-happy either.
ℛODNEY'S BOTTOM OF THE BARREL
Ted was going to get lucky until he tried to compliment them saying, "Nice Racks, I like big racks."

"Size doesn't matter."

"It's Wabbit season"
"Deer Season"
"Wabbit Season"
"Deer Season"
"Wabbit Season"
"Deer Season"
"Wabbit Season"
"…rutting season"
"Hunh?"

Another Saturday night and I ain't got to bunnies,
I gotta monkey, but he just got spayed.
And now my wish for some moose to talk to,
It's been and auk-ful day.