OTB Caption Contest Winners
The Bags Fly Free Edition OTB Caption ContestTM is now over.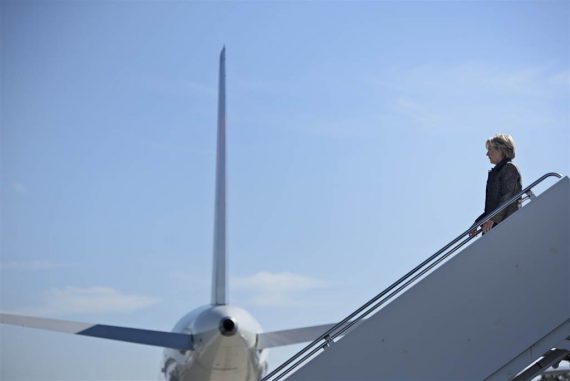 BRENDAN SMIALOWSKI / AFP – Getty Images

✰ THE WINNERS ✰
First(tie): DrDaveT – In which Hillary Clinton bravely pretends that she comes with no baggage.

First(tie): Hal_10000 – Observers were surprised that Clinton appeared unruffled by the violent backwash of the jet, but then remembered she's spent three hours debating Trump.

Second: RockThisTown – In this photo obtained from a classified e-mail, Hillary dodges sniper fire as she exits her plane during Operation Tailhook.

Third: john430 – Hillary: "I'm gonna tax the rich so that everyone can have a jet plane just like mine."
HONORABLE MENTION
al-Alameda – "… the stairway to heaven goes down?"

Moosebreath – I'm Hillary. Fly me.

Franklin – Hillary: "OK, OK, enough with the cigar references"

Tony W – Trump's campaign plane, true to the character of its owner, wiggles its ass at Hillary Clinton as she arrives for a campaign rally.

Mu – "This portable escalator was worth every penny"

Paul Hooson – Is her broom broken?
ℛODNEY'S BOTTOM OF THE BARREL
Presidential campaign: Two go in, one comes out.

Please assume crash positions….

(DING) You are now free to moan about the country.

In Wisconsin… Hillary flies DairyAir…