OTB Caption Contest Winners
The Hand Jive Edition OTB Caption ContestTM is now over.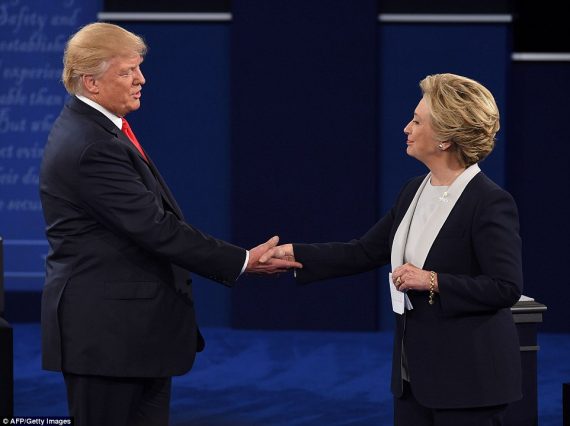 AFP – Getty Images

✰ THE WINNERS ✰
First: DrDaveT – In a moment of stunned realization, Trump and Hillary discover that they are both Freemasons.

Second: RockThisTown – Hillary: "Note to self: Wipe my hands, not the server. . . wipe my hands, not the server . . . ."

Third: Tony W – Trump, settling for a handshake, couldn't figure out how to get close enough to grab her the way he normally does other women.
HONORABLE MENTION
Franklin – "Really, Donald? A cigar cutter?"

CSK – "How can I pull your finger, Donald? They're all waaay too short."

Steve Metz – "I hope Huma remembered to bring the extra large jug of hand sanitizer."

fustian – Proof that anybody can grow up and become President. And I don't mean that in a good way. I mean ANYBODY!

Mary Gehman – "…My Honey, My Baby, don't put my vote upon no shelf…" She said "Don't hand me no lines and keep your hands to yourself…"

pylon – "I don't think he can reach my pussy from there".
ℛODNEY'S BOTTOM OF THE BARREL
Hillary: "We're keeping to the high ground with this debate, right?"
Trump: "Cha…. and monkeys might fly out my butt."

Quickly as you can, snatch the election from my hand.

Trump and Hillary together: "I'm grabbing a pussy right now!"

One, Two, Three, Four, I declare a thumb war.

"I'm the key master are you the gate keeper?"