OTB Caption Contest Winners
The Yes, We Done. Edition OTB Caption ContestTM is now over.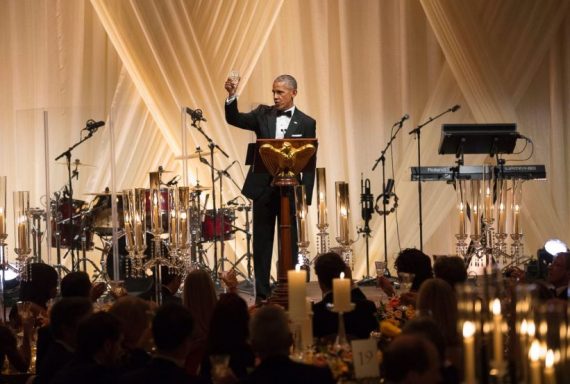 Michael Reynolds/EPA

✰ THE WINNERS ✰
First: Hal_10000 – "And my final toast: to the Republicans! Now you have Trump in office. Hahahahahahahahahahahaha. Snort. Hahahahahahaha."

Second: RockThisTown – "My legacy is toast . . . . uh, I mean, a toast to my legacy."

Third: Aelio – Obama raised his arm too much, time to criticize him. Obama offered a toast to everyone. Did he mean it? Did it have a double meaning? Did a toast imply Trump? Such a Social Justice Warrior, oh I mean a loser. The left had forgotten what it was like to hate their president. 8 years do that to people.
HONORABLE MENTION
al-Ameda – " … and finally, to those of you who voted for Jill Stein … are you happy, really?"

Franklin – Elvis … has left the building.

Elizabeth – Th-th-th-that's all folks!

C. Clavin – Here's to the guy who spent 5 years trying like hell to de-legitimize me, and is now crying like a little child because Putin and Comey de-legitimized him.

DrDaveT – "…and one for the road."

john430 – Welcome to the Obama Late, Late Show on MSNBC. Let's hear it for the band. Hey, band? Fellas?

Terry – We had joy, we had fun
We had seasons in the sun
But the wine and the song
Like the seasons have all gone
ℛODNEY'S BOTTOM OF THE BARREL
"Ok, Now lets start rearranging the deck chairs."

#NotMyPresident #NotYoursEither