OTB Caption Contest Winners
The Deal or No Deal Edition OTB Caption ContestTM is now over.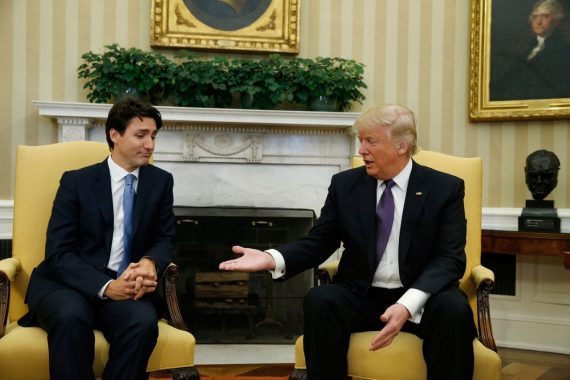 (Kevin Lamarque/Reuters)

✰ THE WINNERS ✰
First: EddieInCA – DT: Go Ahead, Justin. Smell it. JT: No thanks. Smelling Melania's perfume was enough.

Second: Doug Mataconis – "See? I have normal sized hands. Pretty large hands actually."

Third: Gobsmacked – Show me how Canadians grab 'em by the beaver tail.
HONORABLE MENTION
OzarkHillbilly – Trudeau sees no reason to partake in another dick measuring contest.

Moctavius – "Um, no. I don't think so. There's really no telling where that hand has been."

RockThisTown – "I'm signing an executive order to round up the usual Hollywood suspects who promised they'd go to Canada & you're to take 'em with you."

Fazio – "See all of these empty promises? They're for America, but I have some for Canada too!"

Pete S – "I thought you were bringing me poutine?"

Paul Hooson – "…and, I also consider myself an amateur gynecologist as well…".
ℛODNEY'S BOTTOM OF THE BARREL
Trump: "Dinner is served…." Trudeau: "Not Michael Lee Aday, again?"

"For God's sake, stop saying 'Aboot,' Calling hats 'Tuques,' and calling M&Ms 'Smarties.'"

Trump: "Canada's such a wonderful place. I hear Quebec is all hockey players and whores."
Trudeau: "Uh…. My wife is from Quebec, Mr. President."
Trump: "…and I hear she's a damn good forward too."