OTB Caption Contest Winners
The Pompadork Hat Edition OTB Caption ContestTM is now over.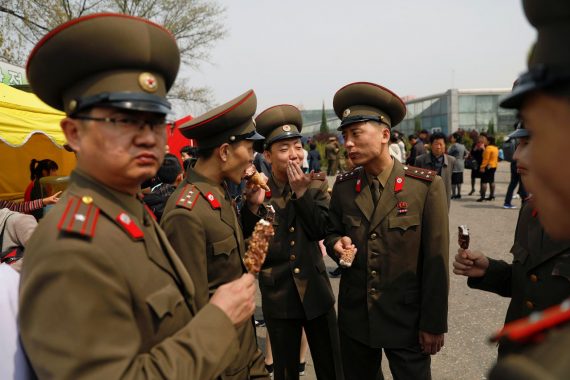 REUTERS/Damir Sagolj

✰ THE WINNERS ✰
First: Jc – I scream, you scream, we all scream under the North Korean regime!

Second: Franklin – Did you order the Ice Cream of Sum Yung Gai?

Third: OzarkHillbilly – These kebabs taste like imperialist American swine! Very good!
HONORABLE MENTION
al-Alameda – "I assure you comrades, this is the staff management uniform at the Manhattan Trump Tower"

Gromitt Gunn – How can they be called novelties if everyone has one?

Moosebreath – I see nothing — NOTHING!

Mu – Tasty, but read in Chinese it's "Frozen Kim Turd"

RockThisTown – Four out of five NK soldiers agree: this assignment beats clean-up duty at the missile launch site.

Paul Hooson – Deciding who has to use the tire pump to inflate the phony missile balloon for the parade…
ℛODNEY'S BOTTOM OF THE BARREL
That's some bad hat, Harry.

"Uh, did your Supreme Leader model for that hat by sitting on a small round stool?"

"Did you get a free bowl of soup with that hat? Oh, but it looks good on you."

"We're on a mission from God."