OTB Caption Contest Winners
The DON'T PANIC Edition OTB Caption ContestTM is now over.
The DON'T PANIC Edition OTB Caption ContestTM is now over.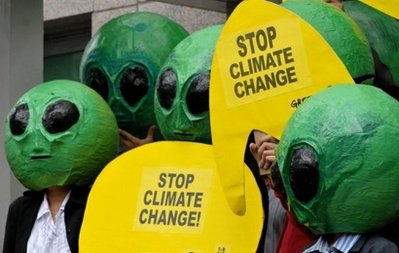 ✰ THE WINNERS ✰
First: charles austin – I'm visualizing whirled peas.

Second: G.A. the Friendly Troll – Take me to your Algore…… (Outsourcing computer programming has gone too far – rodney)

Third: Drew – They speak English on Mars; who knew?
HONORABLE MENTION
Mr. Prosser – Stop climate ch…oops, too late.

Michael Hamm – Protesters demonstrate how to reduce CO2 emissions by not exhaling..

anjin-san – Climate change is a hoax. Nuclear power is perfectly safe. So are offshore drilling platforms. Why don't those hippies shut up? They have never been right about anything.

JazzShaw – Those Arizona border control efforts aren't looking quite so silly now, are they?

Maggie Mama – Give me a break. The temperatures on Mars have been rising for forty years and it's all because of MY SUV?

Montanareddog – Clear evidence that opposition to climate change is un-american

mannning – Which way is Roswell, NM?
ℛODNEY'S BOTTOM OF THE BARREL
Soylent Green is martians.

The Claw is our master, we have been chosen.

For interstellar legal advice seek the law offices of Crane, Poole, and Schmidt

The unfortunate decapitation incident occurred as they met Kobe Bryant and someone screamed "I'm open."

In other news its been reported that the Statue of Liberty has lost her pearl necklace.
The Thursday Contest has already been exposed to art.