Romney Wimp Factor: Newsweek's Tired Trope
Mitt Romney is no more of a wimp than George H.W. Bush or John Kerry.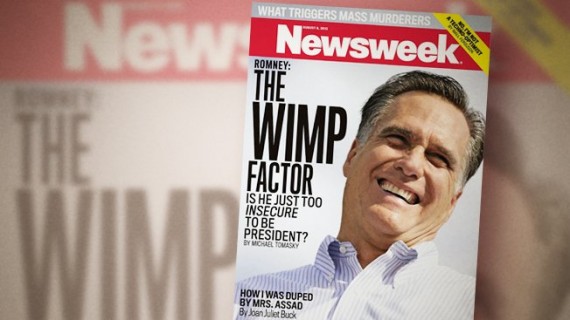 Jonathan Chait eviscerates Newsweek for its Romney Wimp cover.
Among the most memorable and potent examples of a newsweekly setting the agenda was Newsweek's 1987 cover story on George Bush, with the memorable line "The Wimp Factor." (The line became memorable in large part because Newsweek itself referred back to it some two dozen times, including in conjunction with John Kerry and Barack Obama.)

Newsweek itself, at least its print edition, may soon shuffle off to its mortal coil. You can see the editorial thought process at work. What kind of cover story could create the sort of pop that the classic "Wimp Factor" cover did? Then inspiration struck: How about another "Wimp Factor" cover? And so this week's edition of Newsweek reprises the cover line, only applied to Romney. The affiliated Daily Beast website also has an item "Reliving History" of that great moment in its past. It calls to mind the old Saturday Night Live skit with the director who strikes gold with Soylent Green (an actual movie about a mysterious food that turns out to be made of people) and then attempts to recreate the success with a series of progressively less-successful follow-upsSoylent White, Soylent Teal, Soylent Cow Pies, Soylent Stooges, before, finally, returning to his roots with Soylent Green 2.
The latest edition of Soylent "Wimp Factor" is churned out by the estimable Michael Tomasky, who (I would surmise) gamely tries to fit the facts into the hackneyed premise, but winds up disproving it. The difficulty begins with the lead anecdote of the piece, which has to be on the news. The latest news about Romney, of course, is (or was, as of press time) his insult of the London Olympic Games. "The episode highlights what's really wrong with Romney. He's kind of lame, and he's really … annoying," the story assures us. Except, of course, that gratuitously insulting your hosts while subtly implying you could do their job better, whatever else is wrong with it, is the opposite of wimpiness.
It leans on the power of invidious comparison: "Where Reagan saddled up a horse with the masculine name of El Alamein, Mitt saddles up something called Rafalca — except that he doesn't even really do that, his wife does." The "except that" clause is written as if it somehow amplifies the charge, wheras in fact it nullifies it completely. Here, let's try this method to argue that, I don't know, Tom Brady isn't manly. Ready? Where Johnny Unitas once pounded beers in working class bars, Tom Brady promenades down fashion runways in a dress — except that he doesn't even really do that, his wife does.
There's more but you get the idea.
Now, in fairness to Newsweek, there were certainly people who thought George H.W. Bush was a wimp back in 1988. It was, of course, absurd—the man was the Navy's youngest fighter pilot during WWII, captain of the Yale baseball team, a successful oil man, director of the CIA, and otherwise had pretty strong credentials as a man of assertive action–but he did have a less than baritone voice and seemed rather genteel in comparison to Ronald Reagan, who managed to convince everyone he was a cowboy. Then again, the nature of the vice presidency is one of subordination.
Similarly, John Kerry—and for that matter, Michael Dukakis and Al Gore—faced similar questions for similarly absurd reasons. It was even stranger in the case of Kerry than for Bush the Elder, in that Kerry was not only a war hero but still a rather vigorous athlete at the time he was running for president. Yet, oddly, that backfired on him.  Photos of him looking buff while windsurfing at the age of 64—which, even as a supporter of his opponent I considered pretty badass—were the subject of ridicule.
Dukakis looked like a wimp trying to drive a tank, because he was a little guy. And he gave a really wimpy answer when asked an outrageous question about a hypothetical rape of his wife.  But he served in the Army and got himself elected governor twice and garnered his party's presidential nomination.
(And Chait's own link on the Obama story undercuts it; Newsweek wasn't saying that Obama was a wimp but rather than ordering the Osama bin Laden raid should have killed the myth that Democrats are wimps on foreign policy.)
As for Mitt Romney, it's pretty hard to get to where he is in the world as a wimp. While he's certainly been weak in terms of standing his ground on policy positions, instead tacking with the prevailing winds, that's more of a sign of lack of a strong ideological mooring and of political opportunism than weakness. (For that matter, as Jim Geraghy points out, Newsweek had Romney depicted as Spartacus—an image rather inconsistent with wimpiness—on a cover back in February.)
What Romney does have in common with Bush 41 and Kerry is that despite enormous strengths—you simply don't get to be a major party presidential nominee otherwise—he can't seem to connect with "ordinary Americans." Bush was doubly fortunate in 1988 to be running as the continuation of Ronald Reagan's presidency and against Dukakis, who had even less of a common touch than he did.
Romney lacks either of those advantages. While Obama famously has trouble connecting to blue collar voters, most Americans nonetheless find him personally likable and he has a certain off-the-cuff charisma that Romney can't match. Romney is betting heavily that he'll be able to win simply on the basis that the economy is bad. And he's running a disciplined, even ruthless, campaign to hammer that home.
The bottom line is that Romney's kind of boring; he's not a wimp.  And Newsweek is about out of tricks.