Oval Office Rug Really Ties The Room Together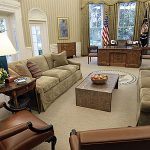 The new Oval Office rug misattributes one of its quotations to Martin Luther King, Jr. In fact, MLK was himself merely quoting an abolitionist who died over a century earlier:
"The arc of the moral universe is long, but it bends toward justice." According media reports, this quote keeping Obama company on his wheat-colored carpet is from King.

Except it's not a King quote. The words belong to a long-gone Bostonian champion of social progress. His roots in the republic ran so deep that his grandfather commanded the Minutemen at the Battle of Lexington.

For the record, Theodore Parker is your man, President Obama.
According to a recent biography, this is Obama's favourite quotation. Divining the metaphors here is left as an exercise for the reader.