Palin, Romney Lead In Early GOP 2012 Gallup Poll
Once again, Mitt Romney and Sarah Palin are at the top of the field in the GOP 2012 race, but that may not last forever.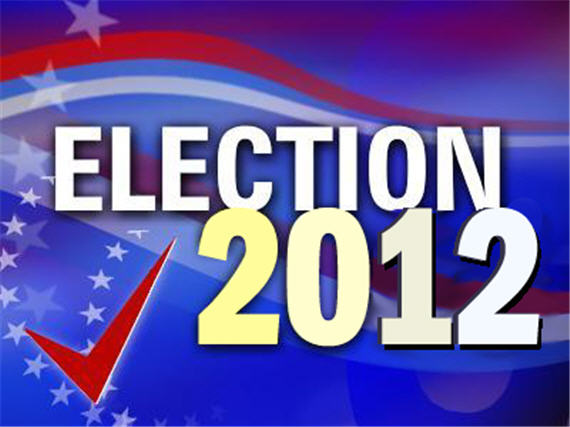 Once again, a poll of potential Republican candidates in 2012 has the usual suspects at the top:
PRINCETON, NJ — Mitt Romney and Sarah Palin lead other potential candidates in Republicans' preferences for the party's 2012 presidential nomination. Mike Huckabee, Newt Gingrich, and Ron Paul also receive more than 5% support from Republicans nationwide.

Gallup, in a poll conducted Sept. 25-26, asked Republicans and Republican-leaning independents which of 12 possible candidates they would be most likely to support for the party's nomination. All 12 candidates are thought to be seriously considering a run for president, and many of them have already visited Iowa and New Hampshire, the states holding the first nominating contests.

In addition to the 12 named candidates, 1% of respondents volunteered the name of New Jersey Gov. Chris Christie. Christie, in his first year as governor of the state, has become a prominent GOP figure, though he is not expected to run for president in 2012.
Here are the full results: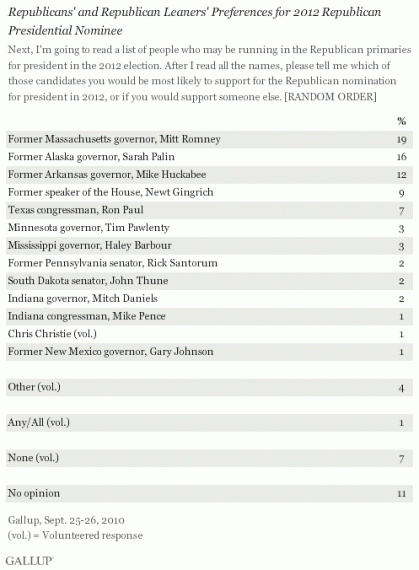 As I've said, none of this is a surprise. Romney, Palin, Huckabee, Gingrich, and Paul are really the only names on this list that have any degree of national name recognition. At some point, the guys further down the list are going to have to make some effort to get their names out there if they are going to have any chance of breaking through the pack. Most likely, it's those candidates — Pawlenty, Daniels, Pence, Thune, Santorum — that we will see make early announcements in 2011, or even late 2010, so that they can start putting together some semblance of a fundraising organization.
The smart money right now says that the GOP nominee will end up being someone like Palin, because of her fanatical supporters, or Romney, because of his seemingly unlimited ability to spend money. However, it's worth remembering that, at this point in the 2008 cycle, the "smart money" would've also said that the GOP nominee would be Rudy Giuliani, and we know how that worked out.