Pandemic-Induced Inflation Ends
Our long national nightmare is over.
Kevin Drum had back-to-back posts on inflation yesterday. The most recent, "Imports are getting cheaper and cheaper," is supported by this graph: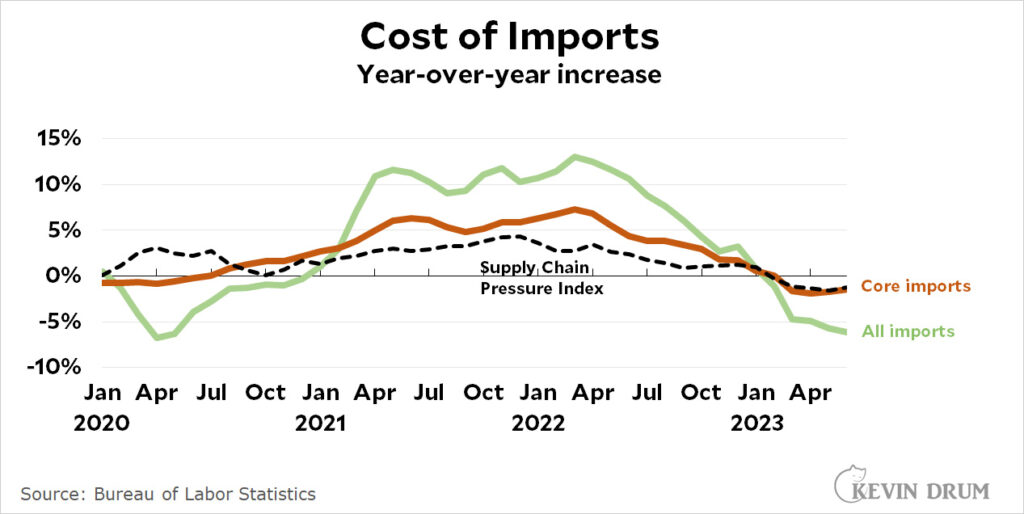 and concludes with this analysis:
What's happened is simple: when production cratered during the pandemic, supply declined and imports therefore cost more. Once everything recovered, however, there was no reason to think that goods would stay at high prices. Instead, with supply restored to normal, prices are falling back to their old levels.

This is different from what happens during a monetary inflation: Even when the inflationary episode ends, there's still way more money sloshing around in the system and prices remain at high levels. They just stop going up.

This is yet more evidence, as if any more were needed, that pandemic inflation was not normal inflation. It was not the '70s; it wasn't even the '50s. It was purely artificial, caused by a virus that killed off supply along with fiscal stimulus that maintained demand. When the virus and the stimulus went away, so did inflation.
And, indeed, we're currently at 2.97% inflation, roughly where we were before the pandemic and below the historical average.

This followed a reflective post titled "Team Transitory has been right all along—but way too optimistic."
In 2021, when inflation started to take off, there were two opposing sides: Team Transitory and Team Structural. In particular, Team Transitory believed that taming inflation didn't need a lot of help from the Fed because it was fundamentally the result of temporary pandemic supply shocks that would fade on their own.

I've been on Team Transitory consistently from the start because I think nearly every scrap of evidence points in that direction.
Agreed. Indeed, to the degree that I blamed policy for it, it was at the margins and related to the aforementioned stimulus, which I still believe was way larger than it needed to be under President Biden.
But every single member of Team Transitory—including, ironically, me—made a big mistake. We forgot Kevin's Law: "Everything takes longer than you think."
If prefer Hofstadter's Law: "It always takes longer than you expect, even when you take into account Hofstadter's Law."
In any case, our initial notion that the inflationary burst would last nine months or so was laughable. We all should have known better. There's absolutely no support in the historical record for such a short inflationary episode in the US.
Which he supports with yet another chart:
In fairness, since this bout was almost entirely a function of a global pandemic and its follow-on effects on the supply chain, comparing it to past episodes is probably not all that useful for forecasting. We know now that it seems to have taken a little over two years to sort itself out. But I don't know that anyone was predicting the supply chain mess to begin with. How were they supposed to figure out how long it would take to get to a new normal?
Some are giving credit to the Fed for strangling the economy with rate hikes. But that was quite probably completely unnecessary.