Panetta Sworn In As 23rd Defense Secretary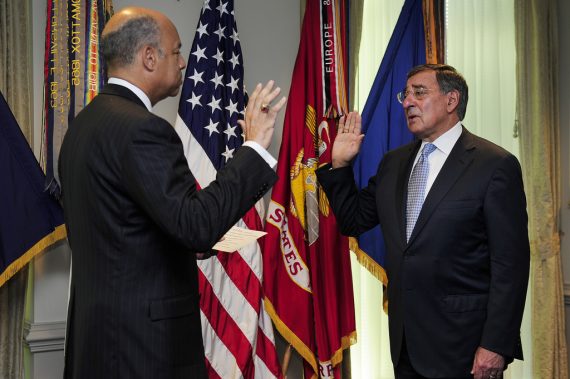 Leon Panetta has officially taken over at the Pentagon:
WASHINGTON (CNN) — Leon Panetta was sworn in as the nation's 23rd defense secretary Friday, replacing Robert Gates.

Panetta, who previously served as CIA director, was confirmed by the Senate Tuesday in a rare 100-0 vote.

After his confirmation vote, Panetta pledged to "work to ensure that we continue to have the strongest, best-trained and best-equipped military in the world."

Among Panetta's top priorities: overseeing the completion of the U.S. withdrawal from Iraq this year and beginning the process of winding down the unpopular war in Afghanistan.

Approximately 33,000 U.S. "surge" troops are expected to be withdrawn from Afghanistan by next summer, with the remaining 68,000 leaving by the end of 2014.

Panetta will also be responsible for managing limited U.S. involvement in the NATO-led campaign in Libya.

While facing those challenges, the new secretary will also confront the realities of an age of greater fiscal austerity at the Pentagon. Tighter financial constraints, according to numerous analysts, are contributing to a growing emphasis on smaller, more flexible, less costly, and potentially more dangerous military and paramilitary engagements in the years ahead.
David Petraeus was confirmed yesterday as CIA Director by a 94-0 vote so one imagines he will be sworn in shortly as well.