Pediatricians Urge In-Person School
Contra the CDC, the AAP says getting kids to class outweighs the modest risk of their catching COVID-19.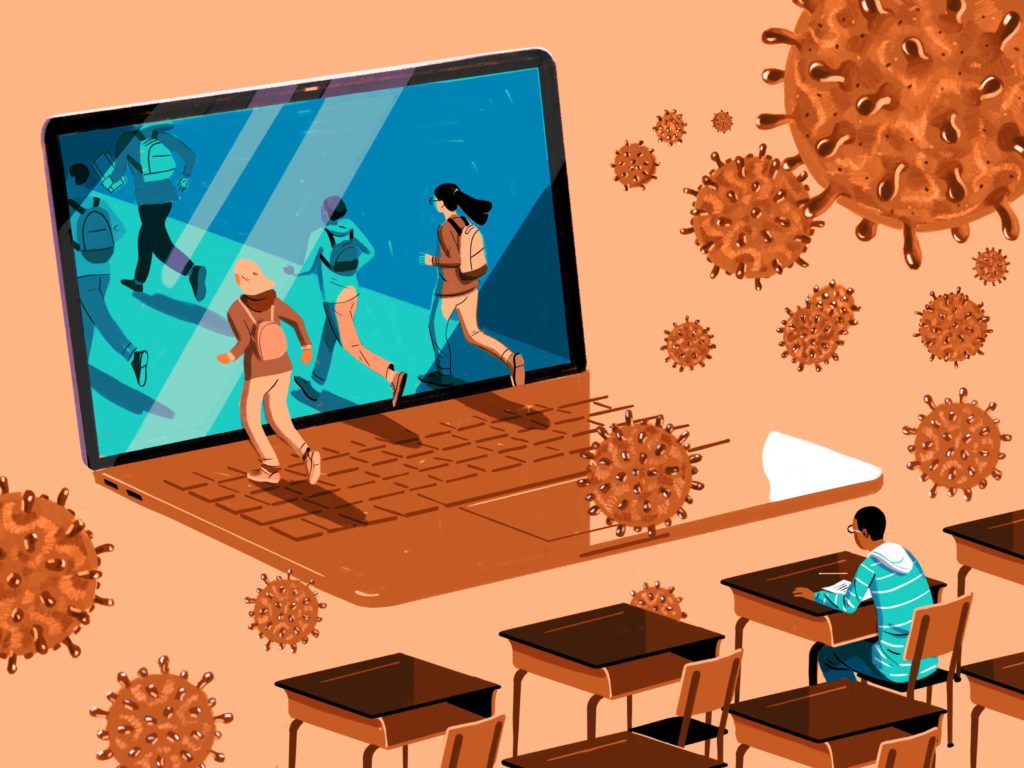 The American Association of Pediatricians has put out a statement urging school districts to prioritize getting kids into the classroom full time even at the expense of physical distancing.
NPR ("U.S. Pediatricians Call For In-Person School This Fall"):
The nation's pediatricians have come out with a strong statement in favor of bringing children back to the classroom this fall wherever and whenever they can do so safely. The American Academy of Pediatrics' guidance "strongly advocates that all policy considerations for the coming school year should start with a goal of having students physically present in school."

The guidance says "schools are fundamental to child and adolescent development and well-being."

The AAP cites "mounting evidence" that transmission of the coronavirus by young children is uncommon, partly because they are less likely to contract it in the first place.

On the other hand, the AAP argues that based on the nation's experience this spring, remote learning is likely to result in severe learning loss and increased social isolation. Social isolation, in turn, can breed serious social, emotional and health issues: "child and adolescent physical or sexual abuse, substance use, depression, and suicidal ideation." Furthermore, these impacts will be visited more severely on Black and brown children, as well as low-income children and those with learning disabilities.
There's quite a bit more both at NPR and in the statement itself.
I think the pediatricians are right here in their cost-benefit assessment but they have an uphill fight. While they're the experts on overall health of children, most of them aren't epidemiologists. The CDC guidelines still recommend students be kept six feet apart, which simply can't happen in conjunction with normal school schedules.
Beyond that, the teachers unions are balking at going back to the classroom at all. A substantial number of their members are elderly or immunocompromised and would definitely be at risk under anything like a "normal" school day. And asking them to teach every day in-class and also manage students who are learning remotely, whether for medical reasons or out of parental concern, is unreasonable.
Anecdotally, at least, parents are torn. The ones I've talked to and most of the reactions I've read here in Northern Virginia are mostly outraged that the schools, which failed us miserably when they shifted to remote learning in March, aren't going back to full schedules. But I've read accounts of parent-led protests in other parts of the country demanding that schools not re-open until there's a vaccine.
Of course, parents were also demanding that the schools hurry up and shut down while administrators were wrestling with the issue back in March. But we have a lot more information now, both about the difficulties of remote learning for young children and about the way the disease spreads.
Additionally, I think our mindset—certainly, my mindset—in March was that we needed to make a concerted but relatively brief effort to "flatten the curve." Everything I was reading indicated that the prudent thing to do was shut schools for a few weeks to get the virus under control and then re-open with proper cleaning and safety procedures.
Now, the inertia has shifted in the other direction. Instead of wrestling with the responsibility of depriving kids and their parents of the support structure of the schools, they're now wrestling with the responsibility of ordering a return to something like normal.
This would all be easier, of course, if Americans could trust their leadership at the national level. With the President and his enablers fighting against simple measures like wearing masks and conducting testing—and, frankly, the CDC committing multiple blunders as well as lying to us for months about masks—we don't have that. Which means decisions are all devolving to governors and school boards, most of whom are elected with much less scrutiny than we apply to presidential contests.