Schools, Daycare, and COVID-19
The emotional and economic impact of the pandemic is hitting women especially hard.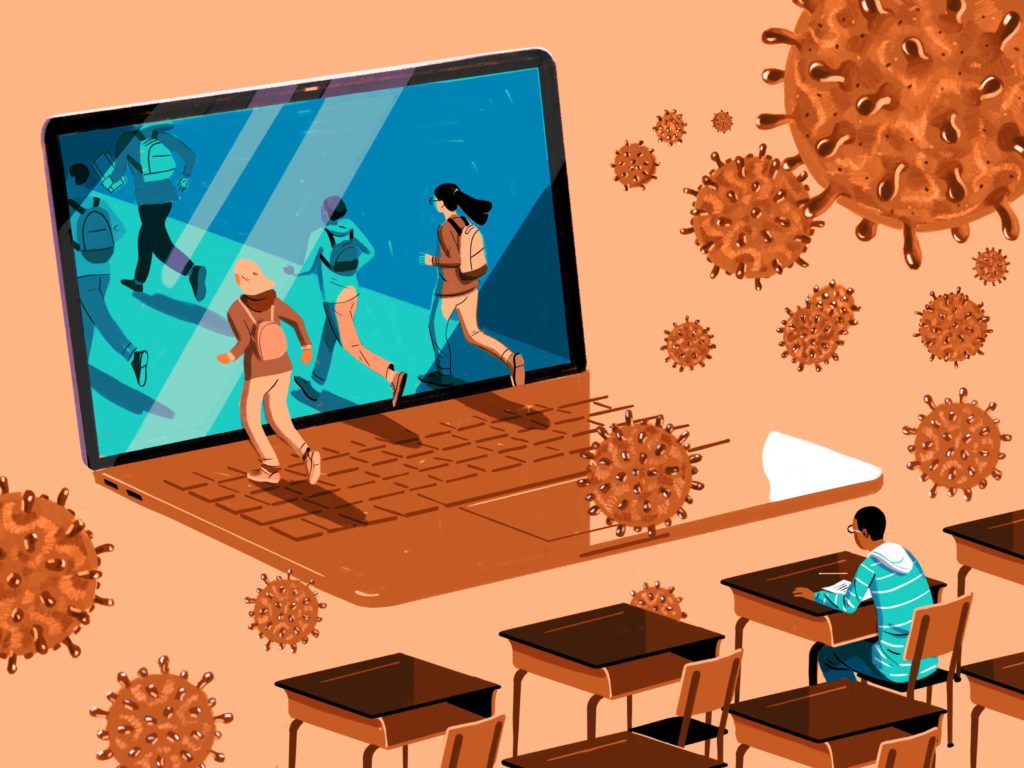 A flurry of articles in recent days focus on the stresses, particularly to women, caused by worries schools won't open and there will be no one to care for children while parents return to work.
First out the gate was NYT columnist Michelle Goldberg with "Remote School Is a Nightmare. Few in Power Care."
With expanded unemployment benefits set to expire at the end of July, many parents will have no choice but to return to work by September. Even for parents who can work from home, home schooling is often a crushing burden that's destroying careers, mental health and family relationships. And online school has had dismal results, especially for poor, black and Hispanic students.

Yet the nightmarish withdrawal of the key social support underlying modern parenthood is being presented as a fait accompli, rather than a worst-case scenario that government is mobilizing to prevent. "This school system should be leading the country on figuring out how to bring our kids back," said [Scott Stringer, the comptroller of New York City[. "And there's no creativity. There's no energy behind it."

This isn't just a New York City problem. At every level, government is failing kids and parents during the pandemic.

The Centers for Disease Control and Prevention says that if schools reopen, students' desks should be placed six feet apart, which means far fewer kids in most classrooms. But there's been no crash program to find or build new classroom space, or to hire more teachers.

Few seem to be exploring the possibility of outdoor classes where weather allows. Experts I spoke to knew of no plans to scale up child care for parents who will need it. Randi Weingarten, president of the American Federation of Teachers, described school districts as "immobilized" by lack of funding.
I've been writing about this aspect of the problem for a while now. The teachers are pushing very hard not to go back, for both selfish and understandable reasons. The CDC and the American Academy of Pediatrics are sending out conflicting advice. And parents are caught in the middle.
While most of her column is about these issues, though, her policy bottom line is that Republicans in Congress should back longer unemployment benefits and backstops states and localities who have been crushed by the pandemic. While I tend to agree with her on this, I'm not sure it really solves the problem at hand. Most of us aren't unemployed and don't want to give up our jobs to draw benefits; we want schools to be open and safe.
Epidemiologist Jennifer B. Nuzzo and pediatrician Joshua M. Sharfstein weigh in with a plea "We Have to Focus on Opening Schools, Not Bars."
The way states lifted social distancing restrictions imposed to fight the coronavirus sadly demonstrates our priorities. Officials let bars, restaurants and gyms open, despite warnings from public health experts that these environments pose the greatest risk for spreading the disease.

Yet political leaders seem to have paid scant attention to safely reopening schools.

The consequences of those backward priorities — Covid-19 rampaging through states that reopened quickly — make it even more vital that we extensively prepare to reopen classrooms as safely as possible this fall.
The headline and the opener are a distraction, in my view. It was dumb to open bars and gyms prematurely but they're simply different problems than opening public schools. One is a matter of removing a restriction on private business owners; the other requires either accepting enormous risk or radically changing how we deliver a vital public service.
Research suggests that the sudden switch to online instruction has cost some students a full year of academic progress. This harm disproportionately affects children in homes without computers and stable internet connections, deepening educational inequality and widening racial and economic divides. The disruption of learning can have lifetime effects on students' income and health.

The school shutdowns left millions of children without access to meal programs and school-based health services. Reports of child abuse slowed since school employees couldn't identify and notify the authorities about children they thought were being harmed. And the need for parents to supervise their children on school days or arrange child care has disrupted the economy and made it even harder for many families to get by.
Interestingly, while my local Fairfax County Schools were an absolute disaster in shifting to online instruction, essentially wasting the second half of the spring semester, they were and continue to be near-heroic in their provision of meals. Honestly, I'd have preferred it to be the other way around given their ostensible primary mission.
After several paragraphs arguing the risk of not schooling the kids is much more than the risk of their catching COVID-19, they acknowledge that there is still some risk and schools need to mitigate it. The proposed actions are rather radical:
Increase distance and focus on hygiene. For crowded schools, this could require finding other buildings and space where they could expand.

Some countries in Europe are creating outdoor classrooms to allow for distancing and to take advantage of the reduced risk of transmission in the open air. Tents and other covered structures could be used to create outdoor classrooms in some areas.

Urban school districts may need to lease space. Students and staff members should be checked for symptoms daily and required to wash hands or use hand sanitizer frequently. Masks should be required for all who can wear them, and schools will need extra masks on hand for students and staff members who do not bring their own.

Create in-school "bubbles." Elementary and middle schools should establish small groups of students who will learn, eat lunch and have recess together. Students and teachers in these groups will interact only with one another. Bubbles may not be feasible in high schools, where students typically move from room to room, so there should be strict requirements for masks, class-size reduction and distances between desks.

Plan for an outbreak. If a coronavirus infection is found, schools should follow Centers for Disease Control and Prevention guidance, which encourages schools to coordinate with local health authorities and to plan to dismiss students and staff members for two to five days.

Refine online instruction. If cases are rising significantly in the area, schools may have to close until that outbreak is under control. They should be prepared by using curriculums that can be rapidly adapted for online instruction.

Allow families and staff members to opt out. Families in households with much older relatives or people with health problems may fear sending their children to school, out of heightened concern that they may bring the virus home. For students in these circumstances, continued remote education should be made available.

Staff members who are older or have chronic medical conditions and who want to be kept out of physical contact with students could teach online classes for those students who remain at home.

Get creative with transportation. It doesn't make sense to practice distancing in school and then crowd students together for a long bus ride home. School districts should consider car pools and van rides for children in their bubbles. Schools can also increase the number of buses in service and employ staggered start times to transport fewer children at once.

Each of these steps requires resources now. Congress has provided hundreds of billions of dollars of relief for small businesses, but early funding for schools has largely been spent on meals and laptops for remote learning. States should provide funding to school districts in advance of pending legislation in Congress that would provide $915 billion to state and local budgets.
Finally, food blogger Deb Perelman laments that "In the Covid-19 Economy, You Can Have a Kid or a Job. You Can't Have Both." She begins by echoing the complaints Goldberg and others have made and wondering why no one is talking about these issues. Obviously, they are. Still, she lays out a compelling case for frustration.
For months, I've been muttering about this — in group texts, in secret Facebook groups for moms, in masked encounters when I bump into a parent friend on the street. We all ask one another why we aren't making more noise. The consensus is that everyone agrees this is a catastrophe, but we are too bone-tired to raise our voices above a groan, let alone scream through a megaphone. Every single person confesses burnout, despair, feeling like they are losing their minds, knowing in their guts that this is untenable.

It should be obvious, but a nonnegotiable precondition of "getting back to normal" is that families need a normal to return to as well. But as soon as you express this, the conversation quickly gets clouded with tangential and irrelevant arguments that would get you kicked off any school debate team.

"But we don't even know if it's safe to send kids back to school," is absolutely correct, but it's not the central issue here. The sadder flip side — the friend who told me that if their school reopens, her children are going back whether it's safe or not because she cannot afford to not work — edges closer.

"Why do you want teachers to get sick?" isn't my agenda either, but it's hard to imagine that a system in which each child will spend two weeks out of every three being handed off among various caretakers only to reconvene in a classroom, infinitely increasing the number of potential virus-carrying interactions, protects a teacher more than a consistent pod of students week in and out with minimized external interactions.

"You shouldn't have had kids if you can't take care of them," is comically troll-like, but has come up so often, one might wonder if you're supposed to educate your children at night. Or perhaps you should have been paying for some all-age day care backup that sat empty while kids were at school in case the school you were paying taxes to keep open and that requires, by law, that your child attend abruptly closed for the year.

"Why aren't you enjoying the extra quality time with your kid?" lays bare what is really simmering below the surface — a retrograde view that maybe one parent (they mean the mom) shouldn't be working, that doing so is bad for children, that it's selfish to pursue financial gains (or solvency, as working parents will tell you). It is a sentiment so deeply woven into our cultural psyche that making the reasonable suggestion that one shouldn't have to abandon a career or livelihood if offices reopen before schools, day cares and camps do is viewed as a chance to redeliberate this.

[…]

I resent articles that view the struggle of working parents this year as an emotional concern. We are not burned out because life is hard this year. We are burned out because we are being rolled over by the wheels of an economy that has bafflingly declared working parents inessential.
After several paragraphs describing the nightmare that she and her friends have been living, she concludes,
Without a doubt, reopening schools is a colossal undertaking. There are no easy solutions to finding enough space for students to socially distance, ensuring teachers and staff are protected, adding more sinks and cleaning staff, and implementing widespread temperature checks, testing and contact tracing.

But after nearly four months since the lockdowns began — four months of working all hours, at remarkable stress levels, while our children have gone without play dates and playgrounds and all of the other stimuli that help them thrive — most parents have been shocked to find that state governments don't have any creative or even plausible solutions.

For parents who cannot simply sort it out, our national response feels more like a dystopian novel where only the wealthy get to limit their exposure and survive the pandemic unscathed. Allowing workplaces to reopen while schools, camps and day cares remain closed tells a generation of working parents that it's fine if they lose their jobs, insurance and livelihoods in the process. It's outrageous, and I fear if we don't make the loudest amount of noise possible over this, we will be erased from the economy.
Interestingly, government has been a leader on these matters for their own employees. My wife and I bought work for the Defense Department in different parts of its own educational system (me, educating their mid-career officers; she, in educating their children) and we've been afforded inordinate flexibility. She has worked entirely from home since mid-March and I've only been asked to come in a handful of times.
Still, we're planning to go to hybrid instruction toward the end of next month. While we've delayed the academic year a month, we're expecting to have in-person classes. We have a four-tier system for faculty, staff, and students with only those in the lowest risk categories expected to be in the classroom. Our third tier is those who are healthy and don't live with an at-risk person but are otherwise implicated, including the need to stay home with children because schools are closed.
But businesses can't operate in a similar fashion. Those who provide services need their people on site. And even those who could work remotely need to actually be working, not taking care of their kids. (And that goes for teachers themselves: they can't very well be teaching others' kids, whether in person or remotely, and also home-schooling their own.) And I'm skeptical we can operate that way for long: how are professors going to teach synchronous classes while balancing childcare? Something has to give.
There's no obvious solution for any of this. We could subsidize childcare more generously, as many other advanced societies do. But there's not an army of caregivers who can swoop in to fill in temporary needs like this. (We see that on a microscopic basis when we have sudden school closures for snow and other weather emergencies.)
Our entire economic structure is built around kids being in school most of the year, with camps and other activities filling the gaps. Maybe that's a bad idea but I have no alternative.