Postal Service Labor Contracts Forcing Crisis
Workers account for 80% of the Postal Service budget vs. 53% at UPS and 32% at FedEx.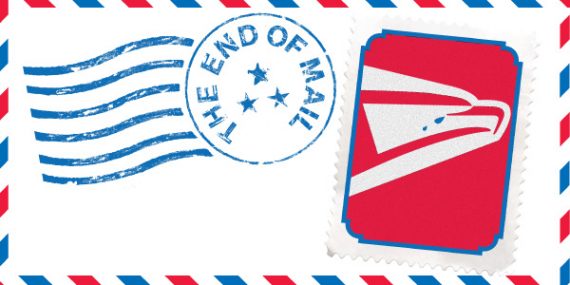 The post office is in dire trouble, NYT reports ("Postal Service Is Nearing Default as Losses Mount"):
The United States Postal Service has long lived on the financial edge, but it has never been as close to the precipice as it is today: the agency is so low on cash that it will not be able to make a $5.5 billion payment due this month and may have to shut down entirely this winter unless Congress takes emergency action to stabilize its finances.

[…]

"The situation is dire," said Thomas R. Carper, the Delaware Democrat who is chairman of the Senate subcommittee that oversees the postal service. "If we do nothing, if we don't react in a smart, appropriate way, the postal service could literally close later this year. That's not the kind of development we need to inject into a weak, uneven economic recovery."

Missing the $5.5 billion payment due on Sept. 30, intended to finance retirees' future health care, won't cause immediate disaster. But sometime early next year, the agency will run out of money to pay its employees and gas up its trucks, officials warn, forcing it to stop delivering the roughly three billion pieces of mail it handles weekly.
We all know the basic story: more efficient private carriers have taken most of the lucrative package and express delivery business, email and the Internet generally have killed First Class mail, and the requirement to treat a letter going from Atlanta to Anchorage the same as one going across town have combined to make it impossible to compete.
The post office's problems stem from one hard reality: it is being squeezed on both revenue and costs.

As any computer user knows, the Internet revolution has led to people and businesses sending far less conventional mail.

At the same time, decades of contractual promises made to unionized workers, including no-layoff clauses, are increasing the post office's costs. Labor represents 80 percent of the agency's expenses, compared with 53 percent at United Parcel Service and 32 percent at FedEx, its two biggest private competitors. Postal workers also receive more generous health benefits than most other federal employees.
Emphasis mine. Those ratios can't be sustained.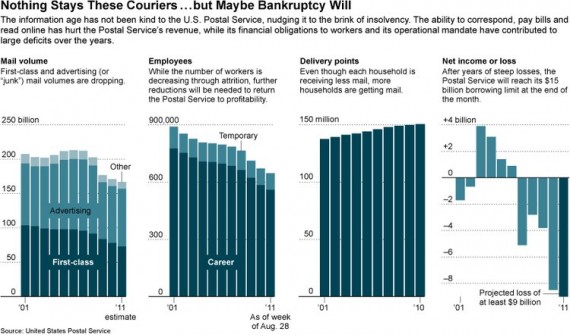 From a pure efficiency standpoint, the answer is obvious: the postal workers' union needs to agree to some significant restructuring lest the whole enterprise collapse.
From a societal standpoint, though, that would continue a really lousy trend–a race to the bottom on salaries and benefits for workers without a college degree. Once upon a time, becoming a mail carrier meant a cushy, middle class lifestyle. In much of the country, it's still among the better non-professional jobs to be had. (Which explains why mail service is so much better in rural Alabama than in the major metropolitan areas: the former gets the cream of the applicant pool.) Most of those paths to the middle class are being closed.
In the case of the Postal Service, we could simply decide to quit treating mail delivery as a business that ought to be "competitive" and instead consider it a service that's vital to the infrastructure. But, aside from some very remote outposts and the recalcitrant geriatrics, that's getting to be a harder argument to make. How much is it worth to us as a society to keep grandma from having to learn to use a computer? Or to ensure that people who live out in the middle of nowhere get cheap, daily delivery of magazines and junk mail? We're about to find out.