President Trump and First Lady Have Coronavirus
The inevitable has happened.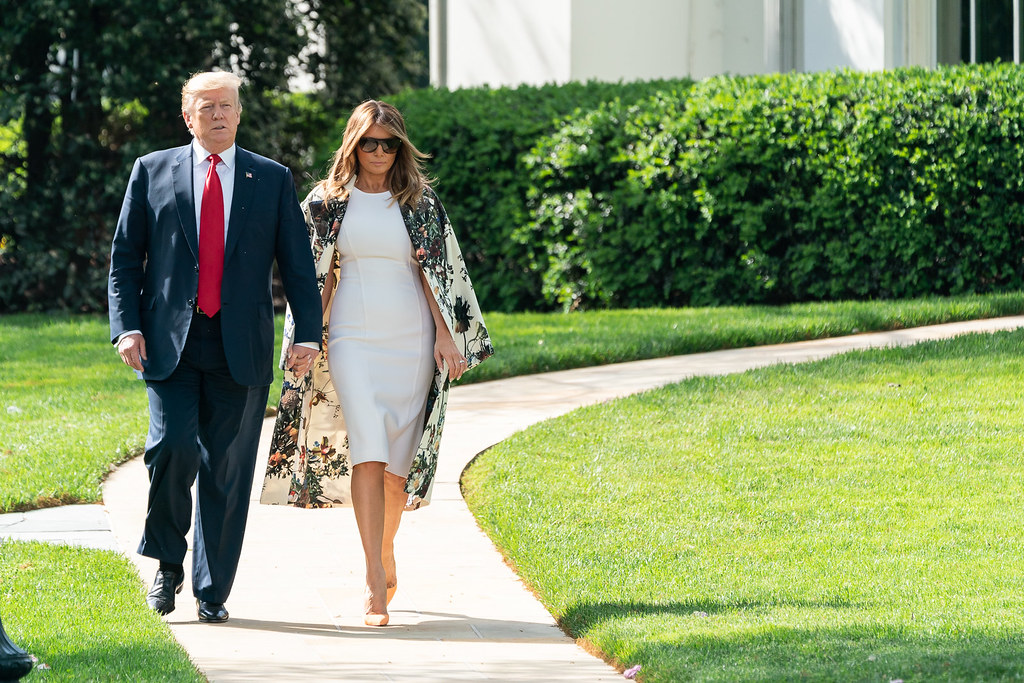 Not long before turning in last night, my phone was buzzing with news alerts that presidential advisor Hope Hicks had tested positive for COVID-19. Overnight, the other shoe had dropped.
NYT ("Trump Tests Positive for the Coronavirus"):
President Trump revealed early Friday morning that he and the first lady, Melania Trump, had tested positive for the coronavirus, throwing the nation's leadership into uncertainty and escalating the crisis posed by a pandemic that has already killed more than 207,000 Americans and devastated the economy.

Mr. Trump, who for months has played down the seriousness of the virus and hours earlier on Thursday night told an audience that "the end of the pandemic is in sight," will quarantine in the White House for an unspecified period of time, forcing him to withdraw at least temporarily from the campaign trail only 32 days before the election on Nov. 3.

The dramatic disclosure came in a Twitter message just before 1 a.m. after a suspenseful evening following reports that Mr. Trump's close adviser Hope Hicks had tested positive. In her own tweet about 30 minutes later, Mrs. Trump wrote that the first couple were "feeling good," but the White House did not say whether they were experiencing symptoms. The president's physician said he could carry out his duties "without disruption" from the Executive Mansion.

Mr. Trump's positive test result posed immediate challenges for the future of his campaign against former Vice President Joseph R. Biden Jr., the Democratic nominee, with barely a month until Election Day. Even if Mr. Trump, 74, remains asymptomatic, he will lose much of his remaining time on the campaign trail. If he becomes sick, it could raise questions about whether he should remain on the ballot at all.
WaPo ("Trump says he and first lady have tested positive for coronavirus"):
President Trump and his wife, Melania, have contracted the novel coronavirus, he announced early Friday, after months in which he has often played down a pandemic that has killed more than 205,000 Americans and sickened millions more.

Trump, 74, was diagnosed hours after it became publicly known that Hope Hicks, a top Trump aide who traveled with him on Air Force One and Marine One this week, tested positive Thursday morning.

The president's physician, Sean P. Conley, wrote minutes later that Trump and his wife "are both well at this time, and they plan to remain at home within the White House during their convalescence."

The president is expected to conduct official and political events from the residence — including a call on Friday with senior citizens about the coronavirus.

The diagnosis is a jolt for the country's leadership and had some advisers early Friday discussing the continuity of government should the president's condition grow worse. The vice president was not known to be infected.

Trump's early-morning announcement marked an extraordinary turn for the first family, coming little more than a month before Election Day and as Trump has escalated his campaign pace in an effort to catch Democratic nominee Joe Biden, who leads in national and key state polls. Trump, aides and voters say, trails largely because of his handling of the virus, which has dominated voters' attention along with the economic collapse caused by pandemic shutdowns.
CNN ("Trump's positive Covid-19 test throws country into fresh upheaval"):
A country already unnerved by a devastating health catastrophe and a turbulent political season faced fresh upheaval Friday as Americans awoke to news President Donald Trump had contracted coronavirus.

The President made the announcement on Twitter at nearly 1 a.m. ET on Friday and the development — after months of debilitating losses, set against a badly mismanaged federal response overseen by a commander-in-chief who repeatedly downplayed the crisis — threw fresh turmoil into the country's leadership at a moment of deep national strain.

In his announcement, Trump insisted: "We will get through this TOGETHER!" His wife, who also tested positive, wrote, "We are feeling good."

But the optimistic outlook could hardly veil the pervading sense of destabilization setting in as the country struggles to emerge from a generation-defining crisis just as its politics seem to deteriorate to new lows. Stock market futures tumbled. Inside the White House, aides described a sense of panic as they worked to determine who else may have contracted the disease and whether the President — who falls squarely within the highest risk category for serious complications and who has been guarded about revealing details of his health — was displaying symptoms.

Questions remained about why the President proceeded with his schedule on Thursday, including flying to attend a fundraiser in New Jersey, despite being in close contact with an aide, Hope Hicks, who was known by a small group of aides to have tested positive.

Only hours before announcing his diagnosis, Trump told a virtual audience the pandemic was nearing an end.
This is both surprising and utterly predictable. No people on the planet should be safer, given their 24/7/365 access to the world's top scientists and medical professionals. But, as all of the reports rightly note, Trump has downplayed the virus and ostentatiously refused to wear a mask, observe social distancing, other otherwise observe protocols.
As with British Prime Minister Boris Johnson, who tested positive along with his health minister back in March, there's a sense of schadenfreude. Like Trump, Johnson publicly downplayed the dangers of the virus, resisted the measures most of the developed world took to contain it, and got far more of his countrymen killed as a result.
But it's even harder to have sympathy for Trump, who failed to learn not only from Johnson's example but another six months of hard evidence. A million people worldwide—more than a fifth of them in his own country—have died and yet he was still making fun of Joe Biden for wearing a mask in Tuesday night's debate.
Maybe this is what it will take to make his followers wake up.
As to the election, I haven't the foggiest idea of what the impact will be. Presuming Trump remains asymptomatic, likely nil. If he gets sick and survives, he might get a sympathy spike. If he dies, of course, the entire enterprise is upended. And that depends very much on the timing.