Presidential Debates: Neither Debates Nor Presidential
Do we place too much importance on performance in presidential debates?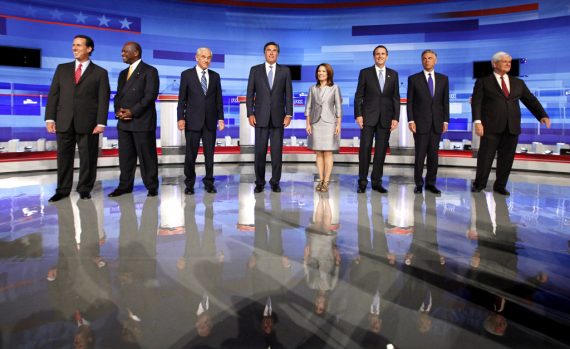 Ethan Gach throws a bit of cold water on all the talk about Rick Perry's debate performances:
It would be hard to defend the position that a candidate's stage performance is completely irrelevant.  After all, a lot of the presidency is about how one appears publicly, both in domestic and foreign settings.  But placing so much emphasis on televised debates, of which there have already been several, sometimes only weeks apart, where often the same questions are asked, and nearly the same answers are given, begs the question: isn't there a better way to spend time evaluating candidates?

[…]

The implicit assumption here is that one's ability to "get off a one liner" is some how related to his ability to negotiate effectively with world leaders.  Will he be calling them names?  I don't get it.  Nor does one's ability to "quickly understand the issues at play in a complex and unexpected crisis" have any obvious connection with one's ability to deliver effective sound bites or memorable policy panders.

I'm not claiming that Rick Perry is prepared to be President of the United States.  But it's distressing that so many respectable people keep pointing to Perry's unsuccessful primetime debut as if to say, "hey, if he can't utter a bunch of boilerplate nonsense in front of Cooper & Co., how will he know what to do about Iran's development of nuclear weapons?!"
This is actually a really useful point. Many of us have pointed out time and again that the presidential "debates" aren't really debates at all–they're, at best, serial press conferences and at worst political reality television. But the more important thing is missed: they really don't tell us much about being president, either.
To be sure, these performances can tell us something about how much time the various candidates have spent over the years developing a knowledge of public affairs. We've learned that a lot of governors, especially, have next to no interest in national and international affairs and are desperately trying to play catch-up when they suddenly take that gigantic leap to running for president.
Likewise, while being president is mostly about making good decisions in quiet reflection after sifting through a lot of staff work that's made its way through the interagency process–almost the opposite of what we test in these "debates"–it is awfully useful to have substantial native intelligence, good humor, and thick skin. The "debates" can shed some light on these qualities, mostly in revealing lack of same.
Mostly, though, people remember one-liners and gaffes. "Are you better off than you were four years ago," "There you go again," "I am not going to exploit for political purposes my opponent's youth and inexperience," and "You're no John Kennedy*" were all memorized lines, quite probably written by someone else. And the ability to smoothly recite them at the critical time has next to nothing at all to do with being an effective president.
For that matter, neither did Michael Dukakis' hamhanded inability to handle a gotcha question on capitol punishment or George H.W. Bush's looking at his watch during a tediously stupid townhall meeting. But they have an enormous bearing on a campaign.
____________
*Yes, I know this was from a vice presidential debate. But it's perhaps the most-riffed debate line ever and likely the least fair.