Pro-Russian Forces Ordering Jews In East Ukraine To 'Register'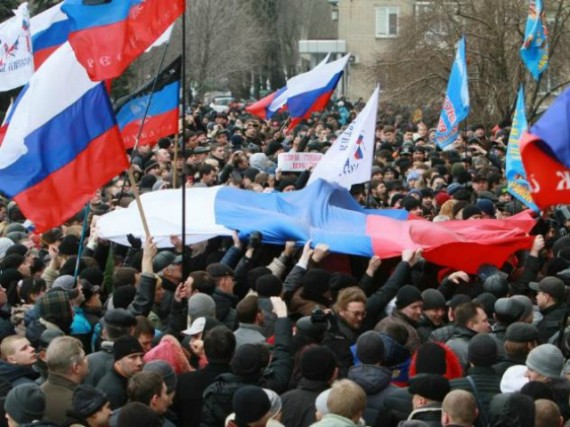 A disturbing development in the ongoing crisis in eastern Ukraine:
Jews in the eastern Ukrainian city of Donetsk where pro-Russian militants have taken over government buildings were told they have to "register" with the Ukrainians who are trying to make the city become part of Russia, according to Israeli media.

Jews emerging from a synagogue say they were handed leaflets that ordered the city's Jews to provide a list of property they own and pay a registration fee "or else have their citizenship revoked, face deportation and see their assets confiscated," reported Ynet News, Israel's largest news website.

Donetsk is the site of an "anti-terrorist" operation by the Ukraine government, which has moved military columns into the region to force out militants who are demanding a referendum be held on joining Russia.

The leaflets bore the name of Denis Pushilin, who identified himself as chairman of "Donetsk's temporary government," and were distributed near the Donetsk synagogue and other areas, according to the report.

(…)

The leaflet begins, "Dear Ukraine citizens of Jewish nationality," and states that all people of Jewish descent over 16 years old must report to the Commissioner for Nationalities in the Donetsk Regional Administration building and "register."

It says the reason is because the leaders of the Jewish community of Ukraine supported Bendery Junta, a reference to Stepan Bandera, the leader of the Ukrainian nationalist movement that fought for Ukrainian independence at the end of World War II, "and oppose the pro-Slavic People's Republic of Donetsk," a name adopted by the militant leadership.

The leaflet then described which documents Jews should provide: "ID and passport are required to register your Jewish religion, religious documents of family members, as well as documents establishing the rights to all real estate property that belongs to you, including vehicles."

Consequences for non-compliance will result in citizenship being revoked "and you will be forced outside the country with a confiscation of property." A registration fee of $50 would be required, it said.
Here's the leaflet: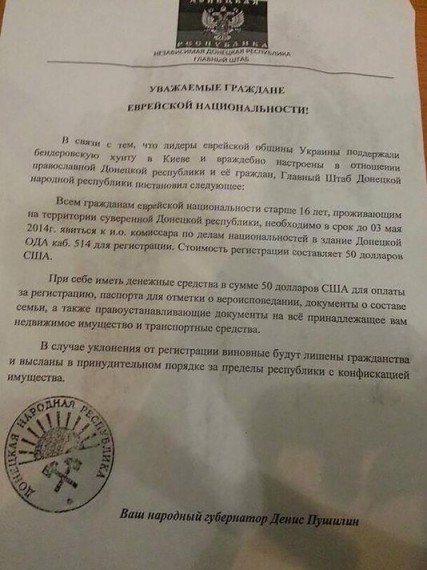 There is, of course, a sad history of anti-semitism in Eastern Europe. So, it's not entirely surprising to see it rearing its head here, although it's worth noting that there are also anti-semetic elements allied with the new Ukrainian government in Kiev. In any case, though, this kind of thing seldom ends well.