Professor Goes From Glenn Beck Target To Target Of Death Threats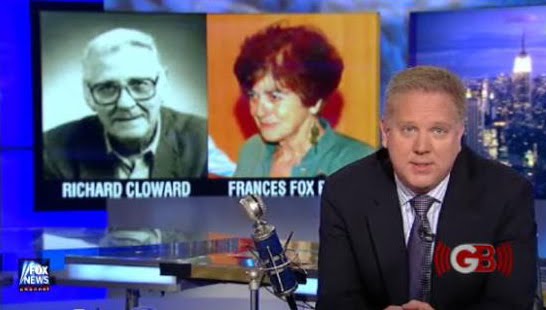 Sometimes, rhetoric does matter:
On his daily radio and television shows, Glenn Beck has elevated once-obscure conservative thinkers onto best-seller lists. Recently, he has elevated a 78-year-old liberal academic to celebrity of a different sort, in a way that some say is endangering her life.

Frances Fox Piven, a City University of New York professor, has been a primary character in Mr. Beck's warnings about a progressive take-down of America. Ms. Piven, Mr. Beck says, is responsible for a plan to "intentionally collapse our economic system."

Her name has become a kind of shorthand for "enemy" on Mr. Beck's Fox News Channel program, which is watched by more than 2 million people, and on one of his Web sites, The Blaze. This week, Mr. Beck suggested on television that she was an enemy of the Constitution.

Never mind that Ms. Piven's radical plan to help poor people was published 45 years ago, when Mr. Beck was a toddler. Anonymous visitors to his Web site have called for her death, and some, she said, have contacted her directly via e-mail.

(…)

The interest in Ms. Piven is rooted in an article she wrote with her husband, Richard Cloward, in 1966. The article, "The Weight of the Poor: A Strategy to End Poverty," proposed that if people overwhelmed the welfare rolls, fiscal and political stress on the system could force reform and give rise to changes like a guaranteed income. By drawing attention to the topic, the proposal "had a big impact" even though it was not enacted, Ms. Piven said. "A lot of people got the money that they desperately needed to survive," she said.

In Mr. Beck's telling on a Fox broadcast on Jan. 5, 2010, Ms. Piven and Mr. Cloward (who died in 2001) planned "to overwhelm the system and bring about the fall of capitalism by overloading the government bureaucracy with impossible demands and bring on economic collapse." Mr. Beck observed that the number of welfare recipients soared in the years after the article, and said the article was like "economic sabotage."

He linked what he termed the Cloward-Piven Strategy to President Obama's statement late in the 2008 presidential campaign that "we are five days away from fundamentally transforming the United States of America."

Mr. Beck has invoked Ms. Piven dozens of times since. Conservative Web sites, like the ones operated by Andrew Breitbart, have also spent time dissecting her articles and speeches.
That's the cause, here's the effect:
The Nation, which has featured Ms. Piven's columns for decades, quoted some of the threats against her in an editorial this week that condemned the "concerted campaign" against her.

One such threat, published as an anonymous comment on The Blaze, read, "Somebody tell Frances I have 5000 roundas ready and I'll give My life to take Our freedom back." (The spelling and capitalizing have not been changed.)

That comment and others that were direct threats were later deleted, but other comments remain that charge her with treasonous behavior.
Will Beck denounce these threats by his listeners and viewers? Don't hold your breath.