The Eschatological Stylings of Glenn Beck
Glenn Beck seems to have more in common with End Time preachers than he does with a serious political analyst.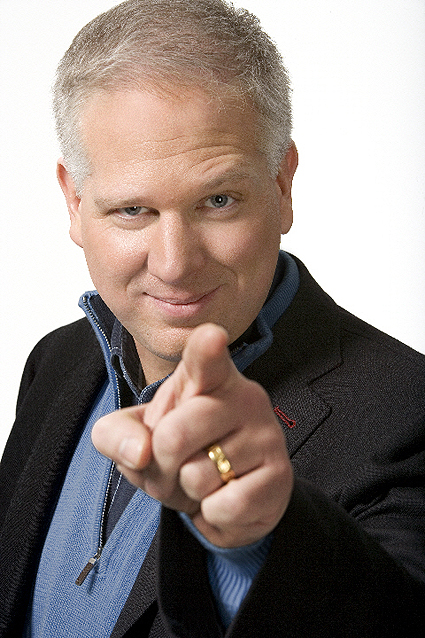 Note:  this is a re-written and expanded version of a post I wrote at PoliBlog in 2009.
A recent clip of Glenn Beck posted by Doug Mataconis reminded me, yet again, of the ways in which Beck reminds me of Evangelical End Times preachers.*   The kind of guys, for example, who, over time, have been certain of things like the fact that the European Union was prophesied to bring about the anti-Christ. The ones who knew that the anti-Christ was Gorbachev or Saddam Hussein or whomever.** The ones, in particular, who would try to string together confirmations of Biblical prophecy either on a weekly (if not daily) basis, or who would write books on the subject. I am thinking here of people like Hal Lindsey (of Late, Great Planet Earth fame) or Jack Van Impe.
The style is one of breathless revelation of what is presented as complex and hidden truths that become obvious once sufficient light is cast upon them by a sufficiently savvy interlocutor (which describes any given Beck presentation). Ultimately it became a mix of half-truths, obfuscation, exaggeration, and seeming knowledge-all of which would take too much time for most people to even bother trying to sort out. Beyond that, the goal is to convince the faithful (i.e., the already convinced) anyway, so no one is going to do much fact-checking.
Here's the clip in question:
Basically this is a lot of drama hand-waving with very little actual solid content, let alone understanding.  It plays into understandable fears about political instability in a volatile region of the world whilst stoking fear of Islamic extremism to the point of creating an existential threat to Europe (which, by extension, threatens the US).  It reduces complex political actions to icons (fires, smiley faces, frowny faces) and mixes in enough terminology (Sunni!  Shiite!  Hamas!  Hezbollah!) to make it all sounds frighteningly compelling.
Compare the above to the following recent clip from Jack Van Impe (which seems to equate Obama with the anti-Christ):
(It strikes me as a strange transition, btw, as to how a discussion of potential global tribulation transitions to a plea to views to eschew drugs and drink).
Here's another from a couple years ago which (especially starting at roughly 1:40) is even more similar to a Beck performance on contemporary politics than is the above clip:
Give Van Impe a series of chalkboards and it would be hard distinguish him from Beck.
In general, the style is the same:
1.  Appeal to a vague concerns (if not fears) in the audience. In Van Impe's case, the Evangelical belief in the End Times.  In Beck's case, the vague fears of global conflict, especially as linked to radical Islam (and indeed, one could argue that Beck is doing both).
2.  Exploit the semi-knowledge of the audience. I was going to say "exploit the ignorance of the audience" but that is not correct.  Those watching know at least some (maybe even a decent amount) of what is being discussed.  Just as Van Impe's audience has likely heard, at a minimum, sermons on Daniel and Revelations, so too is Beck's audience is at least vaguely aware of things like the Iranian Revolution of 1979.
3.  Assert with authority as if the statements contain complete and self-evident truth. In the Van Impe clip, he rattles off a number of Bible verses.  Some he quotes in their entirety and other he just references.  However, there is no reason to assume that just because a quoted verse sounds like it fits the current period means that it actually does.  Moreover, just stating that a verse in Daniel means that a seven year reign of a Europe-born anti-Christ does not mean that the interpretation is the correct one.  However, Van Impe simply asserts as though it is Truth.
Beck does the same thing.  While he doesn't cite chapter and verse of the Bible, he blithely throws out assertions about history, geography, contemporary events, and even the future, as if there is no room for interpretation or additional data needed.  What Beck knows just is.   This, of course, makes for better television than actually grappling with the complexity that is reality.
At a minimum I am trying to note the following about Beck:  while he tries to present his theories as though they are grounded in deep research and understanding, the fact of the matter is that they reflect the dictum that a little knowledge is a dangerous thing.  Further, he is not basing his argument solely on a politico-historical understanding, but also on a particular set of theological assumptions (which, by the way, he may only understand with the same depth as he understands the politics and history).
If you find Beck entertaining (an I can see how this might be the case, even if I do not) then more power to you.  If you think he is actually conveying useful insight into the way the world works, that's another issue entirely.***
*It is worth noting the Beck is a Mormon and, if memory serves, Mormon eschatology is pretty close to the Evangelical narrative (as fact that needs to be taken into consideration when evaluating his "analysis."
**Not to get to off the topic of Beck's stylings, but in doing some reading on this subject I came across an example of a pastor preaching on this particular view of eschatology (click) and found it interesting (and telling) that at about the 3:00 mark he states that the "nation to the east" that will oppose the anti-Christ is China.  However, as memory serves, whenever the "nation to the east" was discussed in my youth in this context it was always the USSR.  It illustrates the way in which this type of logic takes an existing narrative and shifts the narrative to fit changing world events.
***A good example of this is Beck's declaration that we are on the road to fascism (see here).  His assertions about the Mercury dime, for example, shows a problematic view of history, to be kind.  I find it highly problematic, for example, that Beck constantly uses terms (e.g., fascism, socialism, etc.) in a way that its divorced from actual meaning.  No doubt this is because I am professionally disposed to the proper usage of language (while recognizing that there are legitimate debates about meaning within a reasonable range).