Prolific Actor Eli Wallach Dead At 98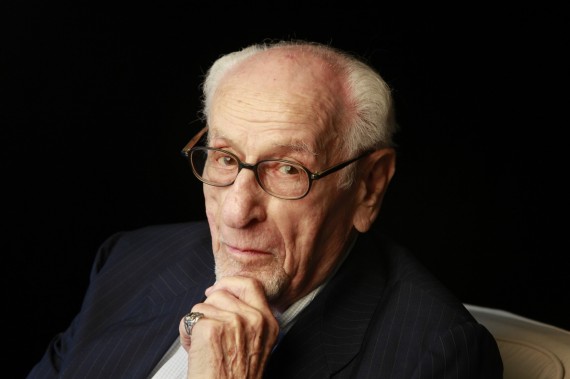 Eli Wallach, whose acting career spanned five decades and movies ranging from The Magnificent Seven to The Godfather Part III has died at the age of 98:
Eli Wallach, who was one of his generation's most prominent and prolific character actors in film, onstage and on television for more than 60 years, died on Tuesday. He was 98.

His death was confirmed by his daughter Katherine.

A self-styled journeyman actor, the versatile Mr. Wallach appeared in scores of roles, often with his wife, Anne Jackson. No matter the part, he always seemed at ease and in control, whether playing a Mexican bandit in the 1960 western "The Magnificent Seven," a bumbling clerk in Ionesco's allegorical play "Rhinoceros," a henpecked French general in Jean Anouilh's "Waltz of the Toreadors," Clark Gable's sidekick in "The Misfits" or a Mafia don in "The Godfather: Part III."

Despite his many years of film work, some of it critically acclaimed, Mr. Wallach was never nominated for an Academy Award. But in November 2010, less than a month before his 95th birthday, the Academy of Motion Picture Arts and Sciences awarded him an honorary Oscar, saluting him as "the quintessential chameleon, effortlessly inhabiting a wide range of characters, while putting his inimitable stamp on every role."

His first love was the stage. Mr. Wallach and Ms. Jackson became one of the best-known acting couples in the American theater. But films, even less than stellar ones, helped pay the bills. "For actors, movies are a means to an end," Mr. Wallach said in an interview with The New York Times in 1973. "I go and get on a horse in Spain for 10 weeks, and I have enough cushion to come back and do a play."

Mr. Wallach, who as a boy was one of the few Jewish children in his mostly Italian-American neighborhood in Brooklyn, made both his stage and screen breakthroughs playing Italians. In 1951, six years after his Broadway debut in a play called "Skydrift," he was cast opposite Maureen Stapleton in Tennessee Williams's "The Rose Tattoo," playing Alvaro Mangiacavallo, a truck driver who woos and wins Serafina Delle Rose, a Sicilian widow living on the Gulf Coast. Both Ms. Stapleton and Mr. Wallach won Tony Awards for their work in the play.

The first movie in which Mr. Wallach acted was also written by Williams: "Baby Doll" (1956), the playwright's screen adaptation of his "27 Wagons Full of Cotton." Mr. Wallach played Silva Vacarro, a Sicilian émigré and the owner of a cotton gin that he believes has been torched. Karl Malden and Carroll Baker also starred.

Mr. Wallach never stayed away from the theater for long. After "The Rose Tattoo" he appeared in another Williams play, "Camino Real" (1953), wandering a fantasy world as a young man named Kilroy. He also played opposite Julie Harris in Anouilh's "Mademoiselle Colombe" (1954), about a young woman who chooses a life in the theater over life with her dour husband, and in 1958 he appeared with Joan Plowright in "The Chairs," Eugène Ionesco's farcical portrait of an elderly couple's garrulous farewell to life.

In another Ionesco allegory, a 1961 production of "Rhinoceros," Mr. Wallach gave a low-key performance as a nondescript clerk in a city where people are being transformed into rhinoceroses. The cast also included Ms. Jackson and Zero Mostel.

Continue reading the main story
By the time "Rhinoceros" came along, Ms. Jackson and Mr. Wallach had been married for 13 years. They met in 1946 in an Equity Library Theater production of Williams's "This Property Is Condemned" and were married two years later.

Survivors include Ms. Jackson and their children.

Eli Wallach was born on Dec. 7, 1915, the son of Abraham Wallach and the former Bertha Schorr. He graduated from Erasmus Hall High School in Brooklyn and attended the University of Texas at Austin ("because the tuition was $30 a year," he once said), where he also learned to ride horses — a skill he would put to good use in westerns. After graduation he returned to New York and earned a master's degree in education at City College, with the intention of becoming a teacher like his brother and two sisters.

Instead, he studied acting at the Neighborhood Playhouse until World War II put him in the Army. He served five years in the Medical Corps, rising to captain. After the war he became a founding member of the Actors Studio and studied method acting with Lee Strasberg. Ahead lay his Broadway debut in "Skydrift," which had a one-week run in 1945, and his fateful meeting with an actress named Anne Jackson.

The Wallachs went on to become stalwarts of the American stage, evoking memories of Alfred Lunt and Lynn Fontanne, thanks to their work in comedies like "The Typists" and "The Tiger," a 1963 double bill by Murray Schisgal, and a revival of Anouilh's "Waltz of the Toreadors" (1973).

In a joint interview in The Hartford Courant in 2000, Mr. Wallach and Ms. Jackson said they had sought out opportunities to work together. "But we're not the couple we play onstage," Ms. Jackson said. "For us, it's fun to separate the two."

(…)

In between appearances with Ms. Jackson, Mr. Wallach played, among other roles, an aging gay barber in Charles Dyer's "Staircase" (1968), a political dissident consigned to an asylum in Tom Stoppard's "Every Good Boy Deserves Favour" (1979), an aged but mentally spry furniture dealer in a 1992 revival of Arthur Miller's play "The Price" and a Jewish widower in Jeff Baron's "Visiting Mr. Green" (1997).

Mr. Wallach's many television credits included a 1974 production of Odets's "Paradise Lost" on public television; "Skokie," a 1981 CBS movie about a march planned by neo-Nazis in a Chicago suburb, in which he played a lawyer representing Holocaust survivors; a 1982 NBC dramatization of Norman Mailer's "Executioner's Song," in which he appeared with Tommy Lee Jones; and frequent roles on "Studio One," "Playhouse 90," "General Electric Theater."

And then there were films, dozens of them. In addition to his parts in "Baby Doll" and "The Magnificent Seven," he played the mechanic pal of Clark Gable's aging cowboy in "The Misfits" (1961), the story of a wild-horse roundup in Nevada, written by Miller and directed by John Huston, with a cast that also included Marilyn Monroe and Montgomery Clift.

Mr. Wallach was also a lawless jungle tyrant subdued by the title character (Peter O'Toole) in "Lord Jim" (1965); a rapacious Mexican pitted against Clint Eastwood and Lee Van Cleef in Sergio Leone's so-called spaghetti western "The Good, the Bad and the Ugly" (1966); a psychiatrist assigned to evaluate the sanity of a call girl (Barbra Streisand) on trial for killing a client in "Nuts" (1987); and Don Altobello, a Mafia boss who succumbs to a poisoned dessert, in "The Godfather: Part III" (1990).
According to reports that have come out since it was released, Frank Sinatra was originally being considered for the role of Don Altobello that Wallach eventually played in the third Godfather film but, among other reasons, it couldn't be worked out because of Sinatra's touring schedule and the fact that he didn't want to commit to the lengthy filming schedule overseas that Coppolla was planning. While it would have been interesting to see Sinatra in what would have been his final film in all likelihood, Wallach played the role of the aging Don who tried to double cross Michael Corleone very well. More importantly, he got to perform one of the best death scenes in the entire franchise.  Beyond that film, Wallach was one of those actors that you saw in virtually everything even though you didn't quite know who he was. As a result, he didn't get the kind of star recognition that he probably deserved, and the fact that he went his entire career without so much as an Academy Award nomination is evidence of that fact.  As with so many others of his generation, his talent will be sorely missed.