Putin: Snowden Must Stop Leaking To Stay In Russia, But We're Not Going To Extradite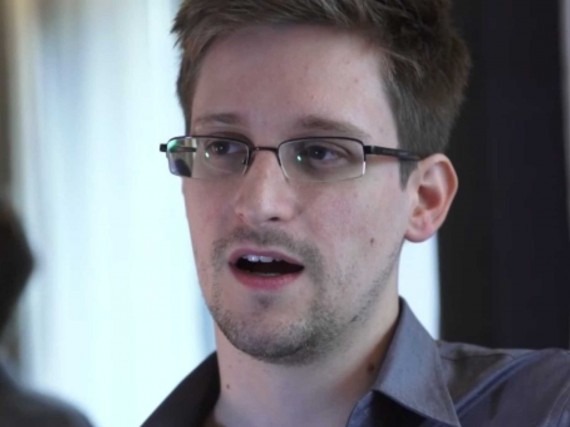 Russian President Vladimir Putin must stop leaking American secrets if he wishes to stay in Russia:
MOSCOW — Russia's President Vladimir Putin said Monday that former National Security Agency contractor Edward Snowden will have to stop leaking U.S. secrets if he wants to get asylum in Russia, but added that Snowden has no plan to quit doing so.

President Barack Obama said there have been high-level discussions between the U.S. and Russia about Snowden's extradition, but Putin repeated Russia's stance that it has no intention of sending Snowden back to the United States.

He insisted that Snowden isn't a Russian agent and that Russian security agencies haven't contacted him.

Speaking at a news conference, Putin said that Snowden considers himself a rights activist, a "new dissident," and compared him to Nobel Peace Prize winner Andrei Sakharov.

Snowden has been caught in legal limbo in the transit zone of Moscow's Sheremetyevo airport since his arrival from Hong Kong on June 23. The U.S. has annulled his passport, and Ecuador, where he has hoped to get asylum, has been coy.

Putin, who hosted a summit of gas-exporting nations in Moscow that included leaders from Venezuela, Bolivia and Iran, said he doesn't know if any of those attending could offer Snowden shelter.

"If he wants to go somewhere and there are those who would take him, he is welcome to do that," Putin said. "If he wants to stay here, there is one condition: he must stop his activities aimed at inflicting damage to our American partners, no matter how strange it may sound on my lips."

Putin added that Snowden doesn't want to stop his efforts to reveal information about the U.S. surveillance program.

"Just because he feels that he is a human rights defender, rights activist, he doesn't seem to have an intention to stop such work," Putin said.
At the same time, Putin reportedly also said that Russia would likely not be extraditing Snowden to "our American partners," and Snowden has reportedly formally applied for asylum in Russia:
Edward J. Snowden, the former national security staffer accused of espionage, has applied for political asylum in Russia, a Russian immigration official said on Monday.

According to the official, who requested anonymity because he was not authorized to discuss the case, Mr. Snowden's application was hand-delivered to a Russian consulate in Terminal F of Moscow's Sheremyetevo Airport late Sunday evening by Sarah Harrison, an activist for WikiLeaks traveling with Mr. Snowden.

A Foreign Ministry official told The Los Angeles Times on Monday that Mr. Snowden had applied to 15 countries for political asylum, giving Russian diplomatic officials the appeals on Monday morning at a meeting at the airport. The official characterized the applications as "a desperate measure" on Mr. Snowden's part, after Ecuadorean officials said that the Ecuadorean travel document he was using was invalid.

Mr. Snowden and Ms. Harrison are believed to have been staying in the airport since last Sunday, when they arrived on an Aeroflot flight from Hong Kong, apparently intending to board a connecting flight to Latin America. But Mr. Snowden became caught in a geopolitical limbo, since his American passport was revoked and he has been unable to leave the transit zone.

The immigration official said that Mr. Snowden's application for political asylum in Russia had not received a response from the Foreign Ministry as of Monday evening.
There are also reports that Snowden, or someone acting on his behalf had put in inquiries about asylum in with officials of as many as 15 other countries, although there's been no list of those countries made available as far as I know. As far as requesting asylum in Russia goes it is, admittedly, a strange choice but, given the fact that Snowden has no travel documents and no passport, he may have no other choice at this point. If I were him, though, I wouldn't necessarily trust Putin's word that he'd never agree to extradite Snowden to the United States.