Edward Snowden Declares 'Mission Accomplished'
In a new interview, Edward Snowden explains his motives for absconding from the country with NSA secrets.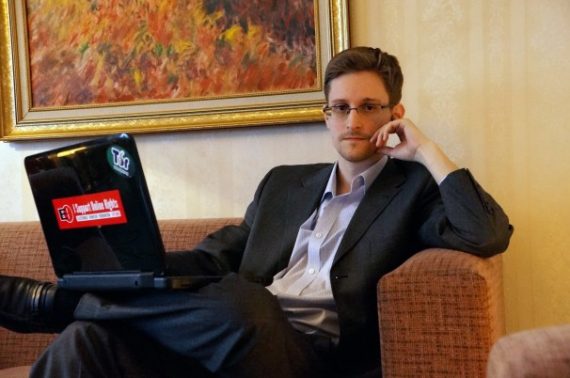 The public hasn't heard from Edward Snowden, at the center of what has ended up being the biggest domestic and international news story of 2013, since he gave an on-camera interview to The Guardian's Glenn Greenwald back when he was still hiding out in an undisclosed location in Hong Kong. Since then, contact between Snowden and the outside world has been through people he's talked to, press statements released in his name, and of course the information that he has released via Greenwald and other reporters around the world in the past five months. Today, though, The Washington Post's Barton Gellman is out with a report based on his interview with the former NSA contractor from a location somewhere in Russia during which Snowden contends that he released the information he procured solely as a means of informing the American and world public of what the NSA was doing so they could have a public discussion of the propriety of those NSA activities and that, as he sees it, he has accomplished what he set out to do:
Snowden offered vignettes from his intelligence career and from his recent life as "an indoor cat" in Russia. But he consistently steered the conversation back to surveillance, democracy and the meaning of the documents he exposed.

"For me, in terms of personal satisfaction, the mission's already accomplished," he said. "I already won. As soon as the journalists were able to work, everything that I had been trying to do was validated. Because, remember, I didn't want to change society. I wanted to give society a chance to determine if it should change itself."

"All I wanted was for the public to be able to have a say in how they are governed," he said. "That is a milestone we left a long time ago. Right now, all we are looking at are stretch goals."

Snowden is an orderly thinker, with an engineer's approach to problem-solving. He had come to believe that a dangerous machine of mass surveillance was growing unchecked. Closed-door oversight by Congress and the Foreign Intelligence Surveillance Court was a "graveyard of judgment," he said, manipulated by the agency it was supposed to keep in check. Classification rules erected walls to prevent public debate.

Toppling those walls would be a spectacular act of transgression against the norms that prevailed inside them. Someone would have to bypass security, extract the secrets, make undetected contact with journalists and provide them with enough proof to tell the stories.

The NSA's business is "information dominance," the use of other people's secrets to shape events. At 29, Snowden upended the agency on its own turf.

"You recognize that you're going in blind, that there's no model," Snowden said, acknowledging that he had no way to know whether the public would share his views.

"But when you weigh that against the alternative, which is not to act," he said, "you realize that some analysis is better than no analysis. Because even if your analysis proves to be wrong, the marketplace of ideas will bear that out. If you look at it from an engineering perspective, an iterative perspective, it's clear that you have to try something rather than do nothing."

By his own terms, Snowden succeeded beyond plausible ambition. The NSA, accustomed to watching without being watched, faces scrutiny it has not endured since the 1970s, or perhaps ever.

The cascading effects have made themselves felt in Congress, the courts, popular culture, Silicon Valley and world capitals. The basic structure of the Internet itself is now in question, as Brazil and members of the European Union consider measures to keep their data away from U.S. territory and U.S. technology giants including Google, Microsoft and Yahoo take extraordinary steps to block the collection of data by their government.
In response to the charges that have been raised against him by the Obama Administration, NSA officials, law enforcement, those in charge of Congressional oversight of the intelligence community, Snowden remains defiant and argues that it was the failure of others to properly oversee the NSA that made his actions both inevitable and justified:
In his interview with The Post, Snowden noted matter-of-factly that Standard Form 312, the ­classified-information nondisclosure agreement, is a civil contract. He signed it, but he pledged his fealty elsewhere.

"The oath of allegiance is not an oath of secrecy," he said. "That is an oath to the Constitution. That is the oath that I kept that Keith Alexander and James Clapper did not."

People who accuse him of disloyalty, he said, mistake his purpose.

"I am not trying to bring down the NSA, I am working to improve the NSA," he said. "I am still working for the NSA right now. They are the only ones who don't realize it."

What entitled Snowden, now 30, to take on that responsibility?

"That whole question — who elected you? — inverts the model," he said. "They elected me. The overseers."

He named the chairmen of the Senate and House intelligence committees.

"Dianne Feinstein elected me when she asked softball questions" in committee hearings, he said. "Mike Rogers elected me when he kept these programs hidden. . . .The FISA court elected me when they decided to legislate from the bench on things that were far beyond the mandate of what that court was ever intended to do. The system failed comprehensively, and each level of oversight, each level of responsibility that should have addressed this, abdicated their responsibility."

"It wasn't that they put it on me as an individual — that I'm uniquely qualified, an angel descending from the heavens — as that they put it on someone, somewhere," he said. "You have the capability, and you realize every other [person] sitting around the table has the same capability but they don't do it. So somebody has to be the first."
There is much, much more to the interview, including some discussion of the specifics of the programs that were revealed to the public by Snowden's revelations and Snowden's reaction to the recent decision by Judge Richard Leon declaring the NSA's metadata program to be unconstitutional, which he quite obviously sees as some form of vindication of his actions. On the whole, though, it's clear that Snowden believes his actions to be the only acceptable means by which information about these controversial NSA programs could have ultimately been become known to the public, dismissing the suggestion that he should have taken the issue to the Oversight Committees in Congress rather than violating the law be absconding with classified information, an attitude that isn't surprising given his disdain for those committees and what he sees as their failure to properly oversee what the NSA is doing. Given the fact that its unlikely that any of the information that has become public this year would have ever been revealed had it been left up to either Senator Feinstein or Congressman Rogers, it's hard to argue with Snowden on that point.
Gellman's colleague Max Fisher writes fairly positively about Snowden's comments and places him within the tradition of American nationalists who see a distinction between the American government and "America" as a nation:
Snowden returned several times to this distinction, between the U.S. government and its public, to argue that if he had worked against the former, it was only in service of the latter and the higher ideals it represents. On its face, this is a reasonable position and certainly consistent with how Snowden has framed his decision to leak U.S. secrets to the world.

At a deeper level, though, Snowden's language and his description of his mission echo a worldview that is unique neither to him nor even to Americans. These ideas, that the government has strayed far enough from the public interest that it must be brought back into check, and more fundamentally that a person can and perhaps should be loyal to the nation over its government, is a worldview that in any other national context we would call nationalism.

Leaks of the NSA's surveillance programs by Snowden, which the Obama administration has at times portrayed as traitorous, were actually, in Snowden's telling, acts of patriotic loyalty — something that he suggests administration officials can't see because they themselves have lost that sense of loyalty.

(…)

"I am not trying to bring down the NSA, I am working to improve the NSA," he told Gellman. "I am still working for the NSA right now. They are the only ones who don't realize it."

In the nationalist's worldview, when a government strays from its primary duty of serving the nation, it becomes not just justifiable but near compulsory to challenge that government on behalf of the nation. Working against the government, in this view, isn't an act of treachery, but is in fact the highest level of patriotism, for it demonstrates an allegiance to the nation itself and calls attention to the enemies within.

Nationalist movements like these are typically right-wing, such as in the streets and the social networks of contemporary China or in much of 1980s Latin America. But not always. The Egyptian protesters who toppled President Hosni Mubarak in February 2011, for example, could be called left-wing nationalists, having decried Mubarak for failing both liberal values and the national ideal of the Egyptian nation. So it would not be outlandish for Snowden to be both a left-leaning libertarian and a nationalist.

Snowden positions himself, in this interview, as working on behalf of the nation rather than on behalf of — and, perhaps, in opposition to — the government. This is a defining feature of many a nationalist movement, this idea that the government no longer truly represents the nation (used interchangeably in the United States with "the people") and must thus be challenged from the outside.
Whether one finds Snowden's rhetoric powerful or nonsFor ensical, and whether one considers his actions justifiable or not, is going to depend on many factors, but much of it strikes me as depending on where one sits on the "nationalism" debate that Fisher describes here. For those who believe that the law must be followed and that the government must be given deference in its efforts to protect the nation from outside threats, Snowden's arguments are nonsense, perhaps even dangerous nonsense. For those who contend that there is often something higher than the strict letter of the law, and that a government that acts in contravention of Constitution or in a manner that violates the rights of its citizens does not deserve the degree of loyalty that the oath Snowden agreed to calls for, or, alternatively, that the ultimately loyalty is to the Constitution rather than the government. Both attitudes seem to exist on both sides of the political aisle so it's hard to call it a left v. right or Republican v. Democratic debate. Indeed, in many ways, it's a debate that we've been having for a long time and one that the Snowden revelations have only served to move to the top of the agenda with new information.
As I've said on here before, my own opinion of Snowden is mixed. While I agree that he broke the law and ought to face some kind of punishment for that, I think it's important to recognize that but for his action we would not be having the conversations about intelligence gathering of massive amounts of information, NSA surveillance of both domestic and international phone and Internet metadata, the appropriateness of the NSA programs that have been justified in the name of the "War On Terror," and the proper role of the 4th Amendment in an era where so many of us live our lives online and store information in the cloud. But for Snowden, we wouldn't be having any of those conversations today. We also wouldn't have one of the first rulings ever from a Federal Judge in a publicly released opinion declaring those same NSA programs unconstitutional. For that, I'd say owe Edward Snowden if not a "Thank you" or amnesty then at least acknowledgment and some degree of appreciation for setting off a publi debate on a very important issue.
Whichever side of the debate you fall on, though, I'd suggest reading the interview in full for yourself.