Edward Snowden, Leaker Of NSA Data Mining Stories, Steps Forward
Meet Edward Snowden, the 29 year old CIA/NSA contractor who has confessed to leaking the details of the NSA's data mining projects.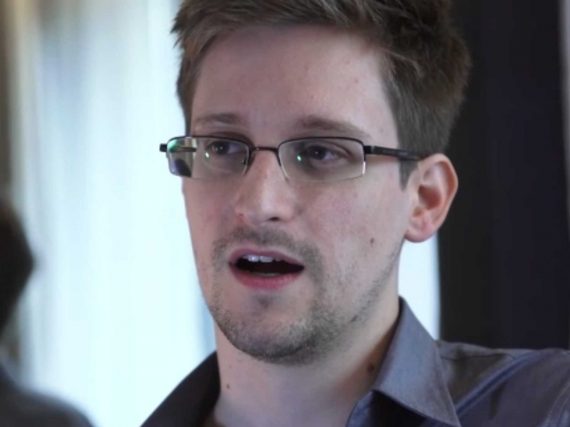 The man apparently responsible for the leaking of a considerable amount of information regarding data mining operations by the National Security Agency has stepped forward and identified himself as Edward Snowden, an employee of a major contractor who has worked with the CIA and NSA:
The individual responsible for one of the most significant leaks in US political history is Edward Snowden, a 29-year-old former technical assistant for the CIA and current employee of the defence contractor Booz Allen Hamilton. Snowden has been working at the National Security Agency for the last four years as an employee of various outside contractors, including Booz Allen and Dell.

The Guardian, after several days of interviews, is revealing his identity at his request. From the moment he decided to disclose numerous top-secret documents to the public, he was determined not to opt for the protection of anonymity. "I have no intention of hiding who I am because I know I have done nothing wrong," he said.

Snowden will go down in history as one of America's most consequential whistleblowers, alongside Daniel Ellsberg and Bradley Manning. He is responsible for handing over material from one of the world's most secretive organisations – the NSA.

In a note accompanying the first set of documents he provided, he wrote: "I understand that I will be made to suffer for my actions," but "I will be satisfied if the federation of secret law, unequal pardon and irresistible executive powers that rule the world that I love are revealed even for an instant."

Despite his determination to be publicly unveiled, he repeatedly insisted that he wants to avoid the media spotlight. "I don't want public attention because I don't want the story to be about me. I want it to be about what the US government is doing."

He does not fear the consequences of going public, he said, only that doing so will distract attention from the issues raised by his disclosures. "I know the media likes to personalise political debates, and I know the government will demonise me."
Snowden revealed his identity in an interview with The Guardian's Glenn Greenwald (video available here), and it becomes apparent that this was a project that he had been working on for quite some time:
Three weeks ago, Snowden made final preparations that resulted in last week's series of blockbuster news stories. At the NSA office in Hawaii where he was working, he copied the last set of documents he intended to disclose.

He then advised his NSA supervisor that he needed to be away from work for "a couple of weeks" in order to receive treatment for epilepsy, a condition he learned he suffers from after a series of seizures last year.

As he packed his bags, he told his girlfriend that he had to be away for a few weeks, though he said he was vague about the reason. "That is not an uncommon occurrence for someone who has spent the last decade working in the intelligence world."

On May 20, he boarded a flight to Hong Kong, where he has remained ever since. He chose the city because "they have a spirited commitment to free speech and the right of political dissent", and because he believed that it was one of the few places in the world that both could and would resist the dictates of the US government.

In the three weeks since he arrived, he has been ensconced in a hotel room. "I've left the room maybe a total of three times during my entire stay," he said. It is a plush hotel and, what with eating meals in his room too, he has run up big bills.

He is deeply worried about being spied on. He lines the door of his hotel room with pillows to prevent eavesdropping. He puts a large red hood over his head and laptop when entering his passwords to prevent any hidden cameras from detecting them.

Though that may sound like paranoia to some, Snowden has good reason for such fears. He worked in the US intelligence world for almost a decade. He knows that the biggest and most secretive surveillance organisation in America, the NSA, along with the most powerful government on the planet, is looking for him.

Since the disclosures began to emerge, he has watched television and monitored the internet, hearing all the threats and vows of prosecution emanating from Washington.

And he knows only too well the sophisticated technology available to them and how easy it will be for them to find him. The NSA police and other law enforcement officers have twice visited his home in Hawaii and already contacted his girlfriend, though he believes that may have been prompted by his absence from work, and not because of suspicions of any connection to the leaks.

"All my options are bad," he said. The US could begin extradition proceedings against him, a potentially problematic, lengthy and unpredictable course for Washington. Or the Chinese government might whisk him away for questioning, viewing him as a useful source of information. Or he might end up being grabbed and bundled into a plane bound for US territory.
Snowden's presence in Hong Kong is interesting partly because it is indeed unclear how authorities in that city and, ultimately the Chinese government, would react to a demand for extradition from the United States. Additionally, it explains why Greenwald, who has been living in Brazil for many years now, has been giving his interviews since the story broke from Hong Kong rather than his home in Brazil. It also appears that Federal law enforcement authorities have been on to Snowden for at least several days now, which many be one reason why he's decided to step forward. Now, if anything does happen, it will have to happen in public rather than behind closed doors.  Additionally, while I don't share Greenwald's appreciation for Bradley Manning for reasons I've shared in the past, but it is somewhat interesting that all of this has happened during the first week of Manning's Court Martial at Fort Meade on the charges related to his actions in providing classified documents to Wikileaks while serving with the U.S. Army and stationed in Iraq. Snowden does express any opinion about the Manning case in his interview, but one is led to wonder if the timing wasn't quite deliberate on his, and indeed Greenwald's, part.
It seems inevitable the the U.S. Government will seek to bring charges against Snowden at this point. The extradition question will, of course, be the first legal hurdle that will  have to be met. According to this list, the United States does not have an Extradition Treaty with the People's Republic Of China, however, there is such a treaty with Hong Kong that was entered into in 1998, before the city was returned to Chinese control. Whether that treaty supersedes the status of extradition rights between the U.S. and the PRC, and whether the PRC could or would seek to intervene to prevent Hong Kong from going forward with extradition is something that I can't speak to . Suffice it to say that the name Edward Snowden, and the question of whether or not what he did was the right thing or not, is going to become a big part of the political debate that is emerging in the wake of the revelations that he helped make happen.
Is he a hero or a villain? That's for everyone to decide for themselves.
Update: Here's the video of Snowden's interview with Greenwald: