RadioShack To Close 500 Stores, America Surprised To Learn RadioShack Still Exists
Can you still buy batteries there, though?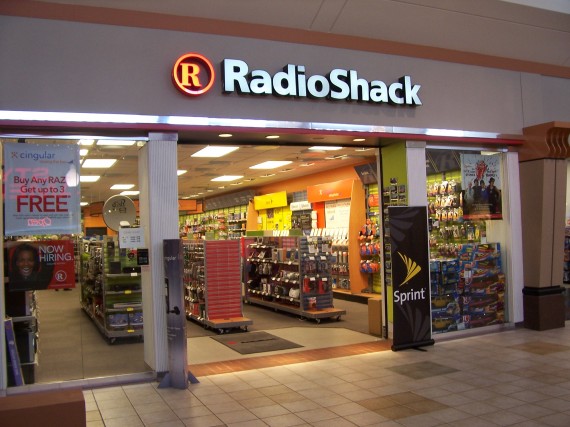 RadioShack (apparently the company eliminated the space years ago), a name that seems more closely associated with an era when Americans bought Citizen's Band radios, Walkie Talkies, and "boom boxes," announced yesterday that it was closing 500 stores, but the company seems surprisingly strong given the fact that it has a reputation of being so far behind the times:
On Sunday, RadioShack Corp. used comedy, in the form of a Super Bowl ad, to show its stores being dismantled and rebuilt. On Tuesday, the news broke that some of the stores will be dismantled, period.

According to people familiar with the matter, RadioShack is planning to close around 500 locations in the coming months. It isn't clear which of RadioShack's roughly 4,300 stores will be closed and when exactly the closings will begin. The people familiar with the matter noted that it isn't unusual for companies to close stores when going through a restructuring.

The news was a cold dose of reality after the upbeat feeling generated by the commercial, which was widely considered one of the best that aired during the big game Sunday night. In the commercial, RadioShack poked fun at its outdated image by bringing in a crowd of throwback characters from the 1980s, including Hulk Hogan, Erik Estrada and Alf, who purport to want their store back and proceed to tear out the shelves and haul away products.

On Tuesday, RadioShack shares slipped 4.8% to $2.36. Following the Super Bowl ad, the stock jumped more than 7% Monday morning.

The Fort Worth, Texas, retail chain has been working on transforming its image from an old-school electronics store into a destination for shoppers looking for entertainment gadgets, like headphones and smartphone cases. In October, RadioShack secured $835 million in loans to refinance about $625 million of debt. Those funds, from a group led by GE Capital, also freed up cash for RadioShack's overhaul.

The retailer has struggled to reverse a string of losses deepened by a sales strategy focused around smartphones, which failed to improve revenue over the past two years.
The reaction I saw on Twitter to this news this morning was, in many cases, bemusement at the fact that Radio Shack (which is what most of us remember it being called when we grew up, and what I'll refer to it as for the balance of this post_) still existed, or at least that it still had more than 4,000 locations around the country. One important thing to note about that number, though, is that, as with many of the Hallmark stores that you see around, Radio Shack also relies on a network of franchise owners that operate under the Radio Shack name. In addition to the 4,300 stores noted in the linked article, there are apparently more than 1,000 franchisee-owned locations. Additionally, the Wikipedia page for Radio Shack notes that it has over 7,000 locations, although this number may be out of date and may also include international locations. This reliance on franchisees seems to give the company greater flexibility, although it hasn't prevented the financial troubles of recent years, including rumors last year that the company may file for Chapter 11 Bankruptcy, although that possibility now seems to have been averted as the company pursues the restructuring that its Super Bowl ad seems to be presaging.
That said, one does wonder how Radio Shack has survived all these years.
Quite honestly, I cannot remember the last time that I was in a Radio Shack, or why I may have gone in there. When I was a kid I remember the Radio Shack at the local mall was one of those places I liked to hang out and just look at some of the cool technology that they had on display, especially when Radio Shack teamed up with Tandy and began selling computers, including the TRS-80, which quickly seemed to become a ubiquitous addition to the still-new computer classes that were just starting in many American High Schools. Remember, this was in an era where computers were just starting to become a consumer item. The Apple II had just come out a few years earlier, but was mostly only available via mail order (there were no Apple stores back then kids, sorry) and Commodore had just started to break onto the scene, first with the Vic-20 and then the Commodore 64, in a way that made computers somewhat affordable for middle-class American families. Being able to play with the computers set up at the local Radio Shack was a rare treat back then. Other than batteries and I think the rather cheap walkie talkies I got for Christmas one year, I can't remember much of anything that my parents bought at Radio Shack back in those days.
Over the years, it seems, the company has changed its focus into higher technology. Thanks to partnerships with several carriers, they've apparently made a niche for themselves in the cell phone/smartphone market, for example. Additionally, if the company website is any indication, they also sell multiple brands of desktop, laptop, and tablet computers, although the fact that most store locations are in relatively small locations it seems likely that there is more choice on the website than at the bricks and mortar location. Obviously, this change has worked for them over the years otherwise they would have gone the way of record stores like Tower Records and Sam Goody. In some respects, then, it's kind of cool to see a store that seemed to be stuck in the 70s and 80s is still around and may yet survive.
For those who missed it, here's the Radio Shack Super Bowl ad, which should amuse anyone who grew up in the 80s: