Ralph Waite, Father On The Waltons, Dies At 85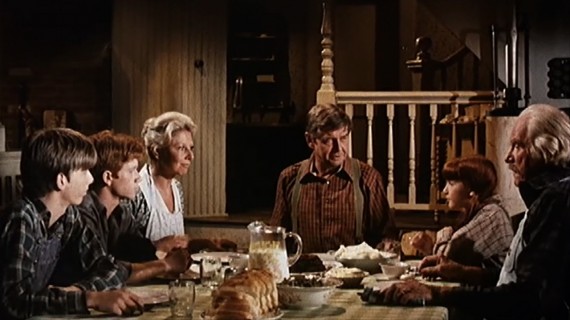 Ralph Waite, who children of the 70s will remember as the father of the large Walton family on the television show of the same name, has passed away at the age of 85:
Ralph Waite, a multifaceted actor who became etched in the American imagination as the craggy-faced, big-hearted patriarch of a rustic, Depression-era clan in the popular 1970s television series, "The Waltons," died Thursday. He was 85.

The death of Mr. Waite, a resident of the Palm Springs, Calif., area, was confirmed by his manager, Alan Mills, The Associated Press reported.

In September 1972, CBS premiered "The Waltons" against two already popular shows: Flip Wilson's irreverent comedy show on NBC, and "Mod Squad" about hippie undercover police officers on ABC. What some saw as a cornball newcomer was expected to be buried, but within two seasons it had driven its competitors off the air.

The success of "The Waltons" owed almost everything to the actors and the characters they played, members of a homespun, hardscrabble rural family used to surmounting challenges through the old-fashioned virtues. The foremost was John Jr., or "John-Boy," the oldest of seven children. John-Boy, played by Richard Thomas, was a serious young man with a passion to be a writer.

Almost as significant was Mr. Waite's role as John's father, John Sr., the family patriarch who combined wisdom, goodness, courage and a bit of a temper. He did not approve of hunting animals for sport, but hunted to put food on his hard-pressed family's table. Though he shunned organized religion, his wife, Olivia, called him "the most God-fearing man I know."

The viewing public lapped it up. In 2004, a poll of TV Guide readers of the "50 Greatest Dads of All Time" rated him No. 3, behind only Dr. Cliff Huxtable on "The Cosby Show" and Ben Cartwright on "Bonanza."

But when Mr. Waite first heard about the possible show, he was not particularly enthused. His agent advised him to take the part so he could "pick up a couple of bucks" and go back to New York.

"The Waltons" lasted for nine seasons, and six movie sequels. In 1992, President George H. W. Bush said he wanted to "make American families a lot more like the Waltons and a lot less like 'The Simpsons.' "

"Somehow, we struck a vein in the life of the world," Mr. Waite said in an interview in 2013 with The Lancaster News of Lancaster, S.C.

Fellow cast members praised Mr. Waite's acting talents after learning of his death.

"Ralph was a good honest actor and a good honest man," said Michael Learned, who played Mr. Waite's television wife, Olivia Walton. "He was my spiritual husband. We loved each other for over 40 years. He died a working actor at the top of his game."

"The Waltons" was only one aspect of Mr. Waite's far-flung life, although it is the reason that excited strangers hailed him in airports. He was a Marine, a social worker, an ordained Presbyterian minister who served two congregations, a book editor and a three-time Democratic candidate for Congress from California.

As an actor, he ranged from Shakespeare to Beckett, from Broadway to soap operas, most notably as Father Matt on "Days of Our Lives." One of his two Emmy nominations was for playing Slater, the first mate of a slave ship in the "Roots" mini-series in 1977, a glaring contrast to the broad-minded John Walton. (The other was for "The Waltons.")

He had small parts in movies like "Cool Hand Luke" (1967) and "Five Easy Pieces" (1970). His many appearance in television episodes and movies included portraying Malcolm Dietrich on "Murder One" (1996); the Rev. Norman Balthus on HBO's "Carnivàle" (2003-2005); and Jackson Gibbs, the father of Mark Harmon's character, on "NCIS" (2008-2012). He directed 16 episodes of "The Waltons."

(…)

Ralph Harold Waite was born in White Plains on June 22, 1928, the oldest of five children. In a 1977 interview with People magazine, he called his youthful environment "very secular, nonartistic."

"I was never taken to a play of concert or church," he said. "Yet I was a show-off, a dreamer, a storyteller."

After graduating from high school, he joined the Marines, serving from 1946 to 1948. He entered Bucknell University, where he met Beverly Hall, whom he married in 1951. She encouraged him to go into social work, which he did in Westchester County after graduating from Bucknell in 1952. He tired of the county bureaucracy, and entered Yale Divinity School.

Though he had been a militant atheist in college, he earned a master's in divinity from Yale. He was ordained as a Presbyterian minister, and served congregations on Fishers Island, off Long Island, and Garden City, N.Y. Upset with what he saw as hypocrisy in the church, he left the ministry. He worked for Harper & Row as an editor of religious books.

He did not find that satisfying, his marriage deteriorated and he drank too much — a problem that he said worsened until he eschewed alcohol in the mid-1970s. A friend suggested he try acting lessons.

"I was in my 30s and I had never acted before," he told The Boston GlobMae in 1974. "But I figured I had nothing to lose, so I went with him. The first time I just listened. The second time I played a scene. The third time I took the bit in my teeth, and I loved it. I felt alive for the first time since I can't remember when."

He got a job being understudy to all the actors in a Broadway production of Genet's "The Balcony." By the time the run ended six months later, he had played all the major roles. He worked as a bartender and waited tables to support himself. In 1965, he received excellent reviews for his performance in William Alfred's "Hogan's Goat," a drama about Brooklyn politics in the 1890s.

In 1967, Clive Barnes in The New York Times savaged a modernistic interpretation of "Hamlet" by the New York Shakespeare Festival Public Theater in which Hamlet passed out peanuts and balloons to the audience. But he praised Mr. Waite's "bluff, happy villainy" as Claudius.

He began doing movie roles in addition to his work in New York theater. He wrote a screenplay and showed it to the producer Lee Rich, who ran Lorimar Productions with Merv Adelson. Mr. Rich was not interested in the script, but asked, "Would you be interested in playing in a series I have in mind as the father of a Depression family in the South?"

Mr. Waite became involved in the Los Angeles community, leading an alcohol and drug recovery program and helping build low-income housing. Saying he was inspired by Vaclav Havel, the playwright who became president of Czechoslovakia, he ran for Congress in 1990. Despite contributions from Hollywood pals like Al Pacino, he lost to the Republican incumbent, Al McCandless.

In 1998, he ran for Congress again, this time against Mary Bono, widow of Sonny Bono, who was killed in a skiing accident. He actually ran against her twice, losing in both a special election after Mr. Bono's death and in the subsequent general election.

Mr. Waite's campaign was handicapped by the fact he was appearing as Willie Loman, the tragic traveling salesman in Arthur Miller's "Death of a Salesman" in a New Jersey theater. He could not break his acting contract and had to commute back and forth.

"Ralph Waite is on the road more than Willy Loman — because Ralph Waite is Willy Loman," The New York Times commented.
Waite also had a small role in the 70s television miniseries Roots, where he played a character far different from the gentle patriarch that auidiences had come to know. Most recently, as noted above, he had roles on "Bones" and on "NCIS," where he played the father of Leroy Jethro Gibbs, the main character played by Mark Harmon for the past eleven seasons.  It's his role as the head of the Walton clan, though, that he's likely to be most remembered. That show, which continues to run in syndication on at least one cable network that I'm aware of, was among the most popular of the 1970s. In my case, I remember it as one of the shows that we watched together as a family on a pretty regular basis until it went off the air. The show also won several Emmy awards, both for the show as a whole and for several cast members, although Waite himself does not appear to have been nominated for his role in the show in any of the years it was on the air.