Wilford Brimley Dead at 85
A great character actor is gone.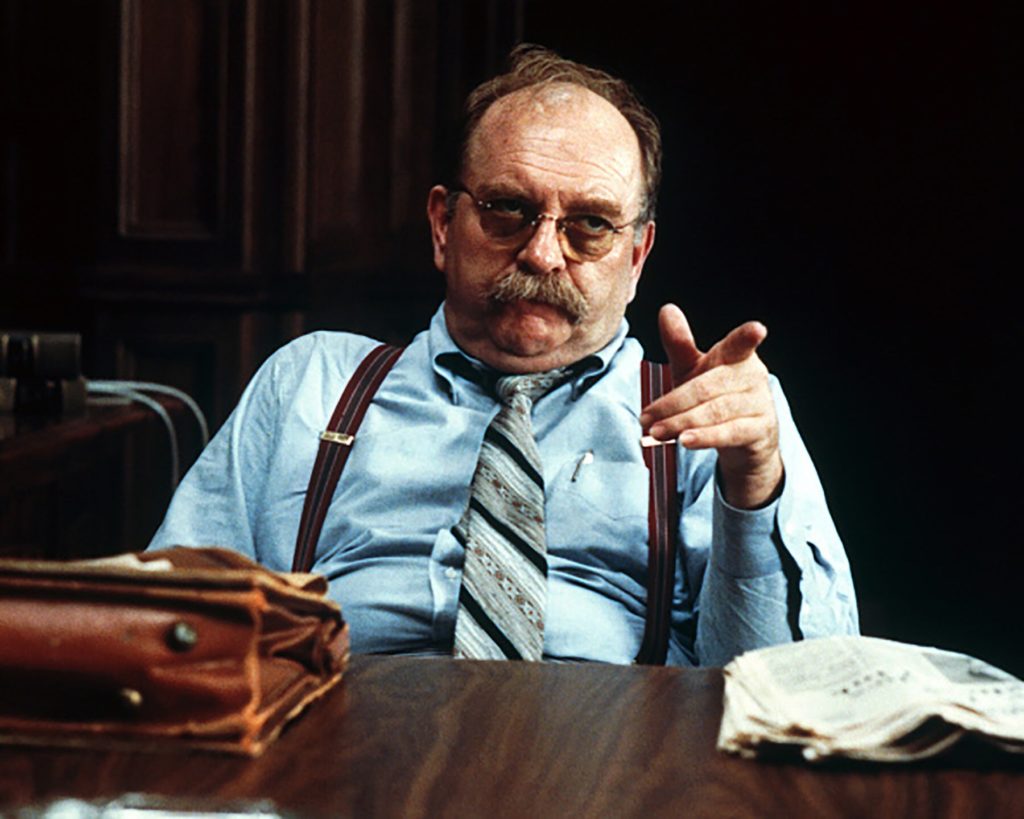 The great character actor who has seemingly always been old is gone, at the surprisingly young age of 85.
NYT ("Wilford Brimley, 'Cocoon' Star and Quaker Oats Pitchman, Is Dead at 85"):
Wilford Brimley, a portly actor with a walrus mustache who found his niche playing cantankerous coots in "Absence of Malice," "The Natural," "Cocoon" and other films, died on Saturday at age 85.

Mr. Brimley had been sick for two months with a kidney ailment, said his agent, Lynda Bensky. He died in a hospital in St. George, Utah, where the actor had a home.

Mr. Brimley had played the Walton Mountain resident Horace Brimley in a recurring role on the television series "The Waltons" when Michael Douglas, the producer of "The China Syndrome," gave him his breakthrough role: Ted Spindler, an assistant engineer at a nuclear plant.

In the film's climactic scene, in which he is being interviewed by a crusading television reporter played by Jane Fonda, Mr. Brimley delivered an impassioned defense of his boss (Jack Lemmon), who had precipitated a crisis to draw public attention to defects at the plant.

In an article for The New York Times singling out Mr. Brimley as a talent to watch, Janet Maslin called him "the mustachioed man who very nearly steals the ending of 'China Syndrome' from Jane Fonda."

Mr. Brimley followed up with a small but memorable performance as a pugnacious district attorney in "Absence of Malice" and with supporting roles in "The Natural," as the put-upon manager of a losing baseball team, and "The Firm," in which he played the sinister head of security at an unsavory law firm.

In Ron Howard's 1985 fantasy film "Cocoon," Mr. Brimley delivered one of his most engaging performances, as a Florida retiree who, with Don Ameche and Hume Cronyn, regains his youth after swimming in a magic pool.

"Wilford's a testy guy, not an easy guy to work with all the time, but he has great instincts," Mr. Howard told The Times in 1985. "Many of his scenes were totally improvised."

In the 1980s and 1990s Mr. Brimley was a television fixture as a spokesman for Quaker Oats, gruffly telling viewers to eat the cereal because "it's the right thing to do," and Liberty Medical, a company selling diabetes-testing supplies. Mr. Brimley learned that he had the disease in the late 1970s.
CNN ("Wilford Brimley, 'Cocoon' actor who appeared in Quaker Oats commercials, dies at 85"):
Wilford Brimley, the mustachioed actor who appeared on the big screen, television shows and Quaker Oats commercials, has died. He was 85.

Brimley died Saturday while hospitalized in St. George, Utah, his manager Lynda Bensky told CNN. He'd been at the ICU, where he was getting treatment for medical problems and was on dialysis.

"Wilford Brimley was a man you could trust. He said what he meant and he meant what he said," Bensky said. "He had a tough exterior and a tender heart. I'm sad that I will no longer get to hear my friend's wonderful stories. He was one of a kind."
TMZ ("DEAD AT 85 …Diabetes, Quaker Oats Spox"):
Wilford Brimley — an iconic actor who was the face of Quaker Oats for years, as well as a spokesperson for diabetes education — has died … a rep tells TMZ.

[…]

Wilford had a lengthy career on camera, dating back to the 1970s with over 70 acting credits. He's perhaps most known for roles in cult classic films like "Cocoon," "The Natural," "The Thing," "Hard Target," and countless other memorable on-screen appearances, big and small.

Brimley started out as mostly a TV actor, landing one-time roles on TV series like "How the West Was Won," 'Kung Fu,' "The Oregon Trail," and then eventually … a recurring part on "The Waltons." He went on to star in a bunch of TV movies, such as "The Wild Wild West Revisited," "Amber Waves," "Roughnecks," "Rodeo Girl," 'The Big Black Pill,' and so on.

In the '80s, he started breaking out into more traditional films, appearing in flicks like "High Road to China," "10 to Midnight," "Tough Enough," "Jackals," "End of the Line," and a bunch of other B-movies where he'd often play an authority figure or a grandfatherly figure with his deep, comforting Southern accent. One of the best character actors without a doubt.

He went on to star in countless other movies and shows, notably on "Our House," in which he starred in over 40 episodes, as well one-off appearances in hit series like "Walker, Texas Ranger," "Seinfeld," and so many others.
That a man with so many accomplishments over so many decades is best remembered from some olds commercials is rather amusing—although a testament both to his uniqueness as a personality and the quality of the spots.
We watched the Waltons when I was growing up but I didn't remember that he was on the show. IMDB indicates he made ten appearances between 1974 and 1977 playing "Horace Brimley."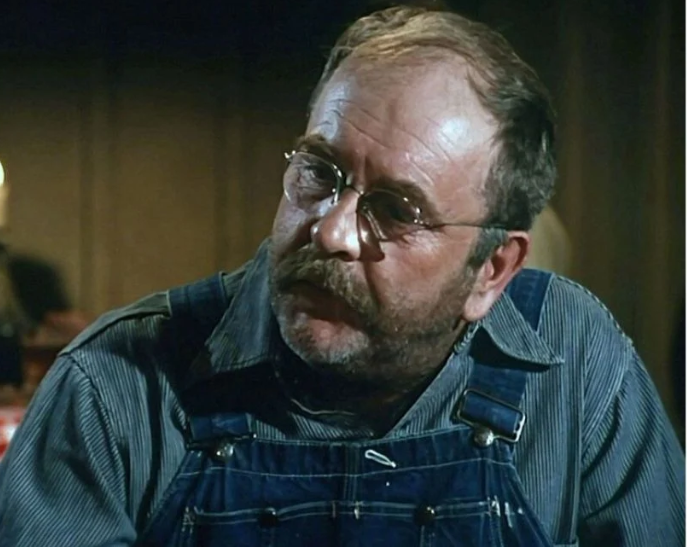 I do remember his turn a Pop Fisher in 1984's "The Natural."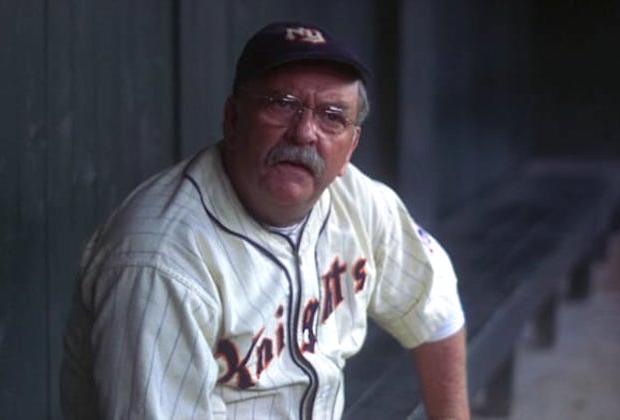 But, almost certainly, the first time I knew his name was with his star turn in Ron Howard's directorial breakout "Cocoon" (1985).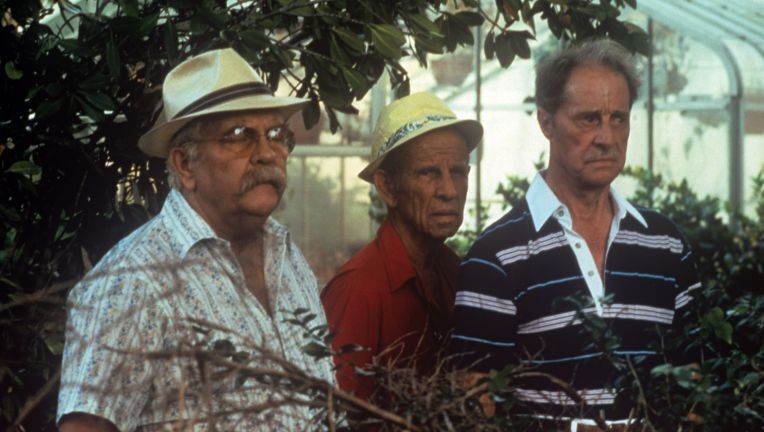 The folks and I also watched him as Gus Witherspoon in "Our House" (1986-1988) and I'm reminded that he had a major role in "The Firm" (1995).
As noted in the intro, aside from his terrific chops as a character actor, the most notable thing about Brimley is that he's pretty much looked the same for forty-odd years. He would have been 40 his first appearance on "The Waltons" and 50 when "The Natural" came out.
The next year, in his breakout "Cocoon," he was cast alongside Don Ameche (born 1908) and Hume Cronyn (born 1911) as senior citizens who found a fountain of youth in a neighboring swimming pool. Brimley was born in 1933–literally young enough to have been their son.
Brimley was younger then than I am now.
Indeed, there are memes like this one celebrating the anomaly: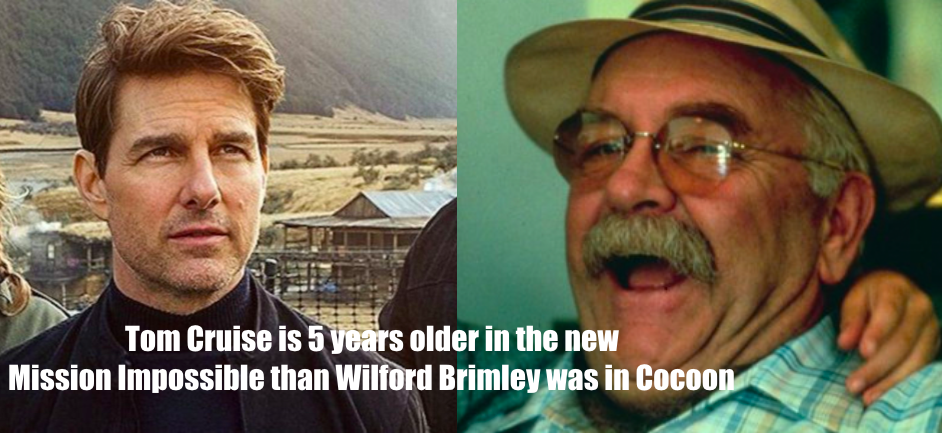 (Granted, there were similar ones a few years back noting that Ralph Macchio was now the same age as Pat Morita was when they filmed "Karate Kid," also in 1984. Maybe there really was something in the water.)