Rand Paul Copying From Wikipedia: Plagiarism, Or Lazy Speech Writing?
Rand Paul used word-for-word excerpts from Wikipedia in two speeches in Virginia.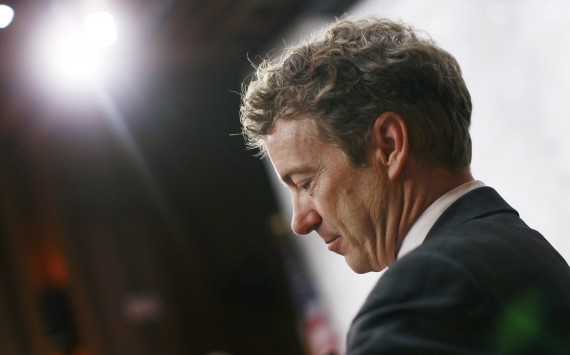 Kentucky Senator Rand Paul has become a favorite target of MSNBC's Rachel Maddow and others this week after some adept research discovered that portions of two speeches he gave while campaigning for Ken Cuccinelli here in Virginia:
WASHINGTON — Senator Rand Paul, the Kentucky Republican who is among his party's top 2016 presidential prospects, has found himself accused of plagiarism.

But this case has an odd twist. Mr. Paul appears to have lifted words for a speech this week from a Wikipedia entry about a futuristic movie, "Gattaca," which imagines a world with a population that has been genetically engineered.

The senator was trying to make a point about eugenics, saying the United States was veering dangerously close to eliminating people whom society considered to be undesirable. In doing so, he made a reference to the movie and twice spoke lines that were virtually word for word from the Wikipedia description of the plot of "Gattaca," which was released in 1997.

The speech — which he delivered Monday at Liberty University in Virginia on behalf of the Republican candidate for governor, Kenneth T. Cuccinelli II — contained this line: "In the not-too-distant future, eugenics is common, and DNA plays a primary role in determining your social class."

The Wikipedia entry reads: "In 'the not-too-distant future,' liberal eugenics is common, and DNA plays the primary role in determining social class."

Mr. Paul's office said in a statement on Thursday that the episode was being exaggerated by the senator's enemies. "Only in Washington is something this trivial a source for liberal media angst," it said.

The similarities came to light Monday night on "The Rachel Maddow Show" on MSNBC. The website BuzzFeed followed up on Tuesday by reviewing other remarks by the senator and said it had found a speech from June in which he appeared to have taken the words to describe another film, "Stand and Deliver," from Wikipedia.
Here are the two pieces that Rachel Maddow did on the whole story, which I must admit are pretty well done and kind of amusing in a "gotcha" kind of way:
–
For his own part, Senator Paul offered a defense to the charges that, even as someone who has often been supportive of him, I must say is kind of weak:
Paul said during an interview with Fusion that he sufficiently credited the movies rather than Wikipedia and that his speeches are not supposed to be meticulously footnoted academic papers.

"We borrowed the plot lines from 'Gattaca,' the movie, and I gave credit to the people who wrote the movie," the potential 2016 presidential candidate said. "Nothing I said was not given attribution to where it came from.

"I didn't claim that I created the movie 'Gattaca'; that's what's absurd about this."

While Paul made no secret he was talking about the movie, the plagiarism charge has more to do with whether he appropriated Wikipedia's description of the film without citing the Web site.
Paul misses the point, of course. Nobody is saying that he was stealing anything from the people who created either Gattaca or Stand And Deliver, all he did was use a discussion of the plots of both movies to illustrate a point he was trying to make in his own speech. There's nothing new about that, and nothing wrong with that.  Making references to movie or televisions plots, sports teams, the lyrics or popular songs, or any other number of cultural icons. That really isn't the issue. The problem, as Maddow shows in both of the pieces above, is that his speech essentially took the plot summaries of both movies that are on Wikipedia and copied them word for word. If someone were writing a college paper and did the same thing, it would be a clear case of plagiarism and, quite honestly, an incredibly stupid one. And that's really where the problem lies here.
Obviously, nobody believes that Rand Paul himself went online to Wikipedia and printed out the plot summaries for either of these movies to add into a stump speech he'd be delivering for a Gubernatorial candidate in Virginia. That's just not how things work in Washington and everyone knows it. More likely than not, someone on Paul's staff was tasked with the responsibility of drafting these speeches and, quite probably, came up with the idea of putting in the cultural references. If Paul runs his operation the way most politicians do (and I suspect he does), then he was likely presented with draft(s) of the speeches at some point that he either approved, disapproved, or requested changes to. The problem happened somewhere beneath him at the drafting stage where whoever was staffed with coming up with the language to add into these speeches regarding the movies in question went online, looked them up, and most likely got incredibly lazy and just added the Wikipedia language without making any changes at all. It was lazy and it was dumb, and it made his or her boss look like an idiot.
Will this hurt Paul in the long run the way that the Neil Kinnock incident damaged Joe Biden back in 1988? I tend to doubt it, but it does suggest that he might need to take a look at who he has working underneath him and whether they understand that you can't just copy stuff from Wikipedia and put it in a speech drat and pretend that somebody somewhere won't notice.