Rand Paul: I Didn't Think Obama's Views On Marriage Could "Get Any Gayer."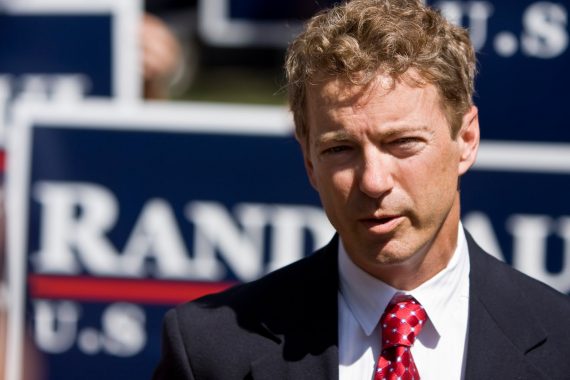 Kentucky Senator Rand Paul weighed in last night on President Obama's recent endorsement of same-sex marriage:
(CNN) – Sen. Rand Paul on Friday brushed off Barack Obama's recent reversal on same-sex marriage by saying he didn't think the president's views "could get any gayer."

The remarks from the Republican senator from Kentucky scored laughs among those attending an event held by Iowa's Faith and Freedom Coalition, a video uploaded on Saturday to the conservative website "The Iowa Republican" shows.

The president, you know, recently weighed in on marriage. And, you know, he said his views were evolving on marriage," the first-term senator said Friday evening. "Call me cynical, but I wasn't sure that his views on marriage could get any gayer."

Paul, who is the son of GOP presidential longshot and Rep. Ron Paul of Texas, made the comments two days after Obama announced that he supported same-sex marriage, which he had previously opposed, while adding he thought the issue should be left up to the states to decide.

(…)

The senator criticized Obama's explanation that the Golden Rule – to treat others how one wants to be treated – and his faith led to his evolved understanding of marriage. The Golden Rule has its roots in biblical verses.

"It did bother me though that he used the justification for it in a biblical reference," Paul said. "He said the biblical Golden Rule caused him to be for gay marriage. And I'm like, what version of the Bible is he reading?

"It's not the King James version, it's not the New American Standard, it's not the New Revised version," he added.

But Paul said his beliefs and those of other social conservatives and Christians do not "mean we have to be harsh and mean and hate people."

"We understand sin and if we believe it's a sin, we still are (sinners) and people sin," he said. "We're not out there preaching some sort of hateful dogma against people. But that doesn't mean that we have to go ahead and give up our traditions."

"Six thousand years of tradition" combined with "anthropological" evidence shows "there's stability in the family unit," he said
As someone who has been generally supportive of Senator Paul during his tenure in the Senate, and his campaign in 2010, I've got to say that these statements are incredibly disappointing in their prejudice. But, they may also be a sign that Paul is already looking at a Presidential campaign in 2016. Unfortunately, he seems to be setting up that campaign based not on a theme of individual liberty, but on a blatant appeal to social conservatives.
Update: Andrew Kaczynski of Buzzfeed has the video: