Real Doctors, Fake Notes
Either Andrew Breitbart controls the entire media complex or Crooks & Liars jumped the gun. "Figure it out."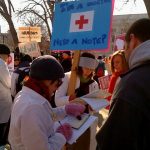 One of the interesting side stories emerging from the Wisconsin protests is the tale of a number of doctors handing out potentially fraudulent notes to protesters who called in sick to be present. Despite first-hand reporting (and video) from people on the ground, Crooks & Liars attempts to undermine it with a classic ad hominem. Drawing tenuous connections between Andrew Breitbart and a website that posted a video of fake doctors notes being given out is sufficient in their minds to dispel the entire issue:
So we're clear on this, Christian Hartsock, the guy "interviewed" and also the guy who probably produced that first video is the same guy who helped out with the smears of ACORN and New Jersey teachers, and he works for Andrew Breitbart.

Breitbart has bragged about being at the protests in Wisconsin today. Americans for Prosperity is linked to the MacIver Institute. A Breitbart video smear guy is quoted in an article smearing teachers. Figure it out.
There's not a single fact offered in the piece that actually goes to the truth or falsity of the central questions raised: Is the doctor in the video posted at MacIver Institute real and is he handing out ethically questionable notes to protesters? Rather, in classic form, a series of guilt by association premises is offered, culminating in the conclusory, "Figure it out."
Well, if Breitbart (who got diagnosed with "walker pneumonia" at one of these stations) is that powerful, they may as well give up now; because his tentacles now reach all the way up to the Associated Press:
The University of Wisconsin medical school says it's investigating reports that doctors from the school handed out medical excuse notes to protesters at the state Capitol this weekend.

Doctors from numerous hospitals set up a station near the Capitol on Saturday to provide notes to explain public employees' absences from work. One of those doctors was Lou Sanner, who practices family medicine at the University of Wisconsin School of Medicine and Public Health. Sanner said he had given out hundreds of notes to protesters and many he spoke with seemed to be suffering from stress.
and down to WKOW 27 local news in Madison:
The Madison School District has said teachers who call in sick to protest won't be paid. So, a group of licensed Wisconsin physicians came to the Capitol Saturday, willing to write a doctor's note for anyone who asked.

Reporter asked, "Do you think you could get in trouble?" Dr. Kathy Oriel said, "Certainly, we think its worth the risk to support the people, and we feel very strongly these are officials who would really like to be in school, and in their classes, but they're put in a position where they really have no choice."
One understands the impulse to discredit a narrative that harms one's cause. But if the era of blogging, Twitter, and omnipresent video has proven one thing, it's that it's better not to jump the gun. Whatever credibility you have is destroyed when you're proven wrong.