Regulatory Capture and the Revolving Door
Top officials of the Consumer Financial Protection Bureau have taken jobs in the industry they were regulating.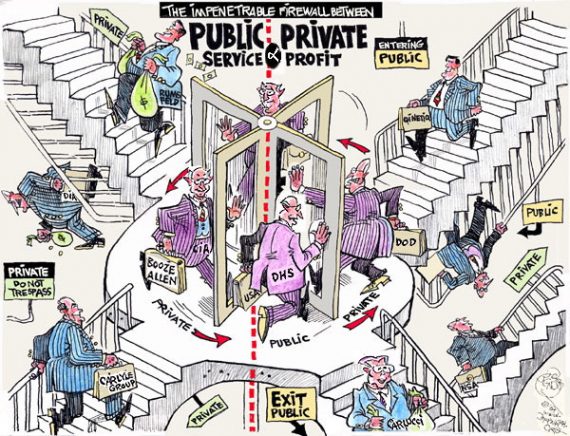 Richard Pollack of the Daily Caller reports on a fairly routine story in Washington circles:
Three of the top four officials at the Consumer Financial Protection Bureau have jumped from CFPB to lucrative posts representing financial services industry firms their former agency regulates, according to a Daily Caller News Foundation investigation.

The latest of the departures is Quyen Truong, formerly deputy general counsel, who accepted a position this month with the law firm Stroock & Stroock & Lavan.

Truong's new law firm represents banks such as Citigroup, Bank of America Merill Lynch, Barclays Capital, Credit Suisse and Deutsch Bank. The company also assists high-flying hedge funds including Carlyle Group, JP Morgan Asset Management and Goldman Sachs, according to its website.

Truong was preceded out the door by her former boss at CFPB, General Counsel Meredith Fuchs, who left in February to join Capital One.
I say "routine" because, as presidential terms wind down, people in appointed positions tend to flee for the private sector to secure more lucrative employment. Some will soon return if their party retains the White House, but they'll typically expect a promotion. In less cynical times, political scientists termed this the "revolving door."
Dave Schuler notes the dark side of the practice:
The CFPB was formed in 2010 as part of the Dodd-Frank Wall Street reform bill.

A more cynical man than I might be tempted to think that rather than protecting the interests of consumers the CFPB was created to be yet another venue for placing party apparatchiks in lucrative financial sector jobs.
As Dave notes, the flip side of the revolving door is "regulatory capture," which Wikipedia defines as, "a form of government failure that occurs when a regulatory agency, created to act in the public interest, instead advances the commercial or political concerns of special interest groups that dominate the industry or sector it is charged with regulating." Has that happened with the CFPB? It's hard to tell but the optics are bad.
Let's take the two examples in the story at hand. Truong served six-and-a-half years in government, including two years as counsel at the FDIC and the remainder at the CFPB. Prior to that, she spend nine years in the private sector with Dow Lohnes PLLC—representing clients with regulatory agencies. That followed three-and-a-half years as associate bureau chief with the FCC. That was preceded by eight years at two different law firms, both doing regulatory-type work.
Fuchs similarly spent a little over six years in government, including four senior posts with the CFPB and 11 months as lawyer for the House Energy and Commerce Committee. Prior to that, she spent thirteen years in various legal positions in the private and education sectors in Washington.
It's certainly possible to see regulatory capture in those career paths. But the counter-argument is that, when looking to appoint people to various regulatory posts, the president's team is looking for folks with appropriate experience. Fuchs and Truong were both highly qualified for the posts to which they were appointed. Serving in those high-level government posts, in turn, made them much more valuable upon their return to the private sector. And, of course, serving in enhanced private sector posts could make them more attractive for future government postings.
Absent direct evidence that Fuchs or Truong slanted their regulatory rulings with an eye to their future earning potentials with those they were regulating, there's no reason to suspect them of wrongdoing. At the same time, it's easy to see why the public would be cynical of the process. There's an obvious potential for mischief.
There's no obvious good solution to this potential for impropriety. Banning public sector employees from doing work that's even remotely related to their expertise would seriously constrain our ability to hire qualified people. We could, I suppose, shift a large number of currently-appointed positions to the professional civil service, mostly in the Senior Executive Service ranks. But that creates the potential for an entirely different sort of regulatory capture—a bureaucracy that's completely unresponsive to the wishes of the elected president.