Report: Colorado Shooter James Holmes Was Under Psychiatric Treatment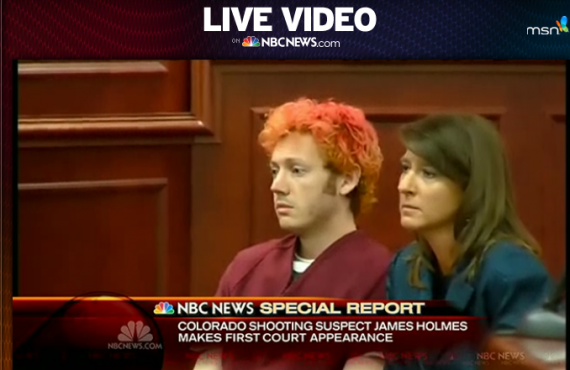 In a not entirely surprising report, it appears that the man who shot up a theater in Aurora, Colorado last week had been under the treatment of a psychiatrist:
Shooting suspect James Holmes was seeing a psychiatrist at the University of Colorado-Denver, where he was a first-year graduate student in neuroscience, according to court documents released Friday. His psychiatrist, Lynne Fenton, a professor at CU's medical school and the director of student mental health services, specializes in schizophrenia, according to her online biography.

Last week, Holmes mailed Fenton a notebook filled with stick-figure drawings that showed a massacre, Fox News reported, citing anonymous law enforcement sources. Fenton didn't receive the package until after Holmes was arrested on charges of entering an Aurora, Colo., movie theater and using several weapons to fatally shoot 12 people and injure 58 more.

Holmes' defense lawyers write in their court filing that their client's constitutional rights have been violated by the government sources who leaked details of the package to news outlets, since the court has ordered all agencies not to reveal more details about the case. District Attorney Carol Chambers rebutted that charge, saying that she believes the media may have fabricated the law enforcement sources they quoted since many details of their accounts were inaccurate. Chambers writes that she doesn't believe government employees were responsible for the leaks.
The more important point, of course, is that since Holmes had sent this notebook to a doctor that was treating him, it does raise implications of whether or not there is a Doctor-Patient Privilege issue here.  There is a provision of Colorado's First Degree Murder Statute that says that the privilege does not apply, but that's only applicable in cases involving the murder of a child under the age of 12 by a person in "a position of trust." While one of Holmes's victims was under 12, he does not qualify as a person in "a position of trust" with respect to that child, so it appears that the privilege would still apply with respect to the notebook and anything the doctor would be able to testify to.
Nonetheless, this does suggest that Holmes was suffering from some kind of mental illness and, given the area of Fenton's specialty, the possibility that he might be schizophrenic cannot be discounted.