Report: James Holmes Sent 'Chilling' Notebook To University Psychiatrist Before Attack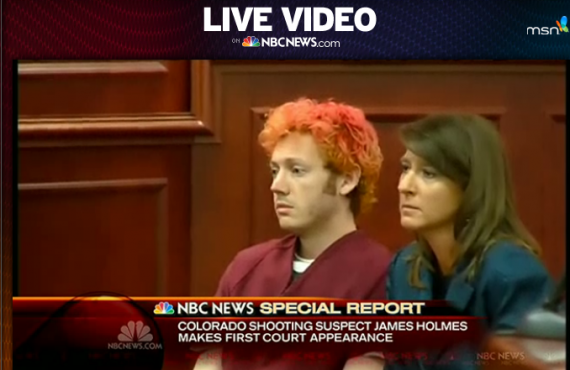 As the search continues for what may have motivated James Holmes to shoot up a theater full of people on Friday morning, a new report is out that may provide some clues:
Police and FBI agents were called to the University of Colorado Anschutz medical campus in Aurora on Monday morning after the psychiatrist, who is also a professor at the school, reported receiving a package believed to be from the suspect. Although that package turned out to be from someone else and harmless, a search of the Campus Services' mailroom turned up another package sent to the psychiatrist with Holmes' name in the return address, the source told FoxNews.com.

A second law enforcement source said authorities got a warrant from a county judge and took the package away Monday night. When it was opened, its chilling contents were revealed.

"Inside the package was a notebook full of details about how he was going to kill people," the source told FoxNews.com. "There were drawings of what he was going to do in it — drawings and illustrations of the massacre."

Among the images shown in the spiral-bound notebook's pages were gun-wielding stick figures blowing away other stick figures.

The source said the package had been in the mailroom since July 12, though another source who confirmed the discovery to FoxNews.com could not say if the package arrived prior to Friday's massacre. It was not clear why it had not been delivered to the psychiatrist. The notebook is now in possession of the FBI, sources told FoxNews.com.

Both sources said the intended recipient of Holmes' notebook was a professor who also treated patients at the psychiatry outpatient facility, located in Building 500, where the first suspicious package was delivered. It could not be verified that the psychiatrist had had previous contact with Holmes, who was a dropout from the school's neuroscience doctoral program and had studied various mental health issues and ailments as part of his curriculum.
This raises many more questions than it answers at the moment. For one thing, it's unclear if Holmes was being treated by this psychiatrist, if he was someone that he had been working with as part of the neuroscience program, or if it was just someone on the faculty that Holmes had picked randomly. If it's the first, of course, there many be issues of Doctor-Patient Privilege that would prevent the notebook from ever being used in Court that would have to be answered, but if this was sent in a non-therapeutic manner than it's just evidence in the case. Additionally, if Holmes was studying mental health issues as part of his Ph.D, program one wonders if he gained access to medication that may have had an impact on him in some way. But, that's just speculation at this point. At the very least, though, it adds some credence to the theory that this man has some serious mental problems.
Then again, that picture above of him in Court on Monday does that too I would think.
The other question, of course, is whether tragedy could have been averted if someone had seen that package before the early morning hours of July 20th. If it does turn out to be true that the package was sitting in the university mailroom for a week before the attack, then that is going to be one heck of a missed opportunity.