Report: Psychiatrist Warned College About James Holmes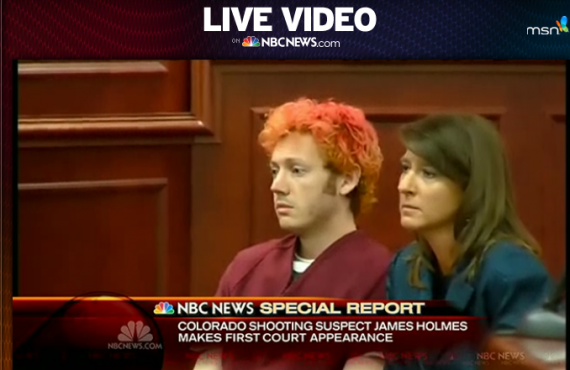 A Denver area television station is reporting that the psychiatrist who had been treating James Holmes before last month's shootings in Aurora, Colorado had warned officials at Colorado University that he could be dangerous:
DENVER – The psychiatrist treating accused Aurora theater gunman James Holmes was so concerned about his behavior that she notified other members of the University of Colorado Behavioral Evaluation and Threat Assessment, or BETA, team that he could potentially be a danger to others, sources with knowledge of the investigation told CALL7 Investigators.

Those concerns surfaced in early June — almost six weeks before the shooting, sources told CALL7 Investigator John Ferrugia.

Sources say Dr. Lynne Fenton, who treated Holmes this spring, contacted several members of the BETA team in separate conversations. According to the university website, the BETA team consists of "key" staff members from various CU departments who have specific expertise in dealing with assessing potential threats on campus. And, sources say, officials at the University of Colorado never contacted Aurora police with Fenton's concerns before the July 20 killings.

ABC News learned Fenton was a key member in setting up BETA in 2010, and she is currently one of the contacts for anyone who has concerns about an on-campus threat. A University of Colorado spokeswoman acknowledged that Fenton is one of several trained CU contacts who can convene the team in consultation with the chairman.

"Fenton made initial phone calls about engaging the BETA team" in "the first 10 days" of June but it "never came together" because in the period Fenton was having conversations with team members, James Holmes began the process of dropping out of school, a source said.

Sources did not know what Holmes told Fenton that sparked her concern.

"It takes more than just statements," said one source, explaining that Holmes would have had to tell Fenton "something specific" before she would have to report it to law enforcement.

"He would have to tell her he had taken steps to make it happen," said another source.

But an expert in threat assessment told ABC News that the warning signs were there, and CU should likely have done more when Holmes quit the university.

"I think that is the signal that you should intensify your efforts — not walk away," said Barry Spodak." Under those circumstances, most well-trained assessment teams would have gone into action."
It's unclear that anything the team, or Fenton, could have done would have prevented this tragedy, but it's certainly not surprising to learn that there were warning signs there before Holmes acted out violently. We saw the same thing with Jared Loughner, the man who shot Congresswoman Gabby Giffords and 18 other people in Tucson in January 2011, who was barred from his college after several incidents of bizarre behavior. That solved the problem for the school, but it didn't do anything to help Loughner who ended up committing mass murder just four months later. For Holmes, it was only a matter of weeks.