Report: Psychiatrist Treating James Holmes Reported Him To Campus Police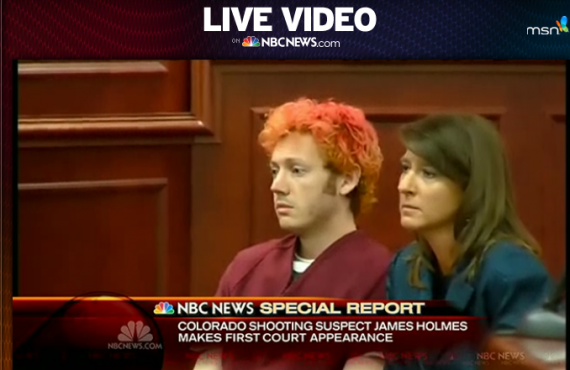 ABC News is reporting that the University of Colorado psychiatrist who was treating James Holmes in a weeks before the movie theater shootings on July 20th had taken the extraordinary step of breaking doctor-patient privilege to report Holmes to campus police:
The psychiatrist who treated suspected movie-theater shooter James Holmes made contact with a University of Colorado police officer to express concerns about her patient's behavior several weeks before Holmes' alleged rampage, sources told ABC News.

The sources did not know what the officer approached by Dr. Lynne Fenton did with the information she passed along. They said, however, that the officer was recently interviewed, with an attorney present, by the Aurora Police Department as a part of the ongoing investigation of the shooting.

Fenton would have had to have serious concerns to break confidentiality with her patient to reach out to the police officer or others, the sources said. Under Colorado law, a psychiatrist can legally breach a pledge of confidentiality with a patient if he or she becomes aware of a serious and imminent threat that their patient might cause harm to others. Psychiatrists can also breach confidentiality if a court has ordered them to do so.

"For any physician to break doctor-patient confidentiality there would have to be an extremely good reason," said Dr. Carol Bernstein, a psychiatrist at NYU Langone Medical Center and past president of the American Psychiatric Association.
This comes on top of last week's news that Fenton had contacted members of the University's Behavioral Evaluation and Threat Assessment team, but that matter was dropped after Holmes withdrew from school several weeks before the shooting incident. Whether this contact was part of the report to the BETA team or a separate notification is unclear but it seems to be another indication that Holmes was displaying serious mental problems in the months before July20th and it appears that the university dropped the matter after he left rather than pass the report on to, say, Aurora police authorities. Given the way our commitment laws work, it's unlikely that anything could have been done to stop Holmes or get him into treatment before he went on his shooting spree, but it would be nice if someone had at least tried.
I'd expect to hear more about this. It's going to be central to Holmes's criminal trial and it suggests possible civil claims against the university for failing to follow up on Fenton's reports.