Republican Candidates No Longer Willing To Say They'll Support GOP Nominee In The Fall
Despite having previously pledged to do so, none of the three candidate for the GOP nomination are willing to say they'd support the eventual nominee anymore.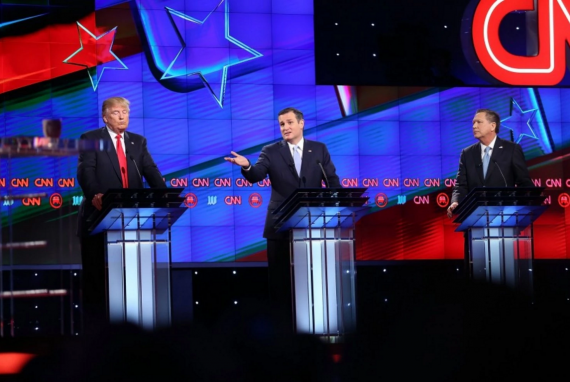 The acrimony of the Republican candidates for Presidents became even more apparent last night during a CNN Town Hall event when none of the three remaining candidates said they would definitely support the eventual Republican nominee for President:
JANESVILLE, Wis. — None of the three remaining Republican presidential candidates would guarantee Tuesday night that they would support the eventual GOP nominee for president, departing from previous vows to do so and injecting new turmoil into an already-tumultuous contest.

Mogul Donald Trump, Texas Sen. Ted Cruz and Ohio Gov. John Kasich were each given a chance during a CNN town hall in Milwaukee to definitively state they would support the nominee. All three declined to renew their pledge. As recently as March 3, in a Fox News debate, all three said they would support the nominee.

"No, I don't anymore," Trump told CNN's Anderson Cooper, when asked if he remains committed to the pledge. Trump said that he would instead wait to see who emerges as the nominee before promising his support, recanting the pledge he previously signed with the Republican Party.

"I have been treated very unfairly," Trump added.

Trump and his team have braced for the possibility of a contested convention in recent weeks, as opposing forces have set their sights on denying him the nomination by preventing him from crossing the necessary delegate threshold.

Trump said Tuesday that he believes establishment Republicans and the Republican National Committee in particular have not treated him with respect.

"I'm the front-runner by a lot. I'm beating Ted Cruz by millions of votes," he said. "This was not going to happen with the Republican Party. People who have never voted before, Democrats and independents are pouring in and voting for me."

Cruz was asked three times by Cooper whether he would support the nominee.

"I'm not in the habit of supporting someone who attacks my wife and attacks my family," Cruz said, making reference to Trump.

When Cooper followed up, Cruz replied: "Let me tell you my solution to that: Donald is not going to be the GOP nominee."

Cooper pressed him a third time. Cruz responded: "I gave you my answer."

Kasich said he would have to "see what happens" in the race before he could answer the question.
This question goes back to an issue that was among the first questions asked at the very first Republican debate back in August. At that time, Donald Trump was the only candidate running who refused to say that he would support the eventual nominee, a story that made news in no small part because there had been speculation about Trump running as an independent, or under the banner of a third party, virtually from the moment that he entered the race. The fact that Trump refused to definitively state that he would support the party's nominee, therefore, seemed to reinforce the idea that he could eventually bolt the GOP for an independent bid that would threaten to cost the GOP the White House. Because of this, several state party leaders began to threaten to block Trump from the ballot for their state's primary unless he pledged to support the party nominee. Republican National Committee Chairman Reince Priebus eventually responded to all of this by circulating a pledge for each of the candidates to sign, which Trump eventually did in a typically self-promoting press conference at Trump Tower. Ted Cruz and John Kasich signed the same pledge.
Both The New York Times and Politico are emphasizing Trump apparently departing from "the pledge" as the basis of their reports on the comments that were made last night, with both barely mentioning the fact that Ted Cruz and John Kasich both said eventually the same thing that Trump did. In reality, of course, the story here is the extent to which the acrimony of the Presidential campaign has impacted the candidates themselves. These campaigns tend to get heated every four years, of course, but things have gotten especially acrimonious over the past week or so. It started last week with Ted Cruz and Donald Trump attacking each other in a dispute that ended up bringing their wives, Heidi Cruz and Melania Trump, into the mix as well and ended with accusations from the National Enquirer about Ted Cruz having affairs with as many as five women over some unspecified of time. Meanwhile, Republican insiders have openly been working to deny Trump a majority of delegates prior to the convention in the hope of denying him the nomination and many conservative activists are saying that there are no circumstances under which they would vote for Trump. If nothing else, all of this is a strong indication of just how divisive this race has become and how unlikely it is that there will be party unity after the nominee is eventually chosen no matter who that nominee ends up being.