Republicans Bash Obama For Doing What Bush Wanted To Do In Iraq
President Obama is being attacking from the right for following through on a policy decision made by his Republican predecessor.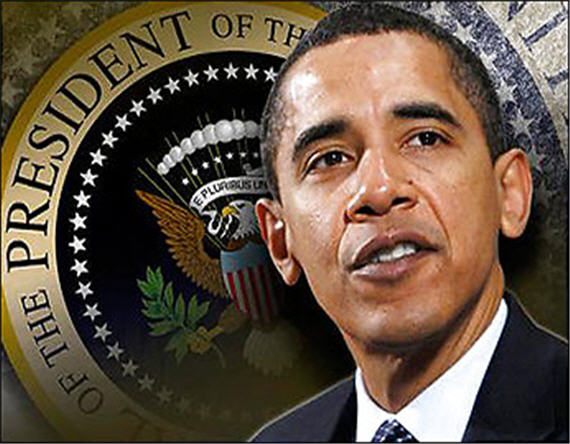 Republicans are reacting mostly negatively to President Obama's announcement yesterday that all American troops would be leaving Iraq by the end of the year:
After 8 years of combat in Iraq, the United States Congress remains divided over the need for U.S. troops in that country. The president's official announcement today that the remaining U.S. troops will withdraw from Iraq by the end of the year drew praise from Democrats while high profile Republicans questioned whether the move is premature.

Republican Sen. John McCain said in a statement that the president's decision is a "harmful" setback for U.S. interests in the Middle East.

"I respectfully disagree with the President," McCain said. "This decision will be viewed as a strategic victory for our enemies in the Middle East, especially the Iranian regime, which has worked relentlessly to ensure a full withdrawal of U.S. troops from Iraq. It is a consequential failure of both the Obama Administration — which has been more focused on withdrawing from Iraq than succeeding in Iraq since it came into office — as well as the Iraqi government."

Sen. Lindsey Graham, R-S.C., echoed McCain's sentiments. "I fear this decision has set in motion events that will come back to haunt our country," he said.
Pretty much all the Republican candidates also piled on the President as well:
Republican presidential candidate Mitt Romney harshly criticized President Obama in the wake of the president's announcement that the United States will withdraw all troops from Iraq by the end of the year.

"President Obama's astonishing failure to secure an orderly transition in Iraq has unnecessarily put at risk the victories that were won through the blood and sacrifice of thousands of American men and women," he said. "The unavoidable question is whether this decision is the result of a naked political calculation or simply sheer ineptitude in negotiations with the Iraqi government. The American people deserve to hear the recommendations that were made by our military commanders in Iraq."

(…)

Romney wasn't the only GOP presidential candidate to attack Mr. Obama in the wake of the announcement. Texas Gov. Rick Perry suggested "President Obama is putting political expediency ahead of sound military and security judgment by announcing an end to troop level negotiations and a withdrawal from Iraq by year's end."

"The President was slow to engage the Iraqis and there's little evidence today's decision is based on advice from military commanders," he said.

Michele Bachmann called the decision "a political decision and not a military one," claiming "it represents the complete failure of President Obama to secure an agreement with Iraq for our troops to remain there to preserve the peace and demonstrates how far our foreign policy leadership has fallen."

"In every case where the United States has liberated a people from dictatorial rule, we have kept troops in that country to ensure a peaceful transition and to protect fragile growing democracies," she said. "We will now have fewer troops in Iraq than we have in Honduras – despite a costly and protracted war."

"We have been ejected from a country by the people that we liberated and that the United States paid for with precious blood and treasure," she added.

Jon Huntsman said Mr. Obama's decision "to not leave a small, focused presence in Iraq is a mistake and the product of his administration's failures."

"The president's inability to reach a security agreement leaves Iraq vulnerable to backsliding, thus putting our interests in the region at risk," he said. "An ideal arrangement would have left a small troop presence that could have assisted with the training of Iraqi security forces and vital counter-terror efforts."
There were similar statements issued by Herman Cain and Newt Gingrich. Only Ron Paul and Gary Johnson had anything positive to say about the news.
The reactions from the conservative blogosphere are similarly dismissive. Max Boot calls it a failure of American foreign policy. The Heritage Foundation's James Carafano blames the Obama Adminstration for the refusal of the Iraqi Parliament to come to a deal acceptable to the United States:
With Syria in turmoil, Iran on the march, a more isolated Israel, and Turkey's ever-more ambivalent policies, now is the worst time to see a diminished U.S. influence in ensuring continued progress in Iraq. A total troop pullout will leave Iraqi security forces much more vulnerable to terrorism, sectarian conflict, and Iranian meddling, and it will leave them much less capable of battling al-Qaeda in Iraq and pro-Iranian shia militias.

In part, Obama and his Obama Doctrine are to blame for the Iraqi government walking away from U.S. support—though it knows this premature decision makes the future of the country's peace and prosperity risky business. The Obama Administration's clear preference to disengage from Iraq as quickly as possible has made it more difficult to negotiate with Baghdad from a position of strength. Iraqi leaders, sensing the Obama Administration's eagerness to head for the exit, are reluctant to take political risks to give U.S. troops immunity from prosecution. This was a deal-breaker.
And Hot Air's Tina Korbe criticizes the President for, well, doing what Presidents are supposed to do:
Which brings us to the president's decision to withdraw the troops from Iraq. Obama has never exactly been a humble guy, but my guess is he wouldn't make this particularly consequential decision if he weren't feeling especially cocky about his overall success on the foreign policy front. He thinks he has the political capital to do this — but he doesn't. What's made the American people trust Obama on foreign policy hasn't been any decision in line with the Obama doctrine of apology. What's made the American people trust Obama on foreign policy is that we've seen he's wise enough to change his mind about key Bush policies.

Withdrawing the troops now betrays a certain naivete on Obama's part — a certain optimistic belief that the American people think he knows best about these issues.
Well, first of all, the apology meme is total nonsense, as I've discussed here at length before. But, yes, of course the President is making decisions based on  what he believes is the best course of action. That's what President's are supposed to do. The American people elected Barack Obama in 2008 in part because they believed he'd be better suited to make decisions like this, to answer, as Hillary Clinton put it, the 3am phone call, than John McCain. Given his foreign policy track record, I can't say they made the wrong decision there. While my major disagreement with the President's foreign policy decisions has been the extent to which they have tracked those of George W. Bush, I don't really believe that a President McCain would have been all that much different in this area, and given his own odd decision making processes he could have ended up being much worse.
In any event, what makes the Republican reaction to the President's announcement yesterday even more bizarre was the fact that all he was really doing was announcing the final implementation of a policy that had been initiated three years ago by George W. Bush. Starting in 2008, the United States and Iraq began negotiating a Status Of Forces Agreement governing the basing of American troops in the country. When that agreement was finally approved by the Iraqis in December 2008, it provided that U.S. combat forces will withdraw from Iraqi cities by June 30, 2009, and all U.S. forces will be completely out of Iraq by December 31, 2011. Even though the Iraqi government approved the deal, there was apparently still much disagreement within Iraqi society about the agreement. You may remember, for example, that when President Bush paid a secret visit to Iraq in December 2008 in part to sign the final pact with Prime Minister al-Malaki, an Iraqi reporter threw a shoe at him on live television.
President Obama, of course, had campaigned in part on an immediate withdrawal from Iraq, and a pivot to Afghanistan. Had he wanted to, he could have accelerated the timetable of withdrawal from Iraq so that American troops would be out earlier than the deadline that the Bush Administration had negotiated. Instead, he announced in February 2009 that the United States would essentially be sticking with the timetable negotiated by his Republican predecessor. That decision was roundly praised by Republicans, including some of the same Republicans who are criticizing him now.
Now, it appears, Republicans are attacking the President for doing something that President Bush wanted to do and for changing his previously stated position on withdrawal from Iraq, based mostly on the advice he recieved from his military commanders at the time. To answer Korbe's question, yes the President does think he's making the right decision here. As I said before, that's what we hire President's to do. Would you prefer that the President make a decision that he thinks is wrong? Or is it just that he's Barack Obama? The war in Iraq is over, it's time for the Iraqi people to sink or swim on their own. Leaving behind a garrison force might have been workable if the Iraqis had agreed to immunity, which Admiral Mike Mullen called an absolute necessity just months ago. They didn't. Therefore, staying in conditions that could potentially expose our troops to legal process in a nation that is still trying to figure out the Rule Of Law, would have been insane.
Those who argue that we need to stay behind miss that point, but they also don't seem to be able to come up with a response to this very well-stated question by Jazz Shaw:
What would be different if we left in January? Or in 2013? or 2015? It was always going to end eventually and, given the nature of the region, I doubt it was ever going to end well. Our troops acted in the greatest tradition of our nation. They followed their orders and achieved all of the real victories on a day to day basis which ever truly mattered. But the end approaches and we need to thank them once again and close this chapter. It's time to come home, and almost ten years too late at that.
Indeed. Whether you agreed with the war or not, and I disagreed with it from the start, we have done everything we can in Iraq at this point. What happens next is largely out of our control.