Republicans Could Have Done A Lot Worse Than Mitt Romney
Mitt Romney wasn't a perfect candidate, but he was much better than most of the 2012 Republican field.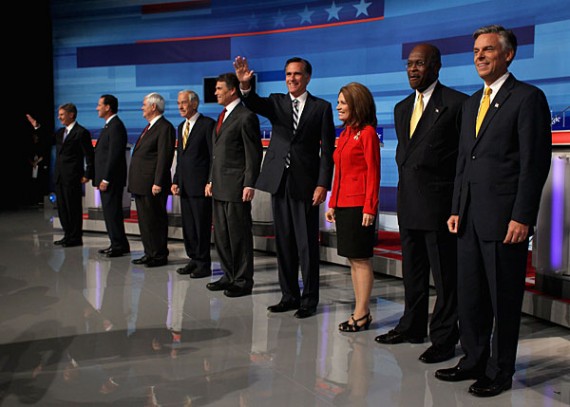 One argument I've heard from some on the right in the week since Election Day is that the election results prove that Mitt Romney was the wrong candidate for the Republican Party to nominate this year.  The most common complaint is one that we've heard from the GOP after every losing election, namely that the candidate wasn't conservative enough. Notwithstanding the fact that Romney has shifted positions on several issues over the years, I find this a rather bizarre argument to make. From the primary campaign forward, Romney ran on a fairly conservative platform that touched upon all of the issues that were important to the Republican base. Even when he started moving closer to the center in October, it wasn't much of a substantive change in his ideas and, most importantly, his candidacy had all the elements of the GOP coalition fired up as Election Day approached. The fact that people are now claiming that he wasn't the right candidate strikes me as being a somewhat hypocritical effort to whitewash the past and explain away Romney's defeat as something than what it clearly was.
More importantly though, even if these arguments are taken as true, Mitt Romney was still the most electable candidate in the Republican field this year: 
If you think Rush Limbaugh's "slut" sneer and Todd Akin's "legitimate rape" comments cost Republicans this year, imagine how the press would have covered the "war on women" debate if Santorum — who actually did speak out against birth control in the primary campaign — had been the top of the Republican ticket. If you think it was too easy for Obama to define Romney with a blizzard of negative ads over the summer, imagine how much material a Gingrich candidacy would have given the White House's admakers to work with. If you think that Romney suffered from being perceived as too much like George W. Bush Part II, imagine if the Republican candidate in 2012 had been a yet more tongue-tied and more right-wing Texan governor whose debate performances made Obama's Denver sleepwalk look Ciceronian.

"How much worse could it get?" Last asks. In the electoral college, maybe not that much worse. But in the popular vote? There I hardly think Romney was scraping bottom. His 48 percent of the vote wasn't even close to the floor for Republican candidates this cycle: Out of eighteen high-profile Senate races,the Washington Post noted last week, Romney outperformed the party's nominee in eleven of them, and was outperformed in only four — all in deep blue states he was never going to win anyway. "In five races," the Post pointed out, "the GOP candidate under-performed Romney by at least nine points" — a number that includes not only Akin and Richard Mourdock, but also Republican candidates in Montana and North Dakota, "who both lost in states that Romney carried by at least 13 points."

No, a Gingrich or a Santorum wouldn't have ended up 13 points below Romney's final total. But it's very easy to imagine a summertime ad offensive from the White House knocking them down to Romney's low ebb in the national polls — say, 43 percent or so — and then basically keeping them there, winning by 7-9 points in the end instead of 2-4.
This is a fair reading of what would have happened had Gingrich or Santorum been the nominee. Some analysts were saying since the campaign started that Romney was the perfect opponent for Obama because his own record offered so many opportunities to create a negative picture of  the candidate. This job was made all the easier by the fact that the Romney campaign nearly ceded the airwaves to Romney completely during the summer, allowing the Obama campaign an its SuperPacs to flood the airwaves with ads that the defined Romney negatively and forever set the tone of the race. The same thing would have happened had Santorum or Gingrich been the nominee. The attacks would have been different, of course, but there was far more material with actual political substance in both their records on a whole host of issues that the Obama campaign and its allies would have been able to use to maximum effect. As for the ultimate result, there is simply no reason to believe that either of these candidates would have had any more luck overcoming the President's clear advantages in the Electoral College than Romney did. If you disagree with me, then I challenge you to name a single swing state that Obama won last week that either Santorum or Gingrich would have been able to win. I would submit that there isn't one, and that it's quite likely that running against either one of them would have allowed Obama to rack up an even bigger Electoral College advantage than he actually ended up getting.
I'd also suggest that none of the other candidates that were in the GOP race this year would have had any more luck against the President. Herman Cain and Michele Bachmann were fools who would have been easy prey for the Obama campaign. Rick Perry seemed like a guy who had potential, but he proved to be a crappy campaigner who was unable to overcome his own debate foibles. Ron Paul was a crank who only appealed to a limited portion of his own party and likely would have caused a large segment of the GOP base to stay home on Election Day. None of these people would have had a shot against the President, and likely would have sent the GOP down the road to electoral disaster.
There were two candidates in the race who had the potential to compete against Romney on the electability front, but they both ran lackluster campaigns that put them far out of contention for the nomination:
I think Pawlenty and Huntsman are different cases from Santorum, Gingrich and Perry. The first two were the primary candidates who arguably matched up best on paper against President Obama in the general election, and the two who never received much of a look from voters because of the primary season mood and their own strategic miscalculations (trying to become the Wall Street Journal candidate and going all in for the Ames straw poll for T-Paw, trying to re-run John McCain's 2000 campaign for Huntsman). Those miscalculations tell against their general-election prospects: If you can't even get a look from Republican voters in a wide-open year, how on earth are you going to turn out enough voters to beat Barack Obama in the general election? But chance as well as strategy determines the shape of a primary campaign, and there are enough unknowns with each to make a semi-plausible in-hindsight case for rolling the dice on one of them instead.
I certainly made clear in my posts here that I thought Jon Huntsman should be taken far more serious than he was during the course of the campaign. In a year when a former pizza guy whose entire campaign consisted of repeating the number nine over and over again managed to climb to the top of the polls, it was absurd that someone with Huntsman's resume and vision wasn't able to get the attention of his own party. Partly, you can blame that on a campaign that, at first, seemed intent on pissing off the base of the GOP rather than appealing to it, but I would also suggest that many people on the right initially wrote Huntsman off completely simply because he had accepted an Ambassadorial posting from President Obama. It wasn't until the end of 2011 that some conservatives started taking a second look at Huntsman, and by then it was too late. His campaign was saddled by low fundraising and his third place finish in New Hampshire was nowhere near being good enough to justify continuing to run.  If things had been different, perhaps Huntsman could have been a contender and a clear alternative to Romney, but it wasn't meant to be. Had Huntsman won the Republican nomination, though, it would have been a very interesting race. It would have been somewhat more difficult for the Obama campaign to pain him in a negative light the way they did with Romney, and his foreign policy experience would have been an effective weapon in blunting the President's advantage in that area. I can't say that Huntsman could've beaten Obama, but it would've been one heck of a race to watch.
Tim Pawlenty, on the other hand, was someone I really didn't have a strong opinion on. He was not impressive in the debates that he appeared in during the summer of 2011 leading up to the Ames Straw Poll, and his decision to pull out after losing that mostly meaningless poll seemed to indicate that his heart really wasn't up for continuing the fight. Had he stayed in, it's possible that voters would have turned to him as the "not Romney" after Rick Perry's campaign collapsed but, again, we'll never know. In any event, I don't picture Tim Pawlenty as being the kind of candidate who could have given Barack Obama a run for his money.
So, in the end, Republicans soothing their post-election souls by trying to blame Mitt Romney for last Tuesday's loss have to accept the simple fact that he was the best, most well-organized, and most electable candidate that they had in their field. Otherwise, they're just deluding themselves.