Republicans Ready Their Next Offer On Shutdown, Debt Ceiling
The outlines of a possible new GOP proposal are emerging. Can it go anywhere?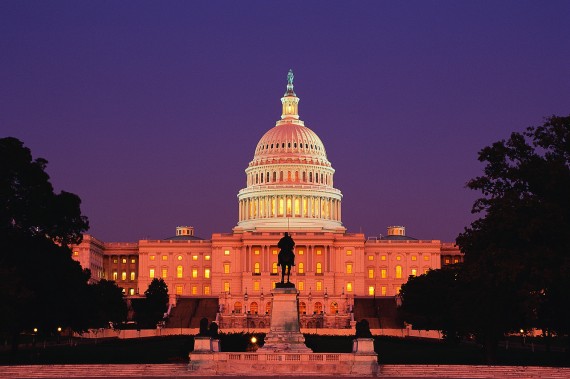 National Review's Robert Costa outlines what is likely to be the next big proposal from House Republicans to resolve the government shutdown and the imminent breaching of the debt ceiling:
It hasn't been announced, and you won't hear about it today, but the final volley of the fiscal impasse, at least for House Republicans, is already being brokered. And according to my top sources — both members and senior aides — it won't end with a clean CR, or with a sprawling, 2011-style budget agreement. It'll end with an offer — a relatively modest mid-October offer that concurrently connects a debt-limit extension, government funding, and a small, but strategically designed menu of conservative demands.

(…)

[D]etails are floating to the surface as the leadership reaches out to internal power brokers about what's within the realm of the possible. What I'm hearing: There will be a "mechanism" for revenue-neutral tax reform, ushered by Ryan and Michigan's Dave Camp, that will encourage deeper congressional talks in the coming year. There will be entitlement-reform proposals, most likely chained CPI and means testing Medicare; there will also be some health-care provisions, such as a repeal of the medical-device tax, which has bipartisan support in both chambers. Boehner, sources say, is expected to go as far as he can with his offer. Anything too small will earn conservative ire; anything too big will turn off Democrats.

Another tidbit: One House Republican familiar with the talks says parts of sequestration may be something Republicans will discuss, should Democrats inch toward them on taxes or health care. For example, if Democrats start to talk about chained CPI, Republicans may budge a little on sequestration and look at trading some entitlement reform for renewed funding. Senate budget chairman Patty Murray and Ryan have been having related talks for months, and they're poised to guide the negotiations, should they pick up speed. House leadership, per several sources, seems open to such trades.

(…)

House leaders are also looking at how to include some energy demands, such as the Keystone pipeline, but tax reform and entitlements are looking to be the core of the offer, and the medical-device tax is seen as the rare health-care demand that's viable as part of a deal.
So we've gone from defunding Obamacare, to delaying it for a year, to delaying only the individual mandate, all of which were rejected by the Senate and subject to veto threats by the President, to a proposal that focuses more on spending and revenue issues than the PPACA. The lone sop to the Cruz wing of the GOP on that issue would be the repeal of the Medical Device Tax, a relatively minor part of the law that has been criticized universally by Republicans and Democrats. When the Senate took what was essentially just an advisory vote on the issue earlier this year, 79 Senators voted in favor of the idea of repealing it. Theoretically, then, if one portion of the President's health care law was going to be sacrificed, this would seem to be the easiest one to get rid of as part of a broader deal.
As for the other provisions, the devil is obviously in the details and it's likely that Republicans wouldn't get everything that they want in negotiations. For example Chained CPI is one that has proven to be a hard pill for Democrats to swallow in previous negotiations so it's not clear how far that one will go. Additionally, while the Keystone XL pipeline does have bipartisan support, it's likely to be subject to the same complaints about being unrelated to the underlying bill that the attacks on Obamacare faced last week. Other ideas, though, like means testing Medicare and some kind of commission for the consideration of tax reform would seem to be more likely to survive. The question will be whether Democrats will be willing to talk about these matters and whether Boehner can convince the hard line segment of his own caucus to accept this kind of package in lieu of their ideal package that goes full bore against the Affordable Care Act. One House Republican told Costa that a bill that doesn't include a delay of the PPACA's individual mandate is likely to get "No" votes from 30-50 Republican Members of Congress, meaning that Boehner would need to make up the difference from among Democratic Members.
Of course, as Jazz Shaw notes, that leaves one thing open for question. Namely, will there be anyone for House Republicans to present their ideas to:
[T]he keystone of this entire plan seems to rely on something which is none too certain. Up until this point, Obama has drawn a red line in the sand over any negotiating or agreeing to any partial funding bills, insisting that it's going to be all or nothing and no deals will be made. Getting the Democrats to the table on this sort of thing would require the President completely retreating from that very publicly stated red line and agreeing to a totally different…
As I've noted before, polling to date shows strong support among the public for the idea of both sides sitting down, negotiating, and compromising. Given that, I'm skeptical about how long President Obama and the Democrats can sustain this particular "red line," especially as we get closer and closer to the drop dead date on the debt ceiling. Additionally, note that Costa speaks of talks between Paul Ryan and Patty Murray in the past. It may not be the case that these talks have continued during the shutdown crisis, but there's no reason why they couldn't resume. In other words, there may be a way for a deal to be made that allows the President to save face on his "no negotiations" strategy since he wouldn't be participating in them. And, in the end, if the House and Senate bang out a deal that gets the government back to work and raises the debt ceiling, does anyone really think the President wouldn't sign it? I sure don't.