Respectability Politics
A Black columnist argues that Will Smith set back a whole race.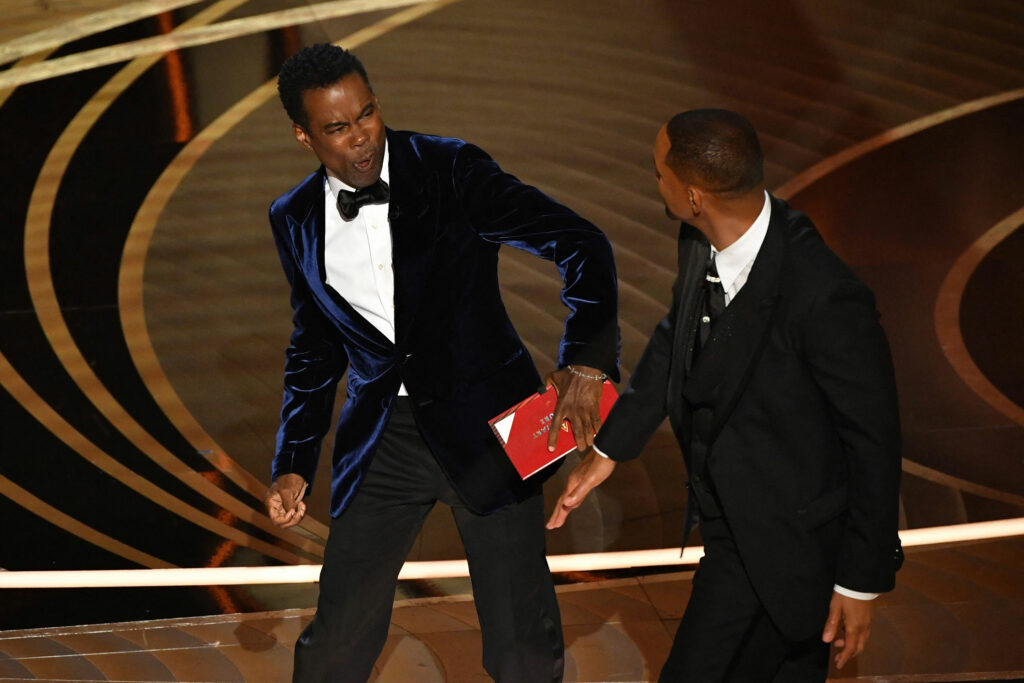 While I became aware of the Oscars incident early the next morning, I have had no interest in commenting* on it. WaPo's Jonathan Capehart, though, intrigued me with his column "Will Smith didn't slap just Chris Rock."
When Wanda Sykes was a child, the comedian shared in her 2009 special, her mother always stopped her from dancing in the car. "White people are looking at you!" she would say.

"Black folks, we always got to be dignified," Sykes observed. "Yeah, 'cause we know if we f— up, we just set everybody else back a couple of years, right?"

White people were looking Sunday night, too, when Sykes co-hosted the Academy Awards. And they certainly saw when Will Smith slapped comedian Chris Rock across the face. That smack was a blow to all Black people who have worked for our dignity and acceptance — and especially to the legacy of those Black performers who made Smith's presence at the Oscars possible in the first place.
This is followed by a discourse into the struggle Black actors have had in being accepted in Hollywood, including the triumphs represented by the Oscars won by Hattie McDaniel in 1940 and Sidney Poitier in 1964.
He concludes,
Some African Americans will slam this as the worst of "respectability politics," the notion that there is acceptance and safety in speaking and acting in ways that make White people comfortable. The harsh truth is that "respectability" is the exorbitant tax we African Americans are forced to pay daily as we try to live out our versions of the American Dream.

If you doubt that, replay the Supreme Court confirmation hearings for Judge Ketanji Brown Jackson, and watch her amiable patience in the face of racist nonsense. Any Black person who thinks there is a loophole to avoid paying the respectability tax is delusional. Recognizing that doesn't make you any less Black. It makes you realistic.

Who knows whether Smith will suffer any consequences for his actions. Maybe the on-screen and off-screen "respectability" of Poitier and the Black actors who came after will insulate Smith, or maybe the actor's stratospheric career is simply too big to fail. But this much I do know: Smith might have slapped Rock, but the rest of "us" felt it. And it hurts.
While I've read more takes on the incident than I'd like to admit, I've seen zero others arguing that it proves anything about Black people writ large. Mostly, they've been about (in no particular order) 1) whether the idea that men should defend the women in their lives is outdated; 2) whether violence is an acceptable response in these situations; 3) whether Rock's joke crossed a line; 4) whether Smith's reputation as a good dude has been permanently ruined; 5) whether the event hosts should have done more in real time to signal their disapproval; and 6) whether the whole thing was an elaborate publicity stunt. The only racially-oriented issue I've seen referenced is that hair-related matters are a particularly sensitive subject for Black women.
I'm certainly aware of the "respectability" issue. I realized in my 20s, both from my military experience and from observations in graduate school, that Black soldiers, students, and professors my age—and particularly those older than me—tended to dress and otherwise present themselves in a more formal, "correct" manner than their white counterparts. The Black NCOs tended to drive somewhat nicer cars—and to take more pride in their upkeep—than the white ones. Ditto the Black lieutenants and captains. And, the handful of Black professors I encountered at Alabama were always dressed in dark suits—with the jacket on—and in either solid white or light blue dress shirts, while white professors were in shirtsleeves or even polos. Around the same time, I noticed that many prominent Blacks, like Bill Cosby for example, spoke with a careful articulation that one seldom encountered with native white speakers.
It didn't take me long to understand why that was even though, in my young mind, racism was mostly a vestige of the distant past. I, of course, knew all about slavery and the long struggle for civil rights but things that happen even slightly before one's own lifetime (the Civil Rights Act was passed only a year and the Voting Rights Act just months before my birth) seem like ancient history.
It's been my observation that these practices have seemed to fade in recent decades, which is what we'd expect half a century after the end of legal segregation. I will defer to Capehart's lived experience as to its continued salience. Still, I think most Americans see Will Smith (and, for that matter, Chris Rock) as A-list celebrities more so than representatives of their race.
_______________
*The exception was a strong desire to point out that alopecia isn't a cause of baldness but another name for it. I had, until now, resisted the urge.